News & Reviews

BASS: AIR's limited edition studio album inspired by classic French film 'Le Voyage Dans La Lune'
Edited Press Release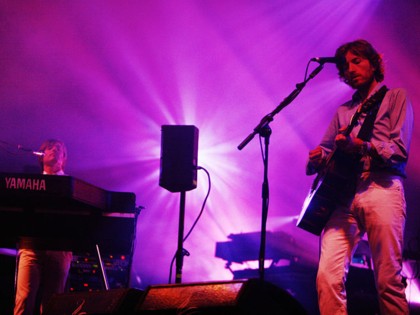 French downtempo band AIR (pictured left) has released a new album, "Le Voyage Dans La Lune" (A Trip To The Moon), inspired by a classic black & white silent film of the same title by revered French director Georges Méliès. Eager to put a contemporary spin on this classic silent film, the producers decided to approach AIR's Nicolas Godin and Jean-Benoit Dunckel to compose an original modern soundtrack, an enormous honor for French musicians considering the film's place in the canon of French cinema.

Released in 1902, Le Voyage Dans La Lune is a legendary 16-minute film that is widely considered one of the most important works in film history, and the very first to use science fiction as its theme, incorporating special effects that were very state-of-the-art at the turn of the 19th century. It was loosely based on two popular novels of the time: Jules Verne's From the Earth to the Moon and H. G. Wells The First Men In The Moon.

A hand-colored print, the only one known to survive, was rediscovered in 1993 by the Filmoteca de Catalunya. It was in a state of almost total decomposition, and many years of painstaking, manual restoration took place until 2010, when digital technology finally came to the rescue. Following another year at the Technicolor Lab of Los Angeles, it was ready to share with the world.

With the aim of premiering at the 2011 Cannes Film Festival, AIR set themselves a tight deadline, locking their studio doors and working around the clock to serve these classic images with brave new sounds. Complete with a new soundtrack by AIR, the film debuted at Cannes on May 11, 2011 to immediate and unanimous acclaim.

Spurred on by their work on this short movie, AIR decided to develop the project into a full album inspired by the film. Expanding the original musical themes beyond cinematic instrumentals, the album also features the vocal talents and lyrics of Au Revoir Simone and Victoria Legrand (Beach House).

The band's lunar fascinations have been evident since the beginning of their career with the release of the seminal 1998 classic 'Moon Safari'. Now in 2012 Nicolas and JB have returned to explore the further regions of their very unique musical "space".

The three producers of the restored version have agreed to a special Limited Edition version of the AIR album "Le Voyage Dans La Lune". This will consist of the album plus a bonus DVD (or digital download) of the restored colorized film with AIR's original film score. The album launches on iTunes, CD and other formats on February 6, 2012.

In support of the film and album, theatrical screenings for the 1-hour documentary "The Extraordinary Voyage" about the restoration of "Le Voyage Dans La Lune" by legendary silent film director Georges Méliès and the 15-minute fully restored film itself – now with an original score by AIR – are scheduled throughout the USA. The schedule is as follows:

2/05 - Notre Dame, IN @ DeBartolo Performing Arts Center
2/10 - 2/17 - New York, NY @ Elinor Bunin Monroe Theatre @ Lincoln Centre
2/10 & 2/12 - Phoenix, AZ @ FilmBar
2/10 & 2/12 - Portland, OR @ Northwest Film Center
2/11 & 2/12 - Dallas, TX @ Texas Theatre
2/18 & 2/19 - Gloucester, MA @ Cape Ann Community Cinema
2/19 & 2/21 - Phoenix, AZ @ FilmBar
2/20 - Ann Arbor, MI @ Michigan Theater
2/25 - Santa Monica, CA @ American Cinematheque - Aero Theater
2/28 - Seattle, WA @ Northwest Film Forum
3/3 - Ithaca, NY @ Cornell Cinema
3/4 - Boise, ID @ The Flicks
3/10 & 3/13 & 3/16 - Peekskill, NY @ Paramount Center for the Arts
3/18 - 4/3 - Montpelier, VT @ Green Mountain Film Festival (To be announced in February)
3/23 and 3/27 - Miami Beach, FL @ Miami Beach Cinematheque
4/18 - Philadelphia, PA @ International House (Ticket info coming soon)

Check out AIR's website for more information about the band and click here to get "Le Voyage Dans La Lune". They also are on Twitter and have a fan page at Facebook.