News & Reviews

BASS: Air embarks on 'Love 2' North American tour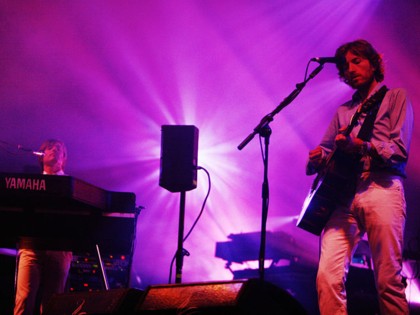 French downtempo electronic music duo Air kicked off a North American tour in support of their studio album "Love 2" this week and will hit 13 cities in the US and Canada through the end of March. Bay Area lounge lizards will depart to Oakland when Air plays their first local show in three years.
Air will appear at the Fox Theater, located at 1807 Telegraph Avenue in downtown Oakland, on Friday, Mar. 26 beginning at 8 pm. Readers are encouraged to snatch tickets in advance rather than the night of the show because it's sure to sell out.

Other stops include New York City on Mar. 19 -- they play the Jimmy Fallon show on NBC the same night -- Montreal on Mar. 22, and several cities in between the East and West coasts including Chicago before closing their North American tour on Mar. 28 in Los Angeles. Then it's on to Asia.

Nicolas Godin and Jean-Benoit Dunckel have led Air to nearly a dozen fanstastic albums since the '90s including 'Talkie Walkie,' 'The Virgin Suicides' (yes it was the sound track to the movie), and their influential 1998 album 'Moon Safari' among others.

Check out Air's website to see when they're in your city, find tour details and more information about the band. They also have a fan page at Facebook.