News & Reviews

BASS: Madrid duo Chus & Ceballos ride the Iberian sound with 'Back On Tracks'
Edited Press Release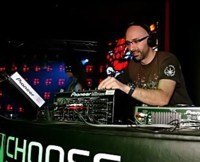 Like a mirage on a foot high snow bank, Chus & Ceballos' (Chus pictured left) first ever mix compilation from house music authority Nervous Records -- Back On Tracks -- is a delicious slice of hypnotizing, warm, inviting tribal soundscapes laced with a brilliant use of modern tech elements. This two-disc CD features tracks and remixes from Danny Tenaglia, Steve Lawler, Radio Slave, Umek and many other contemporary house music artists.
Chus & Ceballos are known throughout the club world as one of the most exciting, dazzling DJ/production duos. With their excellent production works, their coveted remixes, and their marathon DJ sets, they capture the genuine Iberican sound; a perfect marriage of House and Techno whose common factor is the unmistakable beat of the percussion.

This sound was originally crafted as an alternative to the dark and brooding prog style that was threatening to rule the scene. Chus & Ceballos' vision was, and continues to be a much welcomed breath of fresh air. The Iberican sound is spread finely throughout the two discs comprising Back On Tracks.

Disc one isn't about building or wasting anytime getting into it. The classic sound of The Heller & Farley Project featuring Cevin Fisher "We Built This House (Fire Island Mix)"greets all who enter the C+C kingdom of house music.

Things throb along until the midpoint when techno shades start coloring the sonic frame with tracks including Paul Harris & Alex Tepper "Terris (Original Mix)", the percussion heavy DJ Wady "Uganda(Robbie Taylor Afrobeat Dub)" and a tribal remix of Steve Lawler's "Koma Koma"from Radio Slave. The sweaty, rainforest inspired tribal sounds finish out the first disc with tracks from Danny Tenaglia and a pair from Chus & Ceballos.

The second disc was composed with just half the number of tracks as the first but it showcases Chus + Ceballos'ability to ride out the music hard and for a long time. This is your proper peak time foray into the Iberican sound and a disc that would be a perfect accompaniment to Rio's Carnival.

A heavy disco influence coats the thumping bass of DJ Chus presents The Groove Foundation "That Feeling (DJ Chus 2010 Revisited Mix)" while it all shifts a bit tribal techno with Mikel Curcio & JamLimmat "Cha Cha Cha (DJ Chus Muchodrums Mix)." The balance of the disc takes on a more vocal house direction with tracks from Made By Monkeys, Richie Santana & Rob Mirage and Murk's Oscar G. before Deka & Dave Rose kill it with the aptly titled "Lose Control (DJ Chus Iberican Remix)"

Back On Tracks offers an up front look into a current Chus & Ceballos DJ set. No BS or gimmicks -- just amazing house and techno for the clubs... and now just for you, too.

More information about Nervous Records, which has slated Back On Tracks to release worldwide on April 20, 2010, is available at their website. You'll also find more at their Facebook page and can follow them on Twitter.