The DJ

BPM Smith is a Drum & Bass DJ who pioneered a new form of spoken word, Word'n'Bass, that combines electronic music with prose.
He has performed at club and warehouse parties throughout the San Francisco Bay Area, mixing Downtempo Electronica.
He also hosted a weekly WORD'N'BASS Show on 104.1 FM that was streamed worldwide.
The Author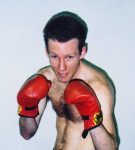 A former boxer who fought throughout the western United States, BPM Smith wrote Bistro De Mars, an urban noir novel set in San Francisco's Lower Haight District amid the boxing scene, rave culture, and car thieves.
His second novel, South of a Daydream Wish, is about a pro boxer who flees to Mexico with his girlfriend after killing a drug dealer. Another novel, Love.bomb, is a humorous tale about a 20-something dot-commer whose relationships parallel the tech industry's rise and fall.
His short stories have appeared in LitVision, Cups magazine, and Sagebrush.
The Journalist

BPM Smith covers global commodities for a financial news company. He was the youngest to hold the position of senior news editor at the 100-year-old firm.
He has been a contributing editor to seven nonfiction business books.
Smith has also written for the Reno Gazette-Journal, PC World, and the Associated Press.
Working in the media has brought him to major cities throughout North America and Europe, and granted an insight: business travel is horror without Vicodin and Prada sunglasses.