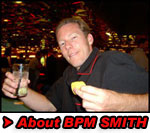 BPM Smith Blog Archive: Rants from a DJ... Author... Journalist

Book publishers clean up nicely!

Man, I remember back in the mid '90s when I discovered the Internet. As an English Lit major -- before I'd even finished one novel -- I'd rummage around the writers chat rooms at AOL (remember when it was called America Online?) and gripe about how the book scene was a closed industry that's buying into the same old stale formulas and resistant to change. Well, based on two press releases in the last week there are signs this antiquated industry is finally waking up.

S&S announced a deal with Scribd a few days ago to get its titles flowing in eBookland. Today Penguin launched a new user-friendly website with audio, video and free excerpts in a bid to capture the short attention spans of today's Internet savvy consumers. If these two major publishers represent an emerging trend then it looks like the staid, insular book scene has jumped off its collective white tower and finally joined 2004 -- I mean, 2009.

We'll have to see if this opens the floodgates to various publishers trying new things and saving the biznis from the doom that's embraced the newspaper industry. There are many parallels. Book sales are down, profit margins are slim and authors complain about meager compensation, so don't bother trying to cut expenses by getting even cheaper. Meanwhile, readers who a decade ago cuddled up to their novels and newspapers are now on a train to social networking site and blog oblivion.

Is this newfound appeal to consumers too late? Ask me in 2010 when my novel's on submission to these people. Because that is the acid test. That's when we'll see if they're gonna buy more turgid lines of formulaic crap or some real gritty prose that's got urban drama and a bit of literary flourish. Tha'ts when... What's this? DJ whatshername just broke up with Lindsay Lohan via text message? Sweet! Lindsay it's time to step up to this!
__________________________

No shortage of killers in the big city!

Remember a few weeks ago when my neighbor Ivarene Lett got beat to death in Oakland's Van Buren Towers? This week I carpooled into The City with a woman who lives in the building. She, like everyone else, believes it was an inside job because security in that building is heavy. No way could random thugs break in. The building manager said "screw this" and upped the security even tighter. She changed all the locks without announcing it to anyone -- even the tenants -- leading to a bit of chaos for those arriving home late at night who were locked out.

A week after Lett's murder I returned from a run on my beloved Cleveland Cascades to find a cop interviewing a bunch of people across the street. Cops creep around all the time so I gave it no thought until hearing a new rumor this week. Turns out they were taking reports after a hammer-brandishing thug beat another woman down and tried to carjack her. My neighbors, who are MFing pissed nowadays, tackled the bastard. Wish I would've been there to join the fun cuz I'd use his face as a punching bag! Now he's in the jug but rumors have swirled in my Adams Point neighborhood since. Someone told me this week the basatard was Lett's killer. Uh, read the newspaper folks, the cops already said weeks ago there's no relation. So, there's still a killer on the loose.

Cut back to San Francisco's dot-com boom days of 2000. I'm a recent college graduate developing my chops in the journalism game. I wrote for this guy Rex Farrance at PC World for a minute before bailing to the tech industry in Silicon Valley. Rex was a bit flakey but more importantly he was knowledgeable and kind, the type of boss whose strengths totally outweigh his flaws and you end up liking. Sadly, he got killed by thugs in search of weed.

You never know what's gonna happen in the SF Bay. Even folks at the studio are warning us to watch our backs when we come and go because, "This is Oakland after all." Sure. I've seen some weird shit late on Friday nights. A few weeks ago some dude got pummeled just outside the door. I ignored it and kept on mixing my DNB. Screw intervening, that's what gets you capped. But if one thing the murder of Rex Farrance showed us is in the big city your particular neighborhood matters little. The killers move around town like zombies staggering in the night.

UPDATE June 6, 3:30 pm: As I posted this blog an earthquake rattled hell out of the WORD'N'BASS HQ. Therefore, the risks of Oakland include thugs bashing your head in with a hammer, capping your ass with a 9mm, and Earth deciding to shake you down. That's life in California, baby.
__________________________
J.D. Salinger will beat you down!

The man is one of the last living legends and among a handful of authors I consider my "Original Masters." It's a short list. Hell, I named my precious Zoey after one of his books. But no matter how much you covet his work, don't screw with J.D. Salinger. Or he'll beat your ass down like a New York City pimp on Holden Caulfield! Some dude calling himself J.D. California wrote a sequel to his 1951 classic "The Catcher in the Rye." What? I know there are plenty of novels out there alluding to original classic literature but c'mon now. You can't write a sequel about a character who is a one-and-out. J.D. said so, back in 1980:

"There's no more to Holden Caulfield. Read the book again. It's all there. Holden Caulfield is only a frozen moment in time."

So the notoriously reclusive J.D. emerged from his cabin to throttle this impostor -- in court filings, because he wants nothing to do with us savage human beings in person. I normally favor freedom of speech straightup but not here. In fact I'll bet two pieces of my Whole Foods banana nut bread that J.D. wins this battle. J.D. is one of America's best novelists ever, he's by far our best living novelist, and he calls bullshit so GTFO, J.D. California! It's interesting this is happening because during a time when public consciousness is occupied with reality TV "stars," I sense considerable pent up demand for true icons like J.D. The shallow and vapid will eventually get replaced by people of depth.

I often wonder if J.D.'s in that cabin still banging out novels but refusing to release them so he can maintain privacy. I fancy maybe we'll get a novel a year out of him yet, when he no longer has to deal with unwanted fame. But we don't need fakes fulfillng that untapped demand. Want your dose of Holden, re-read the book. Two or three or four or five times. That's what I did, and when I finally put Bistro de Mars to sleep I'll read it again.
__________________________

Zoey is in the building!

While Americans celebrated Memorial Day getting sunburned and chugging Budweiser around barbecue pits I spent the weekend just outside Fresno picking up Zoey, the latest addition to mi familia. As you can see, Zoey is a beautiful blue and white mink Sphynx. Been wanting a Sphynx for months. Spent many hours researching this rare breed and talking to some eccentric "cat people" who had Sphynxes that I wanted to adopt. Pass, panned, GTFO! I dunno, most of them probably saw my email address, checked out the website and figured, "Screw that raver he'll snort rails off her bald head!"

I finally located Magical Purr Cattery in Clovis, CA, a boutique breeder that has show champions and was very accomodating. Catherine, a nice woman with laser-like attention to detail, decided I can handle a Sphynx. Cuz make no mistake, these breeders are't dishing their cats to any fool with a bankroll. Once I got a look at the queens and sires Catherine had it was ovah! We made this Zoey pickup a weekend-long event, taking in the NBA Playoffs at an epic Fresno joint World Sports Cafe (local note: It's owned by former San Francisco Forty Niners safety Tim McDonald), downing pints of Sierra Nevada Ale and frequenting lame hotels.

No matter where you stay in Fresno it's not exactly the Four Seasons, Vancouver. Picture leather-faced bikers lurking in hot tubs and round people in Bermuda shorts wolfing down banana nut muffins with piss water coffee chasers. Anyhow, Zoey is now in the haus and she is an amazing little cat -- sleek, affectionate and well-socialized. Can't wait for her to strut her stuff in a new pink sweater! PS: Thanks for the pic, JC.
__________________________

Make book and music awards a democratic process!

Establishing the stars of electronic music is increasingly a democratic process. Along with the annual Winter Music Conference online voting we've got America's Best DJ where voting is a combination of online and in-person tallies. Loves it! The book industry should take a similar path by democratizing the votes for our biggest awards. Yeah it's happened a few times but invariably "popular" authors who churn out tepid formulaic trash win. How about opening the Pulitzer Prize, an established literary contest -- along with various media categories -- and letting us vote on who the best authors are? Half the time their judges blow it anyhow.

Make this like the NBA All Star game. Opening votes to the public automatically gives us a sense of ownership and in turn, buoys interest in the contest itself. Can anyone name the last three Pulitzer Prize for Literature winners? Me neither. Meantime, the ABDJ tour's expected to draw 150,000 dance music fans to its shows in a sign that if you just do it the public will follow. Everyone talks about how the book industry is shit kicking but aside from publishing more "sure thing" formulas what are they doing to reverse that trend? In the meantime, at least we can vote for the best DJs. Have your say at the ABDJ website.
__________________________

Another Oakland murder!

Television news crews were camped outside mi casa the other night. Because, months after completing the final draft of my novel Bistro de Mars, I finally finished proofing! No. But I pulled up to their satellite-clad vans bumping an album of Thievery Corporation remixes with the bass heavy and watched them tape an old couple loading bags into their trunk. What's newsworthy about that? A passing couple gave me a weird look, I figured because the bass was loud enough for the cameras to hear twenty feet away.

So I rolled up to Lilian Kim, a reporter with KGO-TV and asked what's the news? "A 97-year-old woman was beaten to death in that building," she said, pointing to the Van Buren Towers. "Do you live there?" No. This neighborhood's normally peaceful and safe, I told her. It's a nice part of Oakland. Problem with that is depraved motherfuckers know there's no money in the 'hood so they commute to "work" nowadays. When you're an urban dweller you just never know when violence will occur.

Ivarene Lett was a tiny five foot tall woman born the year the Titanic sank. She was an active woman who took a weekly exercise class and enjoyed cruising around our Adams Point neighborhood in her big Chevy. Who the hell would kill a 97-year-old woman? Someone on the hunt for dough. I'll bet it was an inside job or commuting thugs. After my chat with Lilian I walked along Lake Meritt and looked extra close at the people. There are freaks among us. Who are the innocents and who are the killers? I hella <3 Oakland. Haven't regretted even once moving here from San Francisco. But this city is always setting records. Ivarene Lett was the oldest murder victim in Oakland's history.
__________________________

Never visit the great outdoors!

After a week in Vancouver working as a financial journalist and breaking news instead of reading it, I was totally bummed to discover that Craig Arnold passed away. He's the poet whose disappearance in Japan was a bizarre mystery that sparked tons of media to actually cover a story involving a poet. It's a sign of our times that the only way for a poet to get media attention is by disappearing off the face of the Earth. Too bad this is how it ended. I know a novelist who is also researching volcanoes and recently traveled to a foreign country to check one out for her next book. She's safe and sound back in the USA now. Luckily.

It's a majestic experience visiting the great outdoors. Not enough of us urbanites go out there, really. When I take hot springs road trips in rural places I always try to remember that not everything is safe, even if it appears so. Maybe you'll fall off a cliff like Arnold or get eaten by a bear or drown like I saw happen to three people at Ocean Beach once. Now that summer's approaching we should all keep this in mind. Or, we should never visit volcanoes, forests or beaches and instead vacation in Vegas or Vancouver -- where I'm gonna return for the World Poker Tour this fall. During the past week I had no time for anything recreational and since 95% of people vising the great outdoors die I'm only visiting big cites from now on.
__________________________

BPM Smith is like a diseased pig!

I'm now on my usual last-minute packing rampage for this Vancouver biznis trip despite a bit of panic over the swine flu, which now has hundreds of confirmed cases in the USA and 24 in California, prompting some to cancel travel plans and health officials to say chill the hell out. Got a group email yesterday from one of our East Coast guys stating he's not going due to swine flue concerns. Of course I replied-all to say this among other things:

"In any case I'll take my usual seat at the press conferences and cocktail parties, dressed in a pig suit."

Five minutes later our CEO replied-all stating that we should do what's best for our health and our families. Um. Didn't realize the CEO was in on that... Hours later after finishing my editorial deadlines I made final plans. Dinner reservations at my favorite Vancouver joints like Zin Restaurant & Lounge, call AMEX to ensure they're straight, collect paperwork and laptop computer shit that all traveling journalists gotta drag around. Now done, I burst out of my office door with an announcement:

"Oh my god, I have swine flu!" ... *golf claps*

There was only one journalist left in our San Francisco bureau, since it was way after the closing bell. Oblivion means my dumb jokes fall flat nowadays. See y'all Friday, May 8 when I'm back in the studio for the WORD'N'BASS Show.
__________________________

Oh Canada, you'd better serve Saphire gin!

After Friday night's WORD'N'BASS Show I've got time to sleep a few hours, pack the suitcase, hit Bacheeso's -- yae they opened a new shop near Oakland's Lake Meritt! -- for some eggs Benedict and haul ass to the airport. Just two weeks after my LA trip I am off to Canada but instead of poker and Disneyland this one's all biznis. Despite mixing records and writing novels at night I'm still a financial journlist during the day.

The timing is shitty. Everyone's in Vegas now for the Ricky Hatton fight. ESPN has a nice behind-the-scenes blog happening if y'all want details. While they focus on the fight, I focus on the important stuff. Like who the hell is that smoking hot blond following Hatton around? Well, my research (google rummaging) indicates his girlfriend Jennifer Dooley, who quit her job as a teacher to become his full-time pin cushion, is shadowing him as he does the publicity rounds in Vegas. She used to have small, saggy breasts but after he got KTFO by Floyd Mayweather he spent part of his multi-million $ payday on new boobies. Now she's a top-heavy tart!

Anyhow, I was supposed to hit Vegas for Fight Week and to reel in fish at the poker tables before Saturday's Hatton-Pacman bout but alas. Working like a jerk. So I'm outta here for a week in Vancouver. Boo. I shouldn't complain because there are worse gigs than four star hotels, cocktail parties, press conferences and working the media credentials like a motherfucker in my Lora Pianna suit. For example, I could be lost on a Japanese volcano like award winning poet Craig Arnold who is temporarily missing, disappeared or got vaporized by lava. Or I could be jailed in the UK and run into a naked Boy George all soaped up and leering in the jailhouse showers. That perv's in the jug for chaining some escort to a bed and beating his ass with a chain. Don't mess with Boy George!

PS: Why do the UK press still call him the former Culture Club singer? He's been a top House music DJ for a decade now with a bunch of quality albums.
__________________________

Happy 420 from Los Angeles!

My annual 420 Drum & Bass mix is going live a bit early cuz when April 20 rolls around I'm going to Disneyland! So at Friday night's WORD'N'BASS Show I mixed a blunted DNB set with all you smokers in mind. Meantime we're gonna hang at Amoeba Records in Hollywood tonight to celebrate Record Store Day, where they've got a bunch of bands and DJs spinning, then to Boardner's where they often have House and DNB parties and Newcastle Ale for us lounge lizzards who stake our claim on their cozy booths. Don't really know Boardner's schedule this weekend and could care less cuz it's one of my favorite places in LA that I always spend time at. Then it's another poker tournament at Commerce Casino with my former neighbor Chris, Pink's on Melrose and... Mickey Mouse. Time to grab the aviators and vicodin cuz our flight's about to leave. Ciao for now, and I hope y'all enjoy my latest DNB session.
__________________________
Amazon hates the gays!

Many of my bookish friends believe Amazon is taking over the world and homogenizing the literary landscape. The premise goes like this: Amazon is cheap, convenient and user-friendly so they're running independent bookstores out of business. Almost all indies that close shop blame Amazon and soon we'll only get books at huge chain stores or click our way to literary oblivion as alternative voices find it increasingly difficult to be heard in the vortex of Mainstream Book, USA.

Leftist conspiracy or common knowledge? Last weekend an ominous "glitch" or "filter" or "conspiracy" erupted when all the sudden more than 57,000 books that Amazon decided were "adult" titles got "unranked" -- and BTW nearly all the unranked titles were geared toward gays and lesbians. Y'all know authors trip on their Amazon rankings, right? Bigtime! Cuz if your ranking is low nobody will see your work, if it's high then you're rolling naked in piles of $100 bills. That's what rich authors do.

The LA Times says "Running with Scissors" by Augusten Burroughs, "Rubyfruit Jungle" by Rita Mae Brown, "Fun Home: A Family Tragicomic" by Alison Bechdel and many other books got their rankings eliminated. Why? Cuz they're gay! Meanwhile, "Tropic of Cancer" by Henry Miller, "American Psycho" by Bret Easton Ellis, "Wifey" by Judy Blume, "The Kiss" by Kathryn Harrison, the photobooks "Playboy: Helmut Newton" and "Playboy: Six Decades of Centerfolds," all kept their rankings, despite their obviously adult content. Why? Cuz they're heterosexual! Well, few scream foul as well as the gays and after a shitstorm, Amazon said, "Soooo sorry, our mistake!"

By late Monday the AP reported Amazon's latest spin and that the "glitch" emerged around the same time that the American Library Association announced the death of Judith Krug. She's the head of the ALA's Office for Intellectual Freedom and founder of Banned Books Week, which features an annual list of the books most often criticized or removed. Oh, the irony. Meanwhile, Amazon has entered damage control mode and rounded up all their PR hacks to come up with new excuses. Glitch = busted.
__________________________

David Foster Wallace is alive!

Taxes are coming due real soon and the last person I figured to burst my oblivious bubble was author David Foster Wallace, who is whipping out a new novel from the grave! "The Pale King" takes place at an Internal Revenue Service office in Illinois in the 1980s and never got released. Why? Because nobody wants to read about the IRS! No. Writing a novel that's hundreds of thousands of words tends to make publishers nervous. Little, Brown and Company, which put out many of Wallace's works, has slated the never-published novel for 2010 publication and said it will include notes, outlines and other things. Oh man, I can hear the clamoring of academics at universities across America as they arm wrestle in a Battle Royale over the first available copies.

PS: An accountant in the elevator on Tuesday said tax day is April 15. I said, "OMG! Kill me! Kill me now!" as he gave me the side-eye. Now I realize there's no reason to fear. Cuz I'll put a .45 to my head on April 14.
__________________________

"Can't we all just get along?!"

Rodney King, who became an iconic urban figure more than a decade ago for getting beatdown by some L.A. cops who were later ruled not guilty of assault, turned 44 today (April 2, 2009). I remember how significant he seemed back in the '90s, but nobody thinks about him anymore. I wonder what he's doing nowadays. Anyhow, you old schoolers remember the Rodney King Riots? In L.A. there was massive looting, Korean shopkeepers busting caps and a truck driver who got a brick smashed on his head.

Nothing like that happened in San Francisco. For us it was one big partAY. Punks and hippies marching on Market Street, blacks and whites and Mexicans cleaning out Copeland's Sports together, a bit of rioting, some petty crimes. Hell, one of my friends even looted the looters. Who's gonna report a robbery when the goods were already stolen amiright? All that stuff is represented in my 100% done (nearly, ha) novel "Bistro de Mars."

My sister Lis, a political activist and Cal undergrad at the time, wanted me to hit the demo-turned-riot but I was a boxer back then and couldn't miss practice. It dawned on me how serious this all was when my coach made a long speech about how we were each a different color but none of that mattered because we all had the same day-to-day struggles. In this gym, we were are all just fighters, he said. Outside, people judged each other on the color of their skin. Here, we were judged by our heart and our character. Maybe those police officers should have to box, because that would teach them about equality.

The other fighters looked down at the hardwood floor just kind of taking it all in. Most of them were black. As I watched Absen and Dwayne, a fighter from Richmond who had slickness but little punch, I tried putting myself in their position. What the Rodney King not-guilty judgment represented to them was this: You might have equal schools, you might get a real job, you could even become wealthy one day, but bottom line they'll lynch your ass whenever they really want to.

Nowadays -- what with two wars, a recession, everyone losing their jobs, and yes we're all grown up now -- those days seem quaint. San Francisco sure as hell changed over the years. Back then a certain *ahem* 18-year-old could pick up a forty of Olde English at any corner liquor store and smuggle it into a nightclub. Try that today and the store clerk is liable to call the cops. And no way will any nightclub bouncer let teenagers pass the velvet rope, let alone with a forty shoved in their belt. Fun times are gone. Happy birthday, Rodney, wherever you are.
__________________________

Winter Music Conference not for writing stiffs!

The Winter Music Conference just ended, attendees of the annual electronic music blowout are nursing hangovers, and I missed it -- again. You won't even believe the number of parties I got invited to this year. They even put me on the guest list at Paul van Dyk's "private party." When a girl recently asked if I was going my first reaction was "Lame ass stays in San Francisco!" second reaction was "Too busy working like a jerk." Not just in these media salt mines documenting the recession, depressed commodities and bankruptcies.

No. I'm still proofing and chopping away at the novel Bistro de Mars. This stuff is such a grind my only relief is the weekly WORD'N'BASS Show and exercising like a madman. In other words, dropping bass bombs on the radio and lifting weights to blow off steam. Yeah, getting wasted on vodka amid heavy bass and hot babes in Miami is more fun but I guess this is what happens when you decide to juggle careers as a journalist and author at once. Hemingway should've told us this will beat a bitch down.
__________________________

Up the Irish, down the Shooting Stars!

St. Patrick's Day always is a bit nostalgic. As an Irish American it's a day of celebration that evokes memories of The Fam's big dinners in which Grandma Smith cooked up the corned beef and cabbage and Grandpa doled out slices with his electric carver as I sat there licking my chops. Also memories of a closed Geary Street in SF where we got too wasted to drive and ended up cabbing to Lucky Penny for breakfast at 3 am. And who can forget that night in Sactown's legendary (insert four bar/clubs) with my man Ben on a spring break road trip?

Tonight I'm recovering from an all-nighter spent playing poker at Bay 101 in my latest attempt to qualify for the World Poker Tour. So I'll skip A Sides' party at SF Underground and instead chill with some CB&C and Boone's ale. No breakdown of how the satellite went other than I busted out at 5 am when my A-6 failed vs pocket 4s with all the chips in preflop -- the exact same hand that crippled pro Allen Cunningham in the $2k no limit hold 'em preliminary event right before the final table was set. Now the main event is underway and the WPT is providing live updates as the hands unfold here. Man is it a blood bath for Shooting Stars. 2007 champ Ted Forrest, Jennifer Tilly, Nenad Medic and Bay Area natives Antonio Esfandiari and Phil Hellmuth all got smoked like Cohibas early in Day 1.
__________________________

$3 million? In this economy?!

So much for the shit kicking economy putting an end to mega book deals. Remember the pilot who landed the jet in the Hudson River? Remember his name? Didn't think so. It's Chesley Sullenberger and his literary agent Jan Miller just cut him a two-book deal with HarperCollins imprint William Morrow worth $3 million. Jan knows how to work it! Instead of setting up a standard auction, she scoped out this pilot and saw he was way more personable than most authors or -- since he never wrote a GD thing let's be frank -- dudes basking in their 15 minutes of fame.

So, Jan dragged pilot-hero-wanna-be-author around Manhattan, introduced him to a bunch of publishers and let him turn on the charm afterburners. One editor who met him during these pitching sessions said, "he's the real thing." Yeah whatever. He's not an author so he's not the real deal. His ghostwriter might be though. Anyhow, props to Jan whose agency is Dupree Miller & Associates, located in Texas of all places. You've so gotta click the link, even though they mainly rep self-help books. Why? It's the first literary agency ever to bump House music on their homepage intro. And it's a nice track.
__________________________

Happy birthday James Ellroy!

Years ago my one-time partner in literary crime Jon said I must read James Ellroy because "you like crime so read 'Brown's Requiem' -- he does it great." Not "LA Confidential," not "Black Dahlia," read Ellroy's very first novel. So I wrote the title on a post-it, put it on my desk and there it stayed. "James Ellroy Brown's Requiem crime novel" gazed at me for four fucking years while I sat here writing my own sorta borderline crime novel "Bistro de Mars."

That post-it joined a small handful of such notes like "Love.bomb the ex model idealized innocence is destroyed" and "I ran to Reno to get away from shit" and "Blackout -> past reveal dirt w/ Nicole -> motive Doug to get cash, rob coke dealer, be free agent." I never read Brown's Requiem but am putting it back on my reading list because it's Wednesday, Mar. 4, 2009, James Ellroy turned 61 years old today, he once said some interesting things that I can relate to, and following up late is better than never.

PS: Jon what is up holla!
__________________________

The WORD'N'BASS Show's Internet stream is back!

That mention last week about having good news for The WORD'N'BASS Show was not a poor attempt at coyness. I just wanted to make sure not to screw it up since those who have known me a long time understand that the "B" in BPM Smith stands for Break It Bitch! Anyhow, our sound engineer at 104.1 FM has fixed the live Internet stream, bringing all our shows back to a global audience. Woohoo! Seems to me some of the old schoolers there actually like being exclusively on the FM dial but not me. Who wants to have only folks in the SF Bay listen when there is a world of DNB heads in need of heavy bass? The stream is once again live 24/7 here, so you listeners in Europe can feel free to send email shout-outs once again.

In related news, I received my new drivers license from the DMV today and am disappointed. My pic actually looks good. Now when cops pull me over for no reason they will see a smiling dude with neatly combed hair in a new LRG jacket. Boring. I liked presenting officers, club bouncers, and airport Nazis the old bedhead-suffering corpse with a crazy smirk and bulging cocaine eyes. Their double takes provided comic relief during times of stress.

UPDATE 2/28/09: Alright you can keep the B for Break. One listener said the stream timed out during last night's show but the glitch is now fixed. I understand it worked on new laptops but now those of you running dinosaurs can hear too.
__________________________

What are 'frivilous titles,' or, another tale of book industry Apocalypse!

Here we go again. The latest book-industy-is-a-corpse-and-we're-all-starving-vultures story hit the SF Chronicle's website, where Oakland's own Novella Carpenter wrote a tirade bemoaning the economy, slumping book sales, and the terrible fortune that her upcoming book from Penguin Press faces -- plug alert, she's gotta promote like a motherfucker in this economy, y'all! An unnamed publishing exec out in NYC rounds off her conclusion:

She knows that if her books don't sell, her job security may be compromised. She is confident other cost-savings will be implemented before job cuts take place. Instead of hours-long lunch meetings at high-end restaurants, for example, editors, authors and agents now settle for coffee or in-office meetings. As for the future, Kate's publishing company isn't going to be acquiring any frivolous titles.

Notihng new here. Forget about the recessionary "doom and gloom" economy, today's catch prase a commodity trader mentioned in my day job. This is what I wanna know: what are "frivolous titles?" That pink-covered chic lit novel about the woman who's dealing with a breakup and buying clothes? The 666th novel about a disgruntled yet dedicated CIA agent solving a mystery in which failure would kill him, his wife, son, grandmother, and finally, an entire US city? Or the edgy novel about a tranny who robs banks by holding a gun to her head and threatening to kill herself, accompanied by her pug dog Precious who barks, "Only unmarked $100 bills!"?

I'd like to think the edgy novels stay and the generic formulaic ones are frivolous. But I am not so sure about this book publishing industry. If I'm wrong, well, they're driving another nail into their own coffin. We need more trannies.
__________________________

Lady Sovereign returns!

When Grime rapper Lady Sovereign did a North American tour in support of her debut album "Public Warning" I jumped on her bandwagon because she had skills and brought the UK sound to mainstream American audiences. So naturally, I am stoked to find her back in the studio working on new material. Here's a video for her catchy new track "So Human." Isn't she cute? Now everyone knows I'm impartial to British women artists but I am not so sure about this one. What's up with her tackling fashionistas while looking like one herself? Her delivery is meticulous and smooth as always but The Cure sample is causing flashbacks of middle school horror. Excuse me while I peg my cargo pants, hairspray some spikes and sprain an ankle while skateboarding a halfpipe in checkerboard Vans. If this isn't hard enough for you, check out some dark tech bass/DNB beats from Volko and Prohypnol.
__________________________

Chop off Chris Brown's hands!

During the dot.com peak I knew a girl who was smart, talented and gorgeous. One of those rare women who cause whiplash when you roll into a swanky restaurant and men turn around to stare while shoving proscuitto wrapped shrimp down their throats. When we came out of dot.bomb I returned to San Francisco's media salt mines and she stayed in Silicon Valley, eventually meeting a "bad boy" type who charmed her and one day started beating her. Man, did I wanna drive down to her pad and beat the shit out of that punk. Men who beat women need severe legal penalties, not this pat on the hand BS cops invariably pull.

So tonight when I cracked a Samuel Smith's Winter Welcome Ale and settled into some gossip blog reading, it was a bummer seeing a police photo of pop singer Rihanna taken after R&B wanna-be rapper Chris Brown beat her ass. Makes me sad for Rihanna and also inspires a reminder: Men who beat women should have their hands cut off. This way, the only beating they'd issue is with their stumps! Plus, future victims would quickly ID wife beaters because they couldn't shake hands at "hello." A vivid warning to stay away. That pic going public renders meaningless Brown's earlier statement when some newly hired PR hack announced he's "sooo sorry, kind of, whatever."

Statement: "Words cannot begin to express how sorry and saddened I am over what transpired."

Translation: "I am so pissed they discovered I beat the crap out of this bitch on the regular..." *don't admit guilt... don't admit guilt, it transpired, like when you step on dog turds on the sidewalk.* "BTW, how are my CD sales doin'?"

Statement: "I am seeking the counseling of my pastor, my PR exec, my mother, my gimp and other loved ones."

Translation: "I have a MOTHER. Y'all have mothers, right? Just think about that. I have a MOTHER, just like you. Feel sorry for me yet? Thanks!"
__________________________

Today is Presidential!

Normally on the Monday of a three day weekend I wake early and play a poker tournament but not today. Instead I got my beauty sleep, posted a phat drum & bass mix by San Francisco spinmeister DJ Noah, hit up the Revolution Cafe and hooked up with a girl who dished keys to our new studio and had good news for the WORD'N'BASS Show that I'll post later this week when it's finalized. Then I donned my Prada shades, cued up the iPod and proofed 13 more pages of my novel Bistro de Mars fueled by this DNB mix and one of their excellent lattes. Then I returned home, pounded a Hyper Growth Formula shake and lifted weights to the smooth beats of Apace Music's "100 Drum & Bass Anthems."

If you're annoyed by such productivity have no fear -- slovenly nights must always counter productive days. I'm now gonna drive six whole blocks to Philadelphia Cheesesteak, buy "Saw II" and III DVDs and down Samuel Smith's ale while enjoying a double feature of carnage and torture. I've seen the original and part IV of this horror franchise that the Valentine's Day maniac was reportedly obessesed with, and tonight is a theme of killa killa killa! I will not let that insane fool taint Jigsaw, the demented Saw protagonist. Nothing beats a night of beer, sadistic killers and transfats.

In another bit of good news, my precious Hayden Panettiere broke up with some clown named Milo Ventimidgetlia. Oh happy days! Why'd she kick that bum to the curb? Because Panettiere, 19 and in need of a thorough spanking by BPM Smith, "is young. She likes to go out in the Hollywood scene and that's not his style." Age is just a fucking number! Hell, what happened during my LAPC outing? After the tournament I spent the rest of the night at Boardner's of Hollywood. Trip before that? The Cabana Club. Hayden baby, it's time to step up to this!
__________________________

Ladytron, Goldfrapp and Christina Aguilera? GTFO!

Electro bands Ladytron and Goldfrapp are well known for pioneering the genre and bringing it to a somewhat mainstream audience out in Europe. Love 'em! I even work Goldfrapp into my Downtempo sets on occasion. So naturally, I was horrified to read they're in talks with plastic pop tart from hell Christina Aguilera about collaborating on her fourth album. Don't do it! Yes, she pays but no, your artistic credibility is not worth selling out like this ladies. I hate it when these hacks prop up their sagging careers by hiring actual talent to help them churn out musical diarrhea. GTFO Christina!

Anyhow, in case you don't know what I'm talking about, here's the best Goldfrapp song ever. That leech with plastic tits and busted up makeup face probably saw this video and wishes she can be Goldfrapp. I'll bet this thing doesn't go down. Pop culture vultures have repeatedly tried to drag her into their realm of nonsense in recent years but she keeps kicking them to the curb. I even heard last year some stupid TV show "Big Brother" tried getting her to move into a house with a bunch of B-list celebs but she said no go. Because she's an artist, not a famewhore.
__________________________

DNB, Techno, Lounge producers fucking remix Christian Bale!

Yeah, Christian Bale was on fire in last year's "Batman" flick but as everyone knows by now he's a fucking asshole! Don't need to mention his F-bomb tirade at a cinematographer during the filming of the latest "Terminator" flick. Thankfully some Drum 'N' Bass, Techno and Lounge producers stepped up to plug our bleeding ears with some phat remixes. Checkout Jossip who compiled a bunch of them.

By far the best effort is at the bottom of the page, where a Lounge remix is both amusing, chilled out and haunting. Downtempo beats are juxtaposed with Bale's uh, vocals, striking images of Afghan dog fights and an odd floating kid's face. Dog fighting makes me sad. The DNB is below-par IMO. Dude should've looped the dialogue more and where the hell is the bass anyhow? All DNB must have rumbling bass lines! That Techno remix is the shizit -- in terms of sound quality his remix is maybe the most polished of the three. I don't bother with rap and other remixes cuz they usually suck. Hip Hop is quickly dying thanks to an excess of fake thug R&B monotonous material made by clowns who should get back to real Hip Hop or shoot themselves in the head.
__________________________

Degenerates don't care about the recession!

"A lot of them are gambling addicts." -- Poker dealer, on players in LA.

Am back in the WORD'N'BASS haus and back to the routine of proofing Bistro de Mars at local cafes, hitting the gym and digging through my records. Well, there's also that little thing called work but no suprises there -- the economy still sucks and so I'm writing more bad news.

Wherever I travel the routine follows. I hit up Amoeba Records' Hollywood store for a boatload of new DNB, drank organic coffee at some joint I cannot remember, swigged Newcastle ale at my favorite bar Boardner's of Hollywood, and downed two double espressos, one latte and a 5-hour Energy at Commerce Casino, where the poker action was heated. Whomever says the poker boom is over doesn't know shit. Every tournament at the LA Poker Classic is drawing huge fields, and local business reporters are kind of stupefied given we're in a recession. It's amusing reading their stories speculating why poker tournament fields are growing when unemployment is rising and everyone's supposedly broke.

Hello? Poker players are the most degenerate gamblers around. Skilled or unskilled, they know the best players can win cash and since most poker players are deluded about just how awful their abilities are, they keep playing till they go busto. I busted out of the LAPC on a suckout when some idiotic chick called my pot-sized bets all the way down to the river when -- you got it -- an improbable card hit, saving her pretty ass from getting fisted as a 4/1 underdog.

This exhiled me to the cash games, where I reloaded the bankroll by repeatedly check-raising the flop. One difference characterizing LA's poker scene today vs. last year is there's more scared money. Dudes fold quicker in cash games because they're afraid of losing the rent money but you'll never stop donkeys from stampeding in tournaments. Then there's the flip side. Sometimes their "pot odds" logic -- if there's already significant money in the pot gambooool! -- makes them play hands in which they're way the fuck behind. Just as Michelle was pulling up to the Commerce Casino I decimated the table when my big pre-flop raise with pocket kings got five callers and then everyone shoved all-in on the 8-9-Q rainbow flop. It took four racks to drag those chips outta there. None of them had an ace in their pocket.
__________________________

See ya Chongo and Bistro, time for another poker road trip!

When the Finland Suomi hockey jersey, LRG tracksuit, Prada shades, Peet's Coffee, APEX bars, supplements, vitamins and Vicodin go into the suitcase it can only mean one thing: Another poker road trip. The LA Poker Classic at Commerce Casino prompted this, despite the endless project called proofing my novel "Bistro de Mars" and my man Ricardo Carpenter's Chongolized Film Festival 09. Totally forgot it's this Saturday! But after seeing what tournament director Matt Savage said about Event #1:

"I can only tell you that we ended up with 1,592 players, smashing the record for a Los Angeles tournament. First place is $124,985 with 100 spots paid..."

I promptly booked the Virgin Airlines tickets (best airline ever, I will put a bullet in my head before flying Southwest ever again) and a 2008 Charger to roll in style in La La land for the next several days. So Bistro will have to wait. One mistake I made during the intermittent frenzied writing sessions of 2008 was bailing on the poker circuit for two-month stretches. Yes, the writing got done but it killed my game and rust resulted in a month of bleeding cash before I could get it straight. No more.

Besides, there's no rush given the book publishing industry is in the doldrums, they're buying fewer novels, laying off editors and, hell, even the Washington Post's long-standing Book World is dead meat. Besides, my day job contacts on Wall Street say this recession will last until fourth quarter 2009, when things will begin to improve and today's fear and panic -- "OMG! I can only buy sure thing novels with a predictably drab hook!" -- will subside. So publishers can now anticipate the end of the economic Apocalypse, and Bistro. When it'll go to auction. Ha.
__________________________

BS1 reminds why I <3 vinyl DNB!

Remember when Drum 'N' Bass label BS1 relauched after falling off the face of Earth from, say, 2002-2006 and signed phat producers like Kubiks? Well, they signed Blame to remix some tracks, I just heard one and it's MFing sick! Full news to follow soon on the homepage; meanwhile listen to this gorgeous track. Yes, it's a new vinyl release available worldwide at the end of January. I have a feeling those UK DJs are already having wrestling or soccer or curling matches to see who can first slap it on their decks since it's now on "promo." I <3 vinyl DNB.
__________________________

Publishers pan McGuire roids rager book, Margarito taps Mosley's ass (NOT)!

I love it when family members dish dirt on their famous $iblings but someone please tell Jay McGuire his brother Mark McGwire is not famous anymore, he's just an old busted methface! Jay is shopping a tell-all book about the former Oakland A's slugger "The McGwire Family Secret: The Truth about Steroids, a Slugger and Ultimate Redemption," stating Mark used both steroids and human growth hormone during his career. Well, all the big publishers panned it because Jay can't write his way out of a paper bag, everyone hates him for selling out his brother, and guess what? It ain't 2005 anymore!

Sure, Jose Canseco's book "Juiced" was a home run. But this BALCO stuff was still fresh news and it came straight from Jose's slackjaw. Ironically, I'll drive right by the BALCO office in Burlingame tonight enroute to watch Antonio Margarito beat roids rager "Sugar" Shane Mosley's ass. Unlike athletes who had their Olympic gold medals scrapped in the wake of their cheating, Mosley never got punished. He was juiced on EPO, "the cream" and "the clear" when he "won" a fight over Oscar De la Hoya in 2003, but the NSAC doesn't care. The win stays, and Mosley has since banked millions. Let's hope Margarito, a 100% clean athlete, mashes him like refried beans tonight. Unlike baseball, the cheaters in boxing get punished with a thorough ass fisting and if Mosley's off the juice he's a dead man walking. Meanwhile, I'm off to my man Dave's for a night of Mexican food and beer, boxing and poker. Ciao!

UPDATE Jan. 25: Mosley outpunched Margarito and knocked him the hell out in front of the biggest crowd to watch any event at LA's Staples Center. Did I say Margarito was 100% clean? Not exactly. He tried loading his gloves with a cast-like material and got busted. So ultimately, the BALCO roids rager beat the Plaster of Paris mugger. One cheater KOed another cheater. But judging by the more than 20,000 fans who showed up, boxing's sure popular in SoCal.
__________________________

Happily American!

Well, Obama made it through his first day as the 44th President of the United States without anyone bombing a landmark or getting coked to the gills and crashing a stolen '74 Cadillac Coup de Ville through the White House gates - with a bomb in the trunk. Eveyone I know is more optimistic about where this great country's going than they've been in many months. Since I'm feeling a bit patriotic, I found the contrast in Thailand's treatment of Aussie Harry Nicolaides pretty damn stark. He's a writer who self-published a book and was sentenced to three years in jail for a passage that insulted the insane country's royal family.

Think about this for a second. You write something bad about a public figure and your ass is getting pounded in jail for over 1,000 days by a train of Thai sex perverts. This thing even has news reporters scared of getting charged if they quote the offending 12-word passage. Chicken shits at CNN admitted it! I don't care that many Americans have no medical care, no pensions, no future without accruing crippling debt for an education. Here in the USA we can write whatever we want and remain free. Well, except ransom notes for Lindsay Lohan who is tied up in the attic writing bad checks. And letters threatening to kill everyone who was responsible for La Pequeña losing the Hot Slut of the Year award. And holdup letters when at the bank packing a .45. So avoid these three things and write away, fellow authors!
__________________________

All hail Adrienne Kress and La Pequeña!

Okay, time to change up the pace here. First, it's rare that I cover fantasy books because my tastes trend toward gritty literary fiction but I do enjoy reporting on hot women authors. And because Adrienne Kress is smoking, I gotta give shoutouts for her novel "Timothy and the Dragon's Gate" from Weinstein Books, a sequel to her last novel "Alex and the Ironic Gentleman." Adrienne announced on her blog that her latest work launched at bookstores across America today (January 13). Isn't she cute? Therefore, Timothy and the Dragon's Gate is a guaranteed awesome book. Check it out!

Second, I'm here enjoying a post-workout martini with the smooth tunes of Kid Loco and trashy gossip blogs when -- lo and behold -- a La Pequeña sighting! Everyone's favorite little tranny apparently has a bandwagon of fans now. She's competing with Spaghetti Cat and Rojo Caliente for the title of Hot Slut of the Year 2008 over at Dlisted. I don't know who or what these other two are but La Pequeña needs your help. Voting kicked off Monday and she's a distant third place with 13% of the vote. Who are these people voting for a cat that eats spaghetti? That's not a slut it's a piglet. As I've mentioned several times before, La Pequeña is Queen of the World. This is her title! So hitup Dlisted and Adrienne's website. It's a win-win for Hotness.
__________________________

Another indie bookstore bites the dust!

Back when my daytime employer in these media salt mines had its HQ on Market Street hitting Stacey's Bookstore next door was one of my favorite lunchtime activities. Even after we hit SOMA I'd still often make the rounds, starting with a ham and cheese croissant at Boudin and ending up rummaging through Stacey's bookshelves for the latest gritty novels. Better browse while you can, cuz Stacey's is shutting down forever this March! The Chronicle says:

Stacey's had been hurt over the past decade by the rise of national chains, like Barnes & Noble, and Web-based booksellers, such as Amazon.com. The store's general manager, Tom Allen, said sales had dropped 50 percent since March 2001. But the final blow was the crumbling economy...

Ugh. B&N is like Starbucks, it gets the job done when you need their goods but will never replace the friendly neighborhood bookstore. The Bay Area's now lost a bevy of indie bookstores. Last year we lost Cody's Books, an institution to Berkeley bookworms. I remember when Kepler's died a few years ago in Menlo Park. Long part of my book browsing circuit, I was shocked one Sunday to find them shuttered and a ton of notes taped on their windows from disgruntled clients. The place looked like a memorial for someone who got blasted with a .45. The local community held protests and eventually Kelper's came back. Will San Franciscans try to do the same? Doubt it. Sad.
__________________________

Café rundown from Oakland!

Nowadays I'm proofing a hard copy of my WIP Bistro de Mars in cafes across Oakland. Hard copy means the bulk of this novel is done. But I'm damaged from thousands of nights spent in my hovel writing tales of San Francisco after spending the same number of days writing about big biznis. Too much writing, too many nights of blasting Trance music and staring at a computer screen. Last thing I need is another week or month or year spent proofing at the dining room table, away from the world. Enter the cafes.

In cafes my iPod distances me from the artsy fartsy dude sketching in a notepad, the marketing methfaces holding an impromptu meeting and the two hipsters on their first date. Cafes are the new bars since cocktails are another way of saying "let's fuck" while a cappuccino appears far less lecherous, amiright? Anyhow, thanks to Michelle for uploading a ton of my DNB and Downtempo mixes on the iPod so I can concentrate during these sessions of blasting my manuscript with red ink.

First up was Hudson Bay Caffe on College Avenue, where I enjoyed a fantastic Cuban panini and a double cappuccino with perfectly integrated foam. They roast some quality organic coffees here but the tables are small and the old creepy book dude is two feet from your table. If privacy is your thing go elsewhere but if you're all about the best cappuccinos and coffee -- served in real mugs instead of paper cups -- this is among Oakland's best. Thanks to my iPod and this Drum & Bass set I was able to block out creepy geyser and the cackling thirtysomething chicks nearby.

Onto the World Ground Café on Macarthur. I proofed 10 pages in an hour bumping a Downtempo mix on their pillowed chairs and drinking a giant double latte that's above average. It's 20 oz of liquid served in a big porcelain mug, which helps you ignore the black walls and floor. Maybe it wasn't black; I was hungover but it felt black. Order a coffee or cappuccino to go and hit Full House across the street for some eggs benedict and poker inspired art. I always get coffee at World Ground first because Full House's coffee doesn't hold up to their great eggs Benny.

Jumpin' Java Coffeehouse on Shattuck, a neighborhood they're pitching as a new art locale. You might remember one block away some Oaktown hoodlums bum rushed The Nomad Café in a "take-over style" robbery. They got arrested. I've spent lots of time in this neighborhood and am pleased there are two good cafes here. Jumpin' Java is a small, laid back joint where students and artsy types work on laptops. Their double cappuccinos are expertly made by a hot barista who looks like she's from an African country. Like Hudson Bay, there's not much space between tables so expect some dude twice your age to turn his pivot head and make small talk or ask for a date. Ignore him.

Coffee With A Beat, on Grand Avenue right next to Lake Merrit, is where the neighborhood's young professionals, artists and slackers hang out. I ran into Dub MC Trinidad here. The last time I ran into him was in front of a liquor store where he gave me his latest tracks that I mixed into this set. It's that kind of place. The staff is chilled out, meaning they're not the best at making cappuccinos and don't really care. But there's plenty of square feet and large tables so guests can have privacy or socialize with equal comfort. If a trendy Asian dude starts pounding on the piano so loud it overwhelms your iPod, avoid beating him senseless. Turn up the volume. I did this and proofed 15 pages in one hour flat, fueled by their double latte and this DNB.
__________________________

A Happy New Years 2009 starts with DNB in your face!

I <3 vacation. In the leadup to New Years Eve I spent the days and nights in the studio mixing fresh Drum 'N' Bass, playing poker and proofing the novel -- my three favorite pastimes. Now that NYE is here, everyone is in pre-party mode before hitting the town and I'm here to help with all your heavy bass needs. Click here to bump my specially cooked NYE 2009 DNB mix, served just in time for the New Year. Now that I've brought this DNB live it's time to switch from organic French Roast to a decadent aperitif called French 75. Before getting smashed I'd like to send out a virtual toast to everyone who's enjoyed WORD'N'BASS.com for the nearly four years since we launched. Here's to a happy and healthy 2009, when all your dreams can happen.
__________________________

Marcus Sakey has competition!

Few thriller authors can hold a candle to my man Marcus Sakey nowadays but it looks like he has a growing list of projects competing for Ben Affleck's attention on the movie making front. Y'all might rememeber Marcus' crime thriller "The Blade Itself" was sold to studio Miramax with Ben's firm LivePlanet set to produce the movie version of his novel. Well, that's just one of many projects in the works now that Affleck's negotiating to direct the story of Arizona journalist Don Bolles and the events his murder provoked back in the '70s. According to the Hollywood Reporter, a group of elite national journalists that Bolles had been trying to organize at the time, Investigative Reporters and Editors, responded to the murder by convening dozens of investigative reporters in Phoenix from 23 different newspapers and launching an unprecedented crusade to finish Bolles' work.

How is it I never heard about this ruckus? Bolles was investigating political corruption and the mafia when he got blown the hell up after a source never showed for a meeting. While I'd rather see Marcus' Blade get its day in film, this sure sounds like an interesting story. And I don't normally like flicks about journalists anymore than I do ones about novelists. Cuz we're boring in movies. Journalists just make phonecalls badgering people for information and novelists sit around typing while bumping trance music and downing pots of Peet's Coffee. Anyone remember The Paper with that Mr. Mom dude starring? It made me wanna switch majors back in college, put a .45 to my head, or to the head of the journalism prof who made us watch that stupidity. Affleck better not screw up this story about the mafia, political weasels and killas.
__________________________
Vegas is dead, like colluding poker hags in 10 years!

"All I've been doing is smoking weed." -- Twentysomething British poker player, on his 23rd day in Las Vegas.

The crappy economy has led to smaller crowds in Las Vegas. After a week playing poker at the Venetian, Caesars, Bally's and Montecarlo I'm shocked at how slow most rooms were. All over town, casino workers and cab drivers complained about how the economy has hit them bigtime. Between the buildup to Pacman crushing Oscar De La Hoya at the MGM and a major rodeo I expected lots of action but most casinos were dead. I even hit the Rio, home of the World Series of Poker, one night and there was only one table of no limit hold 'em so we just got drunk at the Irish bar that has replaced Tilted Kilt. Hell, I didn't even get propositioned by hookers for the first time ever. In all, Vegas is a cadaver. But there are still vultures. Like me.

The Venetian is the bomb. I ended up played mostly at The Venetian and Caesars. Next trip I'll hang mostly at the Venetian. This is due to their competent floor staff, lots of action, solid twice daily NLH tournaments and smoking hot waitresses who are friendly and dish my double espressos on the regular. They also dished carrot juice, orange juice, cappuccinos and Fiji water. Other casinos, which serve crappy coffee and soda, will have to make changes to compete in a players' market. We've got the bankrolls and if they want a piece of it they should take notice of these things.

On Thursday I finally got my A game back during The Venetian's noon tournament. After several hours of grinding, adding teaspoons of Emerald Balance green powder to bottles of Fiji water, an executive in town on business tried bullying me off a pot and I had to make a decision for my tournament life. I had raised 4x the big blinds pre-flop with suited Ace-7 and then fired off a half pot sized bet after missing the 4-3-Q rainbow flop but in good position. Of the four remaining players, got two folds and this one stubborn exec remained. He checked the 8 turn, I fired another half pot sized bet, he called. River was 7 and he shoved. Dude had more chips than me and my little pair of 7s with an ace kicker. After watching him for one minute I realized he was playing pressure poker and called. Sure enough, he had only pocket 5s. Big pile of chips came my way.

Stoned Brits are good table companions. Often in tournaments you run into guys who you kind of like and end up rooting on. A British poker degenerate in Rayban aviator shades was such a character. He talked a lot to his opponents during big pots and everyone thought he was drunk because he'd talk about his hand and what he thought others had. That's not really in the rules. Turns out he'd been in Vegas for 23 days and counting, during which he'd smoke weed, play poker everyday and check into whatever hotel he happened to play at. As the tournament proceeded they broke down our table and he was moved elsewhere in the room.

Hag gets owned, flips out. I picked my spots carefully, playing small ball and avoiding huge pots until we were in the money. The British dude was one of the chip leaders when we met again at the final table, where a 60 year-old grouch to my left with a stack tried bullying me off a pot by moving all in before the flop. Once again, I sat there for one minute watching his face for tells. He clenched his jaw and wouldn't look at me. I called with suited A-9 and decimated his stack after he showed A-8 offsuit and failed to catch an 8. The geyser flipped! He whacked the table and stormed off. British dude mimicked him with a table whack. Tournament director tried cooling off the old geyser and warned the Brit for taunting.

"I can't believe the worst player at the table is the chip leader!" said old man when he returned.

"Excuse me? This is my eleventh final table this year. How many have you made?" I asked him. "I got enough game to call you down."

When I said he should only be mad at himself for getting outplayed, the tournament director warned us that we'd both take a penalty if we didn't STFU. Shortly after this little ruckus, the Brit busted out in 6th place on a semi-bluff before the flop, shoving with A-3 offsuit and going against A-8. I picked off a retiree and another $80k with pocket 8s after he went all in pre-flop. Eventually it came down to three: Old grouch with a $400k stack, me at $350k, and a contractor from North Carolina wearing poker cliché baseball cap with sports sunglasses, who had just $150k.

Colluding duncecaps. I had outplayed both these guys at the final table but the problem was they started colluding. Grouch would either fold or shove all in when NC was on the blinds, a clear tell that the dude must fold. They didn't want to run up big post-flop pots against each other. One time Grouch even told NC, "I keep catching cards against the wrong player," meaning what he really wanted was to catch cards against me, his nemesis. They both took turns firing chips at me whenever I was in the blinds. This was fine because all I needed was to catch good cards and tear down their stacks.

I eventually got pocket Kings and when NC fired half his stack I re-raised all in pre-flop. He called with unsuited A-3. He was a serious underdog but he flopped an Ace, taking $150k from my stack. Twenty minutes later, after a series of raise/folds between the three of us, I caught Ace-Jack while on the big blinds of $16k. NC called, I raised to $66k, he shoved all in and I instacalled. He flipped over unsuited King-3. He was done! Or should've been. Inexplicably, he rivered a 7 high straight, saved by total improbability and sending me walking to the rail. Naturally, the two colluders immediately chopped the remaining purse after my elimination.

I'm a loser, baby. After 9.5 hours of play I busted out in 3rd place, a decent but annoying cash. I hadn't sucked out even once all day. Every time my chips were in I was either the dominant favorite or had bluffed at the right time to make opponents fold. My second tournament win of '08 was in the bag, but sometimes it doesn't matter if you play perfect poker -- they'll suckout anyhow. Still, I'm not gonna bitch anymore because this was my third consecutive Vegas trip with a net profit. Before my poker playing days, vacations were always fun money burners. Now it's fun ending a vacation with more money than I started.
__________________________

Las Vegas again!

Cue up Elvis! I am once again hitting Las Vegas for a week of poker, cooling down from tournament blowups with casino bar martinis, and enjoying a quality dinner or two. Since these biannual trips began in 2003 I now have enough trips in the bank to offer some advice. Don't want advice? Go back to reading the literary talk of hot authors like Andrea Portes. First, keep in mind that all Harrah's properties will make you fill out tax forms at the tournaments you win. Some joints like Caesars, Paris, Bally's and the Rio are included. I always spend a good chunk of the week playing at the Mirage, which holds a sweet no limit hold 'em tournament on Thursday nights and has NLH sit 'n' go action day and night for various buy-ins. The MGM is rich in fish but I have horrible luck there. Busted out of a tournament flopping trips vs a full house. Same with Caesars. Top pair, top kicker (AK) with a flopped straight draw busted by two dudes who had both flopped straights. Absurd. I am not superstitious by nature but this, combined with Caesars' tax Nazi stuff will lead me back to the Venetian and the Mirage, whose Thursday tournament I blew to pieces during last summer's WSOP trip.

Also, dinner recommendations. The Montecarlo steakhouse and Rau's at Caesars. They are both the bomb. The Montecarlo is one of the few places serving fois gras and Rao's is Rao's. Legendary in NYC where you must get reservations one month in advance (not a joke, I tried and failed to get in). Also, the Tilted Kilt at the Rio for wine steamed clams, Bass ale, and smoking babes in extra short kilts that hopefully reveal tats above their asses. Um, anyhow... Eat steak but don't bother playing the Montecarlo NLH tournaments. What lots of folks don't consider is the rake these casinos snake from tourneys. This dude has catalogued all regular Vegas tournaments and the percentage of cash that is returned directly to the players. The difference is what the casinos take in the form of a rake, administrative fee, or whatever the hell they call it. Bottom line it ain't going to you so IMO it's worth paying attention to the percentages. The suitcase is packed, new tracksuit is tailored and stuffed with Vicodin, and the Ray Ban aviator shades are on. Time to endure airport terror, during which I will burst into tears or accuse security of stealing my canned espresso, or both. Be back in a week, when I'll post a new drum & bass set and a review of Behrouz' new album! Till then checkout the audio section for lots of Downtempo and DNB sets, along with Lantz' Breaks and Denise's House beats that are ready to blow up your speakers.
__________________________

Happy Thanksgiving!

So by now you've all drank a pot of Peet's Coffee followed by two double cappuccinos and are ready for an evening of forced conversation over appetizers in your grandparents' living room followed by tons of good ol' American food. When you ask for martinis they give you bourbon or some old school liquor nobody drinks anymore, except Chevy Nova driving methfaces. Don't complain! It'll wash down the turkey, mashed potatoes, canned cranberries, mystery casserole and boxed wine that you can't drink when sober.

After dinner, waddle out the front door, follow the sounds of blaring Led Zeppelin and escape into your brother-in-law's RV. He parks that thing in front of Grandma's to avert Family Overload, downing Sierra Nevada Holiday Ales as he furtively burns Camel Lights in private. Yes, FO is so universally understood it needs no definition. On Thanksgiving it comes in all shades, like the leaves of Fall or my face after running the Cleveland Cascades in a plastic suit. So enjoy your five pieces of pumpkin pie, be polite when answering questions like, "So when are you gonna settle down and get married?" and enjoy the holidays, kids!
__________________________

BPM is at Facebook not as BPM!

I ran into a girl recently who suggested I join Facebook. I said, well, I've got little old WNB for blasting out info but she said I needed to sign up anyhow to "keep in touch." So I did, and while this is not a BPM Smith the DJ/author thing -- it's my personal page -- anyone who is a member and wants to become my "friend" can click here and holla. Two weeks after joining I've decided I like this Facebook thing. My main concern was about burning time that I should spend rewriting and proofing the novel, or dwelling in the lab banging out fresh Drum & Bass.

That's totally unwarranted because there's hardly any time spent on that page, and it's cool because I'm in better contact with friends around the world who I don't call often enough. Also, I got in touch with two long ago friends who it turns out are fellow Bay Area poker degenerates. One keeps IMing reports when he leaves a poker room. Dude pulls all nighters and sends updates upon arriving home, after loading another $1k in his wallet. So it's a nice way of keeping in touch but there remains a problem: I can't recall the girl who insisted that I get a Facebook page "to keep in touch." So we're not in touch.
__________________________

Bring on the young degenerates!

Anyone who watched ESPN or reads the sports section knows that Peter Eastgate from Denmark won the WSOP and its $9.15 million prize. He's just 22 years old and broke Phil Hellmuth's record as the youngest winner ever. The kid's pretty damn good and beat my man Ivan in a four hour headsup battle. ESPN made it look like a 10 minute showdown but I could tell from Ivan's exhausted demeanor that it was a longer session. My predictions in the last blog were somewhat accurate. Montgomery didn't play as horribly as the leadup to the final table. Chino busted in 7th place with a taste of his own medicine: a suckout. He then cursed out a reporter who asked him how it felt going busto at the WSOP. What a bitch! And he was supposed to be the "pro?" More like an immature punk who cracked when he was overmatched. The reporter should've smashed his camera over Chino's head and asked him how that felt.

Ivan made Phillips his punching bag all night and bluffed him twice for huge pots until finally Phillips had to shove all in with a mediocre hand. See what happens when he doesn't flop the nuts? A superior player owns him, despite 300 screaming hillbillies from Hicktown, USA all dressed like Phillips: starched white shirt, red baseball cap. WTF? Ivan's as game as they come, but his audacity killed him in the end. He wouldn't stop bluffing at the young Dane, who caught cards and won it on a straight vs two pair. I've thought about what Eastgate's win will result in and it's good and bad. First, more twentysomething degenerates will hit poker tournaments flossing shades, hoodies and iPods with the belief that all you need to do is play aggressively and you'll win at poker. Bring 'em on! The flipside is this kid's from Denmark. I've already encountered Scans at major tournaments but that does little for the overall scene. What I want is more fish to fry at small to midsize tournaments and local cash games. Man, if a 22 year-old college dropout from America had won this thing it would go through the roof. My appetite for raw sea bass becomes ravenous just thinking about it.

PS: Those of you who play online poker are fucked. One of the last things the Bush Co. Nazis are doing before their asses get kicked to the curb is finalize the online poker ban, requiring US financial institutions to prevent the ballas from getting their payments by December 2009. This ban was a midnight addition to a larger bill about US national security as pork, and backed by the NFL lobby among others. Yet another reason why football is for drunken meatheads and Bush needs to GTFO.
__________________________
Nine million bucks to read!

Book industry participants often talk about how fewer Americans read nowadays due to the Internet, television, iPods, Crackberries and a bevy of other entertainment platforms. Sure, I'm guilty. My vices are literary message boards, snarky gossip websites, online electronic music (link to Lee Coombs is now fixed, sorry!) and live poker (never online, I'm old school like that). All these things both help and hamper the pace I can write novels, let alone read them. Help, because I must have beats to write anything at all. Doesn't matter if I'm banging out a news story or a 300 page novel, music is my bitch. Hamper, because how am I gonna write or ingest the boatload of novels we receive here at the WNB HQ if I'm busy scouring the Internet for the latest Bijou Phillips sighting?

Then there's poker. That it ruins writing is not surprising, considering I'll play 12-15 hour days for a week straight when on poker road trips and often burn half days playing local tournaments at Lucky Chances, the Oaks and Artichoke Joe's. Time burner, poker is. But what my literary pals don't realize is poker players are some of the most voracious readers anywhere. Example: my longtime friend Pete took up the game and has been a regular cash player at the Oaks for several months now. Pete, who rolled with me to AJ's last night for a no limit hold 'em tournament, whipped out three different poker strategy books at dinner. There aren't many literary types who lug around a few novels simultaneously, outside my man Jon.

Why do poker players read? Because they wanna learn about the game. I don't care how many websites you troll, sometimes you need the depth of a full-length book. Why do people read novels? Because they want to learn about different subcultures, cliques, civilizations and vicariously have experiences that they can't in their daily lives, in a language that's richer than the zombie written screenplays of shitcom America. The intense curiosity of novel readers is similar to poker players, yet it's more pure. After all, nobody's paying us literary aficionados $9 million bucks at the end of the road, like tonight's World Series of Poker Main Event winner. Man, if $9M isn't enough to inspire reading you may as well snort rails in the Oaks restroom and weep in your bottles of Sierra Nevada Ale. This is the dream of all poker players worldwide, and one of these lucky bastards is about to make the big score. Can't wait till the show begins at 6 pm PST on ESPN!

PS: I am in a poker news blackout because I want to watch tonight's tape-delayed show as if it's live, but have a prediciton anyhow. Überdonk Montgomery pisses off his stack on senseless bluffs, panics, and shoves all in with crappy cards to crash outta there in 9th place. Chino the Burglar's ability to merciliessly suck out after shoving with the worst hand falters, he's bust-o in 6th place. Truck driving hillbilly Phillips stops flopping the nuts or trips every single GD hand, gets stomped when he must play real poker, and finishes in 4th place. Ivan Dementedov schools everyone because he's the best player with solid aggression and reads on his opponents, becoming the first Russian to win the WSOP Main Event.
__________________________

Change, finally!

Today is the only time y'all will ever hear me rant about politics. But I'm sure relieved that Obama won. Yeah, even though I'm pretty apolitical I am stoked over this result. Am so goddamn sick of George W, the wars, wasted money on bullshit and the backwards sense of entitlement these clowns have. Kick their asses out of the White House and the Senate. This is not to say Obama's administration is going to fix things right away but anything's better than continuing the damage, and that's what McCain represented. Let's move on to a new era. It's not perfect going forward but at least we've got change.

My college buddy Gartsu, who is serving in Iraq where we are burning $300 million a day instead of financing public schools or assuring that Social Security will exist by the time you and I retire, sent over a vase this week. Thanks, Gartsu! I've been shipping him cigars and CDs of my DJ mixes. Last time I shipped him a box of Partagas, a box of Macanudos and this DNB set. Our soldiers can't drink, but they can smoke cigars. They gotta smoke with non-alcoholic beer because the Iraqis don't drink and our military doesn't wanna alienate them. Okay, great. Now you're running around packing M-16s trying not to get your ass blown up and you can't crack a brew at the end of a hard day in the war zone? Screw that.

PS: Am I the only one who thought SF Mayor Gavin Newsom gave a damn good speech in support of Prop 8? He brought his A game. You watch, he's going places. Hard to believe that just a few years ago he was viewed as the next JFK and on a fast track to national politics. Then he divorced his smoking hot wife and was found chopping rails, downing liquor and banging hot babes all over SF. Nothing wrong with that. He got re-elected despite the media frenzy and is living it up. In ten years that stuff will be long forgotten and they'll prime him for something big.
__________________________

Thank you, Moby and Emerald Balance!

I am always a zombie the first Monday after daylight savings time kicks in. Today I drank eight cups of Peet's Coffee instead of the usual five and still had to grind it hard in the media salt mines just to maintain. Before long, 7 pm had passed and I was still writing my last story of the day hours after darkness had fallen in downtown San Francisco. The only thing that kept me from collapsing today was Moby's people, who sent me the press release and link to his Myspace rave event. Thanks, Betty!

They archived some of the sets there, so if you missed it live then you can still listen. Glad to see Moby once again hitting his stride with the Techno beats, and happier yet to have used his rhythm to buoy writing -- both in the day job and as I sit here rewriting my novel Bistro de Mars. Everyone who knows me is aware that the beats must flow when I am writing or else the prose will not. Beats got me through daytime but tonight they were not enough. I felt as tired as a cokehead midget whore after a little people's convention! Something extra was needed for another late night writing the WIP.

On the kitchen counter was this Emerald Balance that I'd bought on a whim. An addition to my ever-growing mad as hell collection of supplements. So, I added a teaspoon to my regular fruit and soy milk smoothie. It's a very dense powder made of barley wheat, flax seed, beet juice, bamboo, gingko baloba, horsetail and a bunch of other obscure ingredients. Whoa… This stuff has me so energetic I'm worried that it's gonna keep me up all night. For now, it's all good. I'll let you know if life sucks at 4:20 am Tuesday morning, though. PS: Y'all know what I'm rolling on during the next Vegas poker trip!
__________________________

Sports journalists please kill yourselves!

"I told him eating marijuana brownies is ok -- I think." -- Overheard in lobby of San Francisco media office building.

The Phillies beat the Rays Wednesday and now sports reporters across America are battling to see who can write the most trite and stupid headline like 'Phinally Phillies win!' No, they didn't write that, did they? Yes, Sports Illustrated and ESPN both posted variations of this shit. Kill me! Kill me now! Or better yet, kill the sports journalists. These stories are so contrived and melodramatic it's embarassing. Hot runny diarrhea like Jayson Stark's shouldn't even have a byline. Think I'm kidding? His lead went something like:

"For a quarter of a century, they'd waited for this night, waited for this moment. For a quarter of a century, they'd watched these scenes happen in somebody else's town, on somebody else's field of dreams, in somebody else's busted down '82 Chevy Nova littered with cans of Pepsi, KFC Extra Crispy drumsticks and recycled meth."

Cut to the chase asshole, the Phillies won 4-3! Instead of a byline he should wear a bag on his head and write his jabber on bathroom stalls. The Philies won the 2008 World Series so stop crapping your pants. No wonder most in the media business consider sports journalists the bottom feeder fanboys of the industry.

Anyhow, I'm done with baseball cuz my GS Warriors and New York Knicks debuted. GS outplayed the Hornets most of the game but Jax blew the win with a bad inbounds pass. Beating last year's No 3 Playoff seed sure would've made a nice statement that the Warriors mean biznis. And what's up with this ACC kid from Duke who played the point in Monta Ellis' absence? He kept turning the ball over and now I'm even more pissed at Monta for celebrating his huge contract with drunken moped riding. The NYK won though, and Jamal Crawford scored 29 points. Lots of haters said he couldn't adapt to the new "seven second offense" but as I've said all preseason, Mike D's run and gun system is made for Jamal.

Good times at George & Walt's with Pete and Michelle and pitchers of quality Sierra Nevada and Blue Heron ales. G&W's is not really a sportsbar, more like a laid back dive bar. I even got a Pabst Blue Ribbon story. After GS lost by 5, Michelle noticed that some hipster had fallen asleep in a lounge chair with a PBR in hand. He jolted awake, and instead of going home or to bed or to the gutter, reeled over to the bar and ordered another PBR. "Pabst Blue Ribbon!"
__________________________

Noisia & Pacific are hard, Tampa Bay Rays are soft!

First, a word from two of my very favorite drum & bass production crews, Noisia & Pacific, who just collaborated on a new 12" for UK record label Sound Trax that includes an especially phat new track "On your mind." Check out the A side, kids.

A - Noisia & Pacific - On your mind
Is this banging DNB or what? Put 80 such tracks in my shiny silver record case and I will blow up speakers from now till Halloween. I've been remixing Pacific in my DNB sets since Day 1 but the Noisia crew are by far my favorite discovery of the past two years. Put these talented artists together and we are talking perfection.

From the hard to the soft -- the Tampa Bay Rays ain't shit! Take them out of an air conditioned dome and they wilt. Tonight, anticipating an end to the World Series, I turned the WNB.com HQ into a sportsbar with a six pack of Tona Cerveza in the fridge, a fresh bottle of Saphire gin in the freezer and carne asada tacos grilling on the stovetop. All was fine until MLB pulled the plug with the Phillies and Rays tied at 2-2 at the bottom of the sixth. Man, it was funny as hell watching that Rays baserunner steal and straight up hydroplane into second base at the bottom of the sixth, amiright? You could see the Ray players, accustomed to balmy Florida heat and piped in 70 degree air, sniveling in the dugout about the playing conditions. Hello? Baseball must be played outdoors, on grass, in weather natural to the cities in which teams reside. It's 39 degrees and raining in Philadelphia. Deal with it, bitches!

And so, the game will continue on Tuesday even though rain and cold are forecast in Philly till forever. That's why they should've played it out in comical rain and mud mayhem. Also, come Wednesday nobody will give a damn since my Golden State Warriors make their 2008-09 season debut against the New Orleans Zombies, Pete and I are hitting George and Walt's, and baseball is nothing but human road kill in the rear view mirror of life.
__________________________

Lowlights of LA, or, how rewriting a novel kills your poker game!

Back from Los Angeles and here are the highlights: Downing Newcastle Ale and a bevy of appetizers at Boardner's, an old school bar with an adjacent nightclub in Hollywood where after cocktails you can enjoy a stroll among drug addled teens, burned out former "actresses" turned to meth and assorted hipsters... Some three story bar/club whose name I can't remember, where we had a great time hanging with Chris and Monica an hour after closing time without the staff hassling us to GTFO... Hot dogs at Pink's and shopping at the boutiques of Melrose Avenue, where I bartered down the price on some quality 7 Diamonds shirts... The four bikini-clad British tourists on Hermosa Beach who said they "can't wait till we get to Vegas." In particular the one who swatted sand off her butt. Which amounted to pointing her ass at me and spanking herself for one minute straight in the sun. *slackjaw ensued*

Now I am back in the media salt mines by day and by night trying to cook Philly cheese steaks, watch the Phillies school the Tampa Bay Rays, monitor the latest Isiah Thomas soap opera with the New York Knicks and today's expected announcement that Patrick Ewing's son will (not?) make the team, escape reality with tales of crime and murder, and finish rewrites of Bistro de Mars. I am supposed to hit next month's WSOP Circuit Event in Tahoe in what amounts to a reunion tour with my former crew buddy Dave, but will prolly have to cancel it. Too much to do, not enough time, and my poker game sucks right now due to spending all spare time on the novel and not playing poker.

Which leads me to one last LA lowlight: Busted out of a NLH tournament at the Commerce Casino with suited A-9 after missing the flop and bluffing. Sensing weakness, I shoved all-in and got called by a maniac who had also missed the flop, yet after a 30 second pause said, "I guess I'll gamble." WTF? I had heard about Commerce's absurdly aggressive players who routinely call with nothing but overcards but c'mon... calling a bet for 3/4 of your stack after missing the flop? It's one thing to bluff, entirely another thing to call in this situation. And no, the clown did not have a read on me, he's simply a donkey. No wonder it's called "happy hunting grounds" for cash players who like to reel in fish. Maybe I should join a certain friend (not Dave) at the cash games instead of being strictly a NLH tournament player. He called today to report doubling up despite breaking a rib and being loaded on Vicodin. "I'm playing poker on drugs," he said. Is there any other way to fry fish?

PS: Commerce Casino is a dump populated by cokehead poker degenerates. In just four hours I encountered a jerk yelling at a floorman "I'm a pro!", insane Russian brothers who disputed the tournament director after he pointed out obvious gaffes such as "English only at tables," and a cantankerous grandfather who berated the donkey above with, "Don't you know how to play tournaments?!" But they've got a nice sports bar with decent food and beer. Just don't bother ordering a martini. Why is it no bartender on Earth can make a proper gin martini?
UPDATE: The NYK announced Monday that they are dogging Patrick Ewing Jr. in order to keep the somnambulist "Drunken" Jerome James as a practice squad punching bag. Fan reaction at the NY Post. It's not positive.
__________________________

Off to see the clubs, beaches and poker degenerates of LA!

Okay, I'm off for a weeklong vacation in Los Angeles beginning Saturday (Oct. 11) night. There's a big backlog of pending content here at WNB.com as usual -- bunch of news and reviews on authors and DJs -- but I did blast up this interview with Karen Dionne as well as my latest Downtempo mix to tide y'all over and avert bass withdrawal. Got a busy week of chilling on the beach, hitting clubs, checking out Chris and Monica's new digs and playing poker at Commerce Casino, where guys like Men the Master call home. Thanks to my man Dave, we won't miss the big Kelly Pavlik fight next Saturday cuz he'll pick us up at the airport right before the opening bell. He'll no doubt find me loaded on Vicodin as always after flights. I'll probably burst into tears behind these aviator shades as soon as security starts patting my ass down. Maybe a pint of Red Tail Ale will help...
__________________________

Cleveland Cascade draws girls with six packs, hecklers and meatheads!

Day light savings time ends with October and soon darkness will set in before we escape the office each night. How depressing. This will also mark the end of exercise because most of us get sedentary during the winter. Why work out when it's six months till Bikini Beach, amiright? No! This year, I've decided to stay fit and day-by-day am developing a plan that will offset these fourth quarter doldrums. First, hit the gym. Second, run the historic Cleveland Cascade stairs. Third, do both of the above instead of working 10-14 hour days in media salt mines that can leave you soft, gasping for breath and shoveling Big Macs down your throat at your desk. I once worked for such an editor at the Reno Gazette-Journal and he taught me a lesson: Journalism will kill you if you let it.

So tonight I was determined to leave the office no later than 6 pm, chug a Hyper Growth Formula by Bio-Phase, and get punished by these stairs. Well, as usual I worked late and despite concerns about spraining an ankle in the dark, said fuck it. I put on my basketball shorts, two t-shirts and hit the streets. Running in Oakland at night is quite different than the afternoon. Darkness does something crazy to people. I ran past a liquor store and some black dude yelled, "Run for help!" A block later a girl screeched, "WOOO!" from the window of a passing car. At the playgrounds of Lake Merritt, rambunctious children were replaced by high schoolers flirting and cackling at one another in the dark.

Finally I made it to these five flights of stairs, nestled up a hill between apartment buildings. They are my wild card in overcoming winter laziness. And they will break a bitch down! Just ask the brother who was big enough to play center for my GS Warriors. He moaned at the top of the stairs like a cattle that a slaughterhouse forgot to finish off. A woman who I saw earlier this week also showed up. She has a six pack. I know this because after heating up she always removes her tank top, wearing just a sports bra and sweatpants. Whatup! Now if a woman develops a six pack she is training like hell. I believe she's an athlete, either pro or semi-pro if there is such a thing. No way does anyone climb 10 Cleveland Cascade laps straight without a break unless this is their biznis. I wanted to ask her what she's training for but strange men cannot approach half-naked women who are alone in Oakland at night. Unless they're kidnappers. Then it's fine.
__________________________

Turn down the music!

So this morning I picked up two car poolers on my way into San Francisco, a coffee drinking hipster and a fiftysomething woman I mistook for this awesome Mexican who always wears Versace shades. No such luck! Instead this one asked me to turn down my Pure Behrouz NYC album that's bumping my car stereo woofers day and night nowadays (review coming soon). Okay, I understand that grannies don't wanna nod their heads to progressive and tribal house first thing in the morning. Fine. Her faux pas occurred when she added, "It's repetitive and never changes."

"That's the point," I said. "The DJ makes gradual transitions so you're not consciously aware of what he's doing."

"Maybe he's effective at what he's doing but to me it's not enjoyable."

Enjoyable? I'd already turned down the GD music and she's still bitching about the aesthetics of house music, a medium that wasn't even invented till she was watching "Thirtysomething" on TV drinking white zinfandel in the 1980s. Because I'm a grouch when undercaffeinated and was still working on my third cup of Peet's, her critique prompted a rant. This one centered on why all music comes down to personal taste. Example: Britney Spears is no longer insane, bald headed and flashing coochie in public, so she has a new album coming out soon. Even though Brit's singing sounds like gurgling filtered vomit, there are evidently millions of people who disagree with me. They like her. Which led to commercial radio and how I haven't listened to it in months because it's all pop crap that sounds the same. Good morning!

I finally made it to work and was on track to hit Gail Konop Baker's reading at Books Inc this evening, one day after her appearance on KGO-TV, when a rumor happened. One of the biggest commodity producers I cover had possibly dropped prices worldwide (USA, Asia, Europe) and I needed to confirm whether this was true ASAP. Unlike pork bellies or oil, prices for the commodities I cover are not flashed on trading floors for public knowledge, they are changed quietly through global networks. When this happens, us financial media scramble like mad to break the news first by calling the buy and sell sides of the market individually. Anyhow, I worked late. And missed another reading. Seems like every time an author comes to town it's another late night spent in these media salt mines.
__________________________

Lee Combs, Behrouz show melody is relative!

So I was driving around San Francisco with a bunch of coworkers and one of them asked, "Is there any melody to this music?" His question referred to Lee Coombs, whose "Lot 49" mixed CD is slated for US release on November 11. I scored a pre-release from Lot49 Records and Coombs' dirty Electro and Breaks rumbled heavy in my car stereo. Obviously the bass bombed the hell out of my coworker. It's not a beginners' type electronic music album so I flipped in another upcoming release, by Behrouz from Nervous Records. "That's better," coworker said. Not that Behrouz is "beginners electronica" by any means but his style is all rhythm and melody, and the result is a beautiful album of Progressive House. Even casual music observers will love "Pure Behrouz NYC" when it hits stores beginning Oct. 7.

I am down with all styles of electronic music and these are the type of artists who fit nicely in the middle of my Downtempo and Electro sets during the WORD'N'BASS Show. So I've always gotta test them out in my car stereo beforehand, to find the sweet spots for remixing, transitions, and to locate the heaviest bass lines. As a longtime aficionado of Electro I actually find Lee Combs' work quite melodic. There is a melody to continuous and repetitive bass lines, but I can see how unfamiliar ears would hear it differently. Check out how I reconfigure these beats tonight (Friday, Sept. 26) beginning at 10:30 pm on 104.1 FM if you're in the Oakland/Berkeley/SF Bay Area.
__________________________

Ghetto again!

Now that 104.1 FM is once again in effect I am stoked to be back in the studio with my man Abdul. What's not so great is the location. Cuz it's ghetto as hell! I am not looking forward to this Friday's journey if it goes anything like last week:

I drive past dozens of abandoned warehouses and wandering hoodlums who do a double take as if thinking, "Oh shit is this a driveby?!" Then pull up to the studio location to find three "Jamaican drug dealers" (Abdul's description, not mine) waiting on the sidewalk and a large group of teenagers nursing 40s on the porch next door. Hours later at 1 am the teenagers are still sitting on the porch. A full 12 hours later, at 1 pm on a Saturday, these same dudes are on the sidewalk threatening a passerby with their two pit bulls.

"We're gonna get shot in this neighborhood!" Abdul says in the studio. He was quoting one of the DJs who does The God Hour, my favorite Hip Hop show on or offline. "Which one said that?" I ask. Abdul starts flailing with the mixer, finally transitions to a John Coltrane track and then says: "I dunno, some blonde, white kid."

Um, don't mind me. I'm just a white and blonde guy trying to maintain in the 'hood. Years ago while living in The Fillmo' neighborhood in which the novel Bistro de Mars is set, I learned that you can maintain by befriending young thugs and Jamaicans. This way, they're less likely to blast you and somewhat likely to intervene when the crackhead zombies try stealing your car. And since they're always on the street this is a positive. Hell, they're like built-in lookouts. But if I become Oakland's 102nd homicide of 2008 y'all know what happened.

PS: For more on 104.1 FM, our recent hiatus and some phat freestyle check out Al Gore's Current TV, which did a mini documentary on The God Hour last month.
__________________________

BPM back in the studio!

On Wednesday good news arrived. First, I found pics of Italy's gorgeous Margherita Granbassi fencing at last month's Olympics. I forgot to mention we met* in Vegas when I played in the World Series of Poker and she competed in some pre-Olympic qualifying tournament at the Tropicana Hotel, home of hookers and a terrible espresso bar where the counter people get huffy when you order a quadruple cappuccino -- "Yes, quadruple meaning FOUR SHOTS!" -- since their doubles are weak as hell. They retaliate by stealing your half-eaten banana when you leave for a two minute Marlboro break. Anyhow... you wouldn't believe how passionate these fencers are. They screech when attacking. It's an underrated spectacle in sports. Second, panic arrived in the form of a jury duty court summons in my mailbox. Oh shit, they found me! Not so fast. Turns out it's addressed to some dude I never heard of. Yes. Toss summons in garbage!

Last, and best of all, the WORD'N'BASS Show is back in effect after a nearly one month hiatus due to our studio relocation and other drama. So tune into 104.1 FM on Friday from 10:30 pm to 1 am for the regular Downtempo, Drum & Bass, and cosmic vibes. We're old school like vinyl though, as the stream is down until Natasha our tech support figures stuff out. Remember The Long Haul ruckus a few weeks ago? Yeah, the pigs ganked our computers that send streams of beautiful bass into dot-com land even though legal analysts are shocked that judge Cretin Ford granted a vague search warrant in the first place. So until further notice the show is on the radio but not streamed live on the Internet. I'll still post regular sets in the audio section though, so keep it dialed.

* Met = me leering behind Rayban aviators as Margherita fenced in her white outfit, occasionally pulling off her helmet to reveal golden locks and intense brown eyes.
__________________________

The End!

Among novelists there are no words more pleasurable to write than "The End." These words now appear at the end of my novel Bistro de Mars. What an exhausting road to the finish line it had become. This novel, which some old school friends might recognize as semi-biographical, is about a San Francisco boxer trying to make the Olympic team whose dream is potentially scuttled by hooligan friends, a fickle girlfriend, and other inner city drama. Finishing it took longer than expected. The result of nearly four years of grinding away, this manuscript has existed as a Word file even before WORD'N'BASS.com, which launched in spring 2005.

During the three and a half years since, I've come to know many authors who can bang out a novel a year but unlike these ubertalents, I am a slow writer when it comes to prose. Which is ironic since at the day job I'm known for banging out news breaks quicker than anyone and never suffer from so-called writers block. Novels, especially ones that return you to dark times, are a whole different matter. Sometimes I just didn't want to return to the Lower Haight fiascos of my past. Still, one chapter at a time, I slowly banged out this thing until it is now a whopping 94,000 words, 289 pages, and already rewritten a half dozen times in some sections. Tonight I'm gonna celebrate with -- you got it -- gin martinis, baby! Then it's onto more rewrites. And more rewrites...
__________________________

Seven years falling!

Exactly seven years ago we got hit with the worst terrorist attack in our history. None of us expected such a thing could happen. We're the USA, an impregnable society founded by warriors. But it did. This week I got so buried in my day job as a hitman, I mean, financial journalist, that I didn't even realize 9/11 was upon us until a friend mentioned it. Which reminds me that, after the towers fell and everyone had departed The City in BART trains and cars to be with family, I slaved away for 12 hours working the phones and reporting on what seemed like the fall of civilization.

Realizing that guys I knew at Deutsche Banc, Smith Barney, CIBC World Markets and other investment banks had offices in the World Trade Center or nearby, I also spent the day madly calling everyone hoping to confirm they got the hell outta there. Amazingly, they all did. Including one trader in the WTC who saw the first plane arrive while he gazed out the window drinking his morning coffee. I think he's out of the biznis now because we've not talked in years. Lots of folks ended up making lifestyle changes after surviving that carnage.

Seven years later the net result of 9/11 was 2,974 people dead in the immediate wake of the attacks, untold billions of dollars wasted on war, one friend serving in the Army in Iraq (Gartsu, I am shipping another box of Partagas this weekend!), and haunting images of people falling from the sky. I watched a documentary The Falling Man last night that's worth checking out. Even if it bucks what we want to remember from that day. It's not only a fitting reminder of the lives we lost, but the struggle of Catherine Hernandez to refute media reports about her father the so-called jumper is a reminder that we journalists had better get the facts right.
__________________________

The Good, the Bad and the Ugly!

I recently watched this classic Clint Eastwood flick and it blows away any Western made in the forty years since, so I'm gonna drop this GBU style. Okay?

The Good: The Keystone Cops, I mean the Oakland PD finally caught three hoodlums who terrorized the city with a dozen takeover-style robberies over the past month. It was the latest crime trend in Oakland and resulted in newspapers from California to Germany gleefully running stereotypical "Oakland's Just a Bunch of Thugs" stories all summer. Also, their capture means I'll no longer pack a .45 during espresso and pizza runs. Yes! I hella love Oakland!

The Bad: For a good 50 years Ernest Hemingway was the baddest man on the planet and his epic 26 pages in "The Snows of Kilimanjaro" was among best short stories of the 20th century. Today, I hit Peet's Coffee where they've got a new varietal that I've never tasted before: Tanzania Kilimanjaro, produced in small batches by farmers near the snow-crested mountain and described as "refined and smooth with fruit-tinged layers of malty sweetness." Alright! I'm gonna brew my first pot Tuesday morning and come Saturday I'll make cappuccinos out of it to enjoy while reading Hem's short for the first time since college.

The Ugly: JK Rowling had her lawyers beat the crap out of Steven Vander Ark, who wanted to publish an encylopedia about her Harry Potter series. Rowling issued a statement after Monday's ruling, saying, "I took great pleasure in bringing legal action and am delighted that I can now return to my palatial estate, where three cabana boys are waiting to provide my weekly mani-pedi, poolside, in their Speedos. Toodle doo!"

Bitch please! She should be flattered there's interest in her little magician stories at all, let alone folks wanting to write encyclopedias about them. The only thing worthwhile in Harry Potter is Emma Watson. She's adorable. The rest is stupid wizard crap. And Rowling is setting a dangerous precedent here by narrowing the line between fair use and excessive use. This could have a chilling effect on academics' research and appraisals of literary works. None of that matters to Rowling cuz she's rich and pubbed the greenest book ever. Besides, she's busy getting another shot of Botox, shopping for granny drawers at Nordstroms and dousing herself with Charlies fragrance.
__________________________

Thugs GTFO of Oakland cafés!

Remember the new Olympic sport I joked about Restaurant Rob 'N' Mob? Well, these take-over style robberies have continued in Oakland and it's happened a dozen times in the past month alone. Only now they're hitting Italian restaurants and organic cafes. This is war! Once you mess with café society get ready because we'll bust cappuccinos on your ass. I can just picture these thugs showing up Friday when the Bryan Harrison Band is hosting a benefit for Nomad Café. After all, the thugs robbed this staple of the Oakland coffeehouse scene while community members held an anti-crime rally nearby "to reclaim the streets."

Oh, what bold bastards they are. Think I'm worried? Bring it! I wanna catch these fools and collect the $50,000 reward the Oaktown cops finally announced. And remember by Friday evening we're coming down from three cups of organic French Roast, two double lattes, a double espresso and a bunch of chocolate covered espresso beans. That means we're hard. Hard, know what I'm saying? PS: You Oakland pigs must cease your tireless issuing of parking tickets and moving violations when folks pull a "California stop" and go arrest the thugs. Protect Oakland citizens, serve us some justice, and do your damn jobs instead of racking up the easy "violations."
__________________________

Great White sharks get the Labor Day munchies!

I think Labor Day has something to do with unions getting established way back when and so America gets to celebrate workers rights and whatnot. Even though unions are a dying phenomenon in this country and Americans work harder and longer than just about any developed nation on Earth. So, America's guilty conscience throws us grinders a national holiday instead of stuff we can really use like universal health care, pensions, month-long summer vacations or a higher standard of life that are routine in Europe.

When we get three days off we either party like maniacs all weekend, hit the beach or BBQ with our brews. Since it's sunny and warm, I was asked to hit the beach. Okay, let's check Pacific Coast Shark News to make sure this is safe.

The waters off Stinson Beach were closed to swimmers and surfers until sunset on Friday, August 29th. A surfer… spotted a shark, 8 – 10 feet in length (and) said the shark was possibly a Great White Shark.

Um, you can scrap Stinson Beach off the list! This isn't the first time Stinson has freaked me out. Years ago I nearly made a second attempt at taking up surfing after watching those Stinson surfers do their thing. Then a Great White shut down the beach for a week. End of all surfing adventures. Let's keep it closer to home. Ocean Beach, anyone?

Mike Anable, Evan, and Melissa were surfing Ocean Beach, San Francisco. Anable recalled: "Evan and I observed the dorsal fin of a shark, 10 – 15 feet in length, about 75 yards from our location in the line-up. The dorsal fin was about 2 ½ feet high. After seeing the size of the shark's dorsal fin... I was kind of freaking out. I have never seen a fin that big."

Oh shit! A 15-foot shark? You know that's a goddamn Great White! No way am I getting anywhere close. It's guaranteed they are fiending some human sushi rolls. Think we'll stick to collecting new Vital Elements DNB tracks, running trails near the Cliff House, chowing piroskis at the Moscow & Tbilisi Bakery and downing Sapphire martinis. At 10 am.
UPDATE: Whoa, did you click the shark link? On August 29, 2008 Peter Maris was surfing Ocean Beach... "I spotted a large dorsal fin of a shark 40 yards from my position... I would estimate the height of the fin at about 3 feet. Run! Swim fast! Carry grenades when you enter the water! A three-foot fin means it was like a 20-foot Great White Shark.
__________________________

Solve this mystery: why is Bijou Phillips with that tool!

Got an interesting email from literary agent Lucienne Diver of The Knight Agency, who says she's doing a "Mystery Week" on her blog. She actually started this back on August 18 and has got so much mysterious content lined up this is a two-week theme, easy. There's interesting and useful stuff happening there so check it out! Lucienne is blogging (in no particular order) with:

Diana Orgain whose debut mystery POSTPARTUM DETECTIVE has just sold to Berkley Prime Crime, along with two sequels… Sarah D'Almeida/Sarah A. Hoyt of the Three Musketeers Mysteries for Bantam… T. Lynn Ocean of the Jersey Barnes Mysteries for St. Martin's… Tony Perona, anthologist and author of the Nick Bertetto mystery series… Lee Lofland, who runs the cops and robbers blog The Graveyard Shift and is author of Police Procedure and Investigation, A Guide For Writers.

Meanwhile, I am here at the WNB.com HQ tryiing to figure out the mystery of my precious Bijou Phillips while listening to Calyx beats and watching Ike "The President" Ibeabucchi beat crap out of Chris Byrd on mute. I like stimulation on multiple levels simultaneously, which is why Bijou is my favorite actress. Not only is she a former model but she also is a damn good folk singer as you'll hear at her Myspace. She even plays poker (photographer, would you please tell that jerk to GTFO next time you're snapping pics of Bijou), which means that she and I are made for each other.

Yes, they say she's got a mean streak to her. Fine by me. She can punch my face while I spank her butt! Bijou has a new film out about old school punk band The Germs, so she met some reporter at a NYC café. Given she's well-known for chopping dudes with cigar clippers and beating rivals down at nightclubs, I'm surprised Bijou didn't pull out a .45 and shoot the OK Magazine reporter's ass. PS: Bijou it's time to drop that tool and step up to this!
__________________________

Like TV, the US Olympic boxing team sucks!

In the nine days since these Beijing Olympics began I've watched more TV than anytime in four years. Was gonna watch tonight's CNBC broadcast of the boxing quarterfinals from 11 pm to 2 am (yes, 2am Monday morning, on a workday) to see if USA Boxing can salvage these Olympics with their two remaining guys, welterweight Demetrius Andrade and heavyweight Deontay Wilder. But decided it's not a good idea. This Phelps thing and the insanity of television -- machine gun advertising every 10 minutes, talking heads who make no sense, general stupor -- has me ready to jump out of a window. Whether it's sports or not, TV makes me feel sorta insane. How do people stare at this idiot box for hours everyday?

Anyhow, I saw our middleweight, some dude named Shawn Estrada from LA. He's so horrible it was embarrassing and comical. All he did was lunge in and flail with punches. How he's our best amateur middleweight is a mystery. Seems he was overwhelmed by the moment and not thinking in the ring, but his boxing skills suck irregardless. He lost 11-5 to Great Britain's James DeGale who took Estrada so lightly he even admitted he was distracted by smoking hot Brazilian babes all week. Afterwards, Estrada couldn't answer Jim Grey's questions like "What was your strategy?" and "Why didn't you jab?" Like I said, he was comically bad. There are many reasons why USA Boxing sucks. Whatevs, that's besides the point. As a former boxer whose two novels are:

1. About a boxer who kills people and flees to Mexico with his smoking hot girlfriend...
2. About a boxer who gets massacred by the night creatures of America...

I enjoy watching the Olympics to 1. Talk shit about dudes who are 10x better than I ever was and 2. Gauge the future big name pros. I have decided that Ireland's Darren Sutherland, who blasted some dude into Bolivian with 4 seconds left to advance to the quarterfinals, is a future star. Super Heavyweight David Price of the UK is on fire and y'all will hear about him in the future. Our own welterweight Andrade is looking real good. I guarantee he's a future world champ unless he hardly fights at all like our one and only 2004 Olympic gold medalist Andre Ward, who is practically a neighbor of mine.

Also, one Alfonso Blanco of Venezuela is a nice pro prospect as well. Am gonna keep my eye on him. Quick, great footwork, aggressive, good power. But the stupid ref almost got Blanco KTFO when he let him get cold cocked by an opponent after he told them to stop punching but failed to separate them. The incompetence of the Olympic boxing officials is manifesting itself in many ways. Germany's Olympians are sure competent, though, if competent means smoking hot, fit women athletes who show their breasts to us. Woohoo! This is surely worth a midget dance.
__________________________

Downtempo and Electro is back in the haus!

Okay I don't know what the hell happened but that latest Downtempo and Electro set wouldn't play for awhile. One minute the beats were flowing and then Friday I tried bumping some bass. "File reached end," it said. WTF? After tinkering with this technological stuff for two hours and blowing my top two times it's playing like normal and y'all can once again enjoy smooth beats mixed in the following tracklist order:

Thievery Corporation, Zab, DJ Krush, Thievery Corporation, Trinidad, Ben Wa, Bjorn B, Kruder & Dorfmeisterer (remix), Markus Schultz, Lemongrass (remix), DJ Cam, Big Bud.

Yeah, those are all blunted producers. Most are from offshore places like Great Britain, Japan and Austria with the exception of Trinidad. I met him right here in Oakland while on a beer run. Imagine that -- meeting an Oakland rapper in front of a liquor store. This mix is about as mash-up as you'll ever see from me. It goes from Dub to Hip Hop to Downtempo, rises the BPMs during a bit of Electro and then downshifts back to slow chilled out beats. I call this style of mixing the mountain. Hope you enjoy it, kids!
__________________________

Miramax: Get writing, bitch!

Buried deep in the pages of a UK newspaper comes news that Miramax's book division is suing novelist Allison Pearson for failing to deliver a book called "I Think I Love You" despite their $700,000 advance for the film rights alone. This comes seven years after they also paid here a cool $1.4 million for the film rights to her novel "I Don't Know How She Does It," a story that sounds like cliché chick lit fare about "the life of a successful investment banker who tries to balance her career with motherhood." Yawn. Anyhow, Miramax filed suit against Pearson in NY and now their lawyer says they're gonna beat a bitch down!

I just don't get it. You score over a million British pounds or 2.1 million bucks in our devalued US dollars and you can't find the time to write one freaking novel? What's Pearson been doing all this time? Probably spanking her American cabana b oys at a beach house out in Ibiza while twirling glow sticks to the smooth beats of Chus & Ceballos. Which is surely a nice way to pass your days. But c'mon, if you want the lifestyle it's bad form to ditch your publisher like you're John Steinbeck's wife dogging his sons. You gotta write sometimes.

In related news, I am here in an Oakland apartment writing my novel "Bistro de Mars" while swatting the buttocks of my latest imported British hottie and drinking Bombay gin. Don't care how many US publishers they burn down, British women are the bomb. Because they have cute accents. And are cute. I'm also downloading Downtempo mixes in case you skipped the homepage. This little stat counter thingie says lots of folks have saved the blog section under their "favorites" instead of the homepage. Which is weird, considering that's where the real news is at while this little blog is just my page to rant about stuff.
__________________________

We need a vegan, wheat grass-eating novelist!

Whenever I read Ernest Hemingway's "The Sun Also Rises" I wanna eat Spanish food. Henry Miller's novels like "Tropic of Cancer" and "Quiet Days in Clichy" make me crave escargot and baguettes. And most recently, JA Konrath's "Fuzzy Navel" makes me wanna drink a martini. His mystery novel includes a recipe for the Rusty Nail but I'm not down with peach Schnapps. Since I also associate JA with his prior novel "Dirty Martini" a round of martinis is an easy thing to inspire. Gin martinis, preferably a British label like Bombay Saphire or Tangueray 10. Served dry, with a splash of Italian vermouth and an olive.

Anyhow, I've now run out of Tangueray gin. WTF! If the liquor deliveryman doesn't arrive in 20 minutes I'm putting a .45 to my head! Um. No need to panic, there is a solution to everything. When I got JA's new novel Fuzzy Navel this week it included one of his branded coasters. One side advertises "Bloody Mary" and the other side shows his latest (greatest?) novel. Since I love my coasters -- my man Mike sent over an official US Senate coaster used by the Senate majority leader and someone else gave me a Leffe coaster but I was too drunk to remember who or where, other than it was a kinda weird European chick -- I found that reading JA's novel while drinking a bottle of Sierra Nevada ale is perfect. Or two bottles. Or three, four... This is all appreciated JA, but could your next novel please include a protagonist named Jack "Organic" Blueberry who has kinky sex with smoking hot British actresses like Imogen Poots? Thank you very much.
__________________________

Goldie the classical composer inspires new Olympic sport!

File this under mismatches or odd pairings like that lezbot DJ and my precious Lindsay Lohan. Longtime Drum 'N' Bass DJ Goldie is trying his hand at classical music and they say British conductor Ivor Setterfield is mentoring him as he attempts one of the more unusual musical transitions. Who'd have thought a DNB artist would even like classical music? It's true. Setterfield says: "Recently Goldie came to a concert I was giving where we played a piece by Argentine composer Astor Piazzolla. The next week he mentioned it in his top 10 tracks of all time in a London paper. That was fantastic to me."

Don't think this is a shock to me. I'm down with unusual combos. For example, in the spirit of the Olympics, here in Oakland the thugs have invented a new Olympic sport called Restaurant Rob 'N' Mob. In case you've not heard, take-over style hold ups are the latest hot trend in restaurants across Oaktown. So to earn an Olympic gold medal, you go out for some Thai food while packing a .45. Since there's 3/1 odds of surviving dinner without getting blasted that earns you a bronze medal. If the thugs barnstorm the restaurant and you escape without giving up your wallet that's a silver medal. If you complete a meal while surviving a shootout and take down at least one thug either through murder or capture then it's gold, baby!

Speaking of the Olympics, who watched them light the torch? I caught it because for once I was not out on a Friday night since the WORD'N'BASS Show is on hiatus till mid-August while we move studio locations. Their amazing visuals sure whetted my appetite for watching these Games. Check out CNBC for three hours of Olympic boxing coverage daily. NBC is hardly covering boxing since it's a crappy network. Also catch the swimming, beach volleyball and track and field. Forget basketball. Our prima donnas can get their asses kicked again for all I care. Especially since none of my GS Warriors or NYK players are in it.
PS: To makeup for missing last night's studio session I'm posting a new Downtempo mix later this weekend. Keep the homepage dialed! UPDATE: Yeah my bad, the weekend flew by. After running too many laps up Cleveland Cascade in successive days I'm exhausted. Time to watch the Olypmics. Downtempo set will go live early this week, I promise. USA, USA!
__________________________

Goodbye, Compression!

I guess Thursdays are a rough day for Drum & Bass parties. Back in 1999 we'd hit up those amazing Ekektic parties where DNB reigned and a bevy of great DJs who are outta San Francisco like Star Eyes and UFO! dished beats to appreciative DNB-heads of all ages. Climbing those stairs you'd feel the bass rumbling and just know something exciting was going to happen that night.

The next day closing out the work week sure was exciting, if by exciting you mean hung over and half asleep despite six shots of espresso, a Nodoz and a fire extinguisher blast to the head. During those pre-millenium dot-com Fridays I wouldn't know "alertness" if it was a racoon thrown at my face. Eventually Eklektic stopped, other regular DNB events began, and years later we all found that nostalgia had set in. Turns out no matter how many great DJs passed through San Francisco or what kind of epic shows occurred, there was only one Eklektic.

Fast forward to 2008 and every Thursday night Compression has been dropping the bass bombs with resident talents like DJ Mal, DJ Ivry, Colonel MC and Audio Angel (an Eklektic alumna). I was surprised to find that as of last Thursday, not anymore. According to this blog, "Well, shit, gang: it looks like this Thursday may be the last ever weekly Compression… Doors open at 10pm, then at 3am close FOREVER." Apparently there's been problems with the club's management ever since they moved their weekly show over to Temple.

I really haven't been at Compression much because Fridays are absolute murder in the media salt mines in which I suffer, where you've got to bring your A Game and a hangover is the difference between victory and getting your ass kicked by some journalist who you'd normally scoop like Fenton's ice cream. Still, it's a bummer whenever you hear about a longtime DNB party closing shop. Ciao for now, kids. While one crew is closing shop, another one continues. Check out Redline's two year anniversary party this Saturday night at San Franscisco's Matador, where Ultraviolet, Kozee, MC Child and others do their thang. You can get in free before 11 pm if you RSVP here.

PS: Kozee is the cutest DNB DJ ever, amiright? Aside from Alley Cat of course.
__________________________

Women authors, welcome to the SFC!

I'm back in The City, tanned, well-rested and fit after several days in the wine country. I totally bailed at the last minute without realizing that I was skipping out on fight night with the fellas. They say that Antonio Margarito is a brutal motherfucker and Wayne McCullough, whose bio I covered when it was a hit in the UK, says I missed the fight of the year. I also missed some smoking hot women authors who wanted to meet for cocktails before this Romance Writers of America thing started. In fact several "meetings" fell through because of two main reasons:

A.) I was busy soaking in hot springs, sun bathing poolside, running wind sprints up Mendocino Lake, downing organic brews at the Ukiah Brewing Co., or lining up six simultaneous glasses of wine at a beautiful place I cannot remember due to being drunk.

B.) Their email asking, "Do you want to meet for a cocktail at the Marriott?" was greeted with the reply: "Sure let's meet for five or fifteen cocktails from 5 pm to 4 am." No email reply came back. Oh. Welcome to San Francisco my hometown, ladies! You know I love ya!
__________________________

Hot springs road trip, wine tasting, hell yes it's summer!

Since returning from Vegas the day-to-day life of big biznis media work has ground me to a pulp. When this happens there is only one solution: hot springs road trip! Will also work in some wine tasting while up in Sonoma, but I'm talking about Vichy Hot Springs for a couple days to soak the hectic city life away. This is the only naturally carbonated hot springs in North America. You lay in the mineral water and bubbles rise like champagne, an odd sensation that they say revitalizes the skin.

On the wine front, I am skipping the tourist traps in Napa and Calistoga in favor of Mendocino and Sonoma. There are many fantastic wineries up there. Instead of battling with stampeding tourists for bar space it's better to enjoy Ferrari-Carano's excellent chardonnays and cabernets in relative peace or enjoy roasted garlic, cheese and bread at Robert Mondavi's Mendocino winery after a tasting. He also has one in Napa but this one is better.

Also, I decided to finally stay at a quaint Victorian hotel called the Hopland Inn that I've passed by many times. Cuz it's right across the street from Mendocino Brewery, maker of Red Tail Ale the best beer in America. Yes, there's nothing like pounding brews and then staggering a whole 50 yards back to the hotel. But before the brews start, I gotta earn it by running for miles up these madly steep trails over some lake off highway 1. This will probably beat my ass down. Pain is pleasure as long as you get the reward afterwards. Yes, the reward! Can't remember the name of this lake but it's on the map somewhere and I'll figure it out on the road.
__________________________

You say La Pequeña is hot? Introducing Danielle!

Put down your Sunday Negro Modelos and listen up. Our sometime book reviewer Michelle just said, "I can't put down this book." Since this only happens about twice a year, consider my interest piqued. I stopped scouring the gossip blogs for the latest pics of Sienna Miller naked on a yacht and asked: "What book?" "Falling Under," a sexy, edgy, dark and amusing novel from Danielle Younge-Ullman published by Penguin imprint Plume. Michelle was last seen heading over to the new San Francisco H&M store with my advanced readers' copy in tow. Wait a minute. "Can't put down" and book goes on clothes shopping sprees? Sounds like a hot read for the late summer when this novel launches in August.

Speaking of hot, yesterday I hit a charity BBQ for the Taqueria El Balazo workers who got ICED and need legal funds. I fully expected your standard BBQ chicken, hot dogs and burgers, and was stoked to find a bunch of El Balazo cooks grilling carne asada, chicken and tortillas along with fixings like homemade guacamole, salsa and pinto beans. They also had the liquor flowing and an eight-piece band playing either mariachi, Jewish folk or Afro-Cuban music. I'm not sure what in hell they played actually. Maybe a fusion of all three. Then a crazy old Mexican woman dressed like Harry Potter's grandma busted out with performance art in Spanish. I recognized words like "chinga" and "cabron." Their BBQ had already raked in thousands of bucks when I left. Now that's how you raise money and build hype.

While I am intrigued with Danielle's promising debut as a novelist, given "Falling Under" launches in just a couple weeks and bookish folks can pre-order it here, IMO she should take a lesson from Mexican Witch and the brilliant La Pequeña. Both are executing lesson No. 1 on garnering big time hype: latch onto a widely reported news story -- in these cases the federal crackdown on immigration and the Chilean stripper who pole danced on subways -- repackage it utilizing your own unique skills and blow up large. Go La Pequeña, go La Pequeña, go! EDIT: Youtube pulled the video and flagged another equivalent one. Apparently, obsessive parents are afraid their screaming brats who shouldn't be surfing the net anyhow cannot bear seeing a tranny midget pole dancer strutting his stuff. Jerks. Here's an alternate video of the Legendary La Pequeña! PS: Thanks, Danielle.
__________________________

Evacuation is over - I hope!

"Paradise is burning," I told a dude Friday on the drive into San Francisco. He thought I was talking hypothetically about the fact California today has more simultaneous wildfires than ever before. No. The town of Paradise caught fire and was evacuated for the second time in less than a month on Wednesday. My parents moved up there from the SF Bay a few years ago and so this summer's been pretty stressful. Twice now they've loaded up some belongings and made the long drive outta town.

It basically went similar to these folks' exodus only replace a Red Cross evacuation center with a quaint hotel in some town and substitute newspapers and board games with reading novels in the sun. Mom, who doesn't do the public evacuation thing, instead hit up 20 hotels until finally locating one with vacancies. She's precious. High maintenance? Maybe. Now you know where I got it from. She probably gets to return home today (Saturday), hopefully for good, but the writers at CNN were wrong. Two days ago they said it was contained but the evacuation wasn't over till today. Whenever a reporter puts a question mark in their headline that means they don't know what they hell they're talking about. And if they don't know then they should STFU.
__________________________

Ace-Queen is a bad mix like Pimp-Ho!

"I'm a hooker not a thief." -- Natalie the prostitute, outside the Tropicana Hotel at 2:30 am

So I am back from Vegas, land of hookers, degenerates, gamblers and other participants in the 2008 World Series of Poker. The week started well, which is another way of saying this is a good news, bad news situation. First the good: I qualified for my WSOP event by winning a satellite and therefore didn't have to pay the buy-in out of pocket. This was an improvement over last year when I failed to qualify. Bad news is once in the WSOP, I was card dead all day. Who gets dealt shitty cards for five hour stretches? Since my constant folding led everyone to figure I was a very tight player, I exploited their misconception and bluffed like a motherfucker. There was no other way to accrue chips.

One amusing bluff involved Sam Simon, creator of The Simpson's TV show who last year donked his way deep into the WSOP Main Event and had lots of air time on ESPN. Because he's rich he tried bullying other players. I noticed that he always overplayed Ace-Paint. So, after he fired two loads of chips pre-flop and at the flop, I waited till he checked the turn. I had Ace of spades, 10 of clubs and there were three spades on the board. I could check and hope for a spade on the river, but decided to move all-in rather than hope for a 1 in 4 chance of spiking the nuts. He folded and meekly said, "Good bet." This bumped my stack to a reasonable level.

Naturally, a half hour later I pissed off six hours of hard work in a single hand. On an absurd bluff. My opponent raised to $1k before the flop and I bumped it to $2k holding Ace-Queen of spades. He stared at me for 30 seconds and finally, we went heads up to a flop of 8-2-4 mixed suits. He checked and I immediately moved all in. Bad timing. First, because he had pocket 8s and had flopped the nuts. Also, the guy I had tried to bluff was named David "The Dragon" Pham, a well known pro with over $7 million in career tournament earnings. My bad.

There were other events played like the WSOP nightly NLH tournament that doesn't get you a bracelet but yields some good paydays. This wife beater-wearing dude specialized in playing big pots with junk hands and then brutally sucking out. One night at 2 am we were down to the final 50 players and I turned two pairs with an Ace kicker, only for him to have trips when I played the trend rather than the hand and moved all in. Rail time.

On Thursday nights the Mirage hosts a NLH tournament that is one of my favorites because I always cash there. Once again, I was card dead and pulled off some crazy bluffs including a raise pre-flop with unsuited Queen-3 and a big bet on a flop of Ace-Ace-10 that was folded by two players. Finally when we got it down to two tables I started catching cards, moved into second place by the final table, and had built a huge chip lead once we were down to six players. My $80k dwarfed the second place guy, a muscular redneck with whom I'd battled all night.

The short stacks were a red haired woman and a 70-year-old misogynist who said, "Poker is a man's game," and I decided to bust the old man. He moved all in pre-flop and I immediately moved all in as well, a standard isolation play. He flipped over suited Ace-7 vs. my Ace-10 and I had him dominated. But the board made a straight, making us split the pot. Seeing my anger, the sexist geyser said, "I'm going to make the kid tilt," to which I said, "You can't make me tilt, bro." I took him down a few hands later when he tried an absurd bluff with nothing.

They tried chopping when we got down to four but I don't do that. Unfortunately, my refusal to chop coincided with another round of card cadaver horseshit and I had to selectively bluff once again. The pace slowed. Nobody would take the lead and we went into an ebb and flow of raise-folds. One time, after a flop of King-8-10, a guy bet $10k and I fired off a re-raise of $30k. Unbelievably, he folded and showed a King. I said nothing and mucked my hand as an older gentleman from Seattle said, "Don't mess with the master!"

During a break I was smoking a Marlboro Light pondering whether I could close out my second tournament win of 2008 or if this would end up another late meltdown when an Italian dude rolled up with his girlfriend and said, "You're the best player here. I can't tell if you're bluffing or not." I thanked him.

Eventually, if you bluff often enough you're going to get popped. The Italian did it. Holding Ace-Queen and missing the flop, I had already burned $40k in chips on busted draws and decided it was time to reload or get the fuck out of there. I checked the flop with the idea of moving all in if he bet. Sure enough, he bet a tiny $5k and I moved my remaining $35k in there. That was one bluff too many. He had flopped two pair and I got sent to the rail in 4th place with far less money than I should've earned with a win. Hell, I could've walked away until heads-up play and guaranteed 2nd. But I specialize in burning large piles of chips in record time.

On the 2 am cab ride down Las Vegas Blvd, I sat there in my Golden State Warriors jersey (goodbye, Baron Davis, we'll miss you) still wearing aviator shades in a daze. Replaying how that nice $80k stack had disappeared. Two hookers in a Mustang convertible pulled up at a red light and hollered, "Hey baby! Where you staying?" A dump called the Tropicana Hotel. "Do you want company?" I'm alright, thanks.

How is it that one minute you're arranging chips into a double pyramid and next minute you're chilling on a bench in front of the Tropicana talking to another hooker named "Natalie" about how half the girls in Las Vegas clubs are underage and trying to pick pocket dudes' bankrolls? BTW, if your idea of a fun hotel is running a gauntlet of aggressive merchants to get your morning watered down espresso at Cafe Crap Bucket and catching front row seats to late night hooker trolls, hitup the Tropicana. If not, go to the Rio with the normal WSOP players. So, the good news is my Vegas vacation was essentially free thanks to the satellite win and Mirage cash. Bad news is I'm not good enough to bring back a suitcase full of Benjamins from the WSOP, where they've now started the Main Event. Better luck next year. PS: Happy Fourth of July!
__________________________

Outta here!

Alright, the suitcases are packed, the DNB mix is live, and I have am now joining this year's migration of poker degenerates, world-class players and donkeys to Las Vegas. The WSOP tournament I'm playing is Event #44 No-Limit Hold 'em with ReBuys, a three-day tourney that starts Wednesday, June 25th and finishes Friday, June 27th. You can catch parts of this event live because it's getting broadcast on ESPN 360. Also Poker News and Card Player cover the event in real-time in their "Live Reporting" sections. I understand ESPN is rebroadcasting the final table only on their TV channel.

Originally I was coming back June 28 for a family party but it got canceled so who knows? A new poker buddy Kurt turned me on to a group of home gamers here in Oakland who are all playing the $1,500 NLH event that kicks off June 28, so maybe I'll stick around. Ciao for now!
__________________________

Congratulations, Chris and Monica!

"Oh my gawd, you're getting married?" - said by a girl next door.

This evening my neighbors Chris and Monica are hosting a BBQ/party. Sausages, burgers and fish on the grill, Mojito cocktails, girls in sun dresses, and guys who actually maintain the grill instead of let everything burn like someone we know. I just finished explaining to Chis how my drinking Sammy Smith's ale is an example of discipline -- by holding off on liquor in favor of beer -- when he says matter of factly: "By the way, Monica and I are engaged." Shock ensues. I'm so happy for them both!

Chris chose the oddest venue for his proposal. People's Park. Yes, the park from which the civil rights movement is said to have sprung. More recently, where the Tree Sitters have sprung from. And where Food Not Bombs still serves organic, vegan food just about every day. Also, it's where dozens of crackhead zombies drag their assess around looking for a hit or clothes to sell from the "free box" and where various bums sleep day and night. Chris proposed to Monica on a tree in this setting yesterday. "I waited until the crackheads stopped screaming," Chris says. Romantic!

PS: Brews, BBQ and heat wave laziness mean my DNB mix will go live Sunday morning, right before hitting the airport.
__________________________

Hot, hot, hot Drum 'N' Bass coming today!

It is a smoking hot Saturday here in the SF Bay. So hot I nearly passed out drinking my afternoon cappuccino shirtless on the porch just now. I'd have done it iced except yesterday Café Trieste served up the worst iced coffee ever, and I am now scarred. Normally a day like today calls for a beach excursion but I'm flying to Vegas for the World Series of Poker and must pack up the clothes, Prada shades and drugs, then post some Drum 'N' Bass first. Gotta throw y'all a bone to keep you occupied since I'm leaving for a week + right? Not only will my latest DNB mix go live shortly but Grid Recordings sent over a podcast with labelmates Zen, Skibadee, MC Fun and Harry Shotta. So checkout the homepage later today for all your DNB buzz.

UPDATE 4:20 pm: The Grid crew's set is now live on the homepage. Timing of this update is strictly coincidental. Ha.
__________________________

Die Lakers die! - a liveblog!

Longtime readers know I love me some basketball. And as a Golden State Warriors fan I will relish tonight's season-ender when the Celtics crush the Lakers like ants on a sidewalk. Since after tonight my total television experience is getting reduced to only boxing and poker, it's also the end of excuses. No longer will these NBA Playoffs scuttle my evening workouts and novel writing -- like they have for the past several weeks. So, to mute the pain of TV, advertisements, and talking heads that never STFU, I am gonna liveblog this thing. Assisted by several rounds of martinis, of course. How I'll relate basketball to novels and electronic music is beyond me but whatevs. Hit F-5 for periodic updates throughout the game.

6:07pm: Some chick Paula Cole just sang an understated national anthem without botching the hell out of it. They just did the starting line-up intros. That was way overstated.

6:10pm: They're onto crappy ads nobody watches. Tip-off shortly!

6:23pm: Refs called a foul on Paul Pierce and Kevin Garnett just minutes into the game. Y'all know how these refs do it. They want a game 7 and just love Kobe & Co. Kobe's firing shots like a maniac but we all know how that goes. Choke City later.

6:35pm. They say multitasking is a sign of intelligence. Well just so you know, I suck at multitasking. Lakers down 18-20 and I put a couple martini glasses in the freezer, to get them properly frosted. First round is in 5 minutes after a thin layer of water turns to ice. My updates will decline sequentially with each cocktail... then the rants might kick in.
6:49pm: Good martini. Tanqueray gin with Italian vermouth and a kalamata olive, served dry and cold. Kobe missed an absurd 3 point shot and the broadcast booth spent a minute straight capping on the Lakers fans who made no noise during the series. What, do they think LA fans are there to watch the game? Jack and his Depends diapers are there to be seen, not heard. Like screaming brats should be seen and not heard. Especially on flights. I'm flying to Vegas on Sunday and if they sit one next to me I'll strap him to the ceiling and use him as a punching bag. Anyhow, Celtics are up 24-20. There will be no 20 point 1Q leads tonight. This means the Lakers should lose by 69 points.

7:09pm: My biggest disappointment in Kobe is his hair cut. Why the hell did he shave it off? Now I can't call him Buckethead. Locker room update says Ray Allen is still in there. A Laker scratched his eyeball awhile ago and nobody knows when he's coming back. He dropped a nice 3 earlier. Despite this Boston is up by 6. An old hag called a technical on coach Doc Rivers for no reason. Someone needs to throw an egg at his bald head.

7:32pm: Halftime already? Told you the updates would get jacked. Celtics up 58-35 at the half. It is a bloodletting, baby! BTW Ray Allen is back, a repeat of Paul Pierce's game 1 return from an injury that appeared bad. TV-head guy just said, "The Lakers gotta regroup." Oh really? TV-heads are already talking about the Celts adding to their history. Expect torturous halftime show where they once again overstate the shit out of this game and this series. I need a Marlboro and another martini.

7:45pm: It's the halftime show. Boring! Except some locker room clips of Doc Rivers talking. He out coached Phil like a MFer all series. I went outside for a smoke and drink to escape these horrid TV ads. BTW did you kids see that Fischer fool on the Lakers take out a row of courtside photographers back in the 2Q? My man Ben Furtado called. He is a courtside photographer at Sacramento Kings games and after Fischer's anal fisting of the photags I asked him if he ever got taken out like that. Yes, he did. By Mike Bibby who clobbered him then started humping his leg and rubbing Ben Gay all over him. Bibby's in Atlanta now which is hell in a shit bucket if your girlfriend is not white. Trust me on that, right Jody? Anyhow, Ben was my sidekick back in college who would roll with me across Reno playing pickup basketball. We also spent lots of late nights dwelling in the photography lab. Check out Ben's website Furtagraphy.com. He shoots gorgeous pics, not just sports.

8:05pm: Ray Allen dropped a vicious 3 and the Celtics have now extended their lead to 28. Humiliate them! Celts had more steals than the Lakers had field goals in 1H, according to a TV-head. Just like the last game, Kobe had a hot 1Q then disappeared. He is not clutch. Sorry Maurice, La La Land is going down like Heather O'Neill did in London. Celtics will win this big like Rose Tremain won the Orange Prize. How's that for a literary reference? Yeah, that's stretching it but um, this martini is a good one. 50-50 gin to vermouth ratio is the way to go. Checkout the homepage, I just posted video of the Orange Prize awards ceremony. Swanky event. I so gotta hit London one day. Maybe hang with my favorite Drum 'n' Bass diva Alley Cat. And Savitri, one of the most brilliant young journalists today. Holla!

8:16pm: Ball-sucking TV announcer pretends he's Paul Pierce and says, "Hey, Kobe Bryant is the best player in the world but that doesn't mean I can't outplay him." Wrong! Paul Pierce already proved Kobe ain't shit! Buckethead is a front runner and a stat-hungry scorer. Celtics have 13 steals in this game so far. That's sick! "Defense wins championships" is a cliche for a reason. Thank gawd the Lakers are getting the shit kicked out of them, ending the torture of basketball fans everywhere outside LA. Announcers haven't made the Michael Jordan-Buckethead comparison since before tip-off. If he scores more than 8 points when we get to 4Q they'll bring it up. Side bet - if they evoke Michael I'll immediately pound another martini. As a shot, not in the normal civilized sipping manner. Which reminds me. Time to hit the porch for another Marlboro and martini.

8:37pm: Rondo, who's had a crappy series but is a talented young guard with major upside, took a flagrant foul on what seems like the first fast break of the series. That was almost Warriorseque. Celtics steal the ball and chuck it up court where Rondo tries to dunk but gets clotheslined. He made the layup and the freethrows. Celtics now up by 36 points and the lead is stretched as wide as James Nae's ass.

9:00pm: Garnett, playing with passion, swatted Kobe's shot awhile back. Spiked it! Lead is up to 40 points now with 1 minute to go. This is an absolutely devastating beating. If it was a boxing match it's a KO. You can't do that in basketball so the Lakers misery continues. Kobe is about to burst in tears. My man Pete just called. He's gloating and so am I. We gotta hit some Warriors games next season. Turns out Pete recently took up poker and has been playing at the Oaks Card Club. Oh oh, we're gonna get in some trouble.

9:22pm: Celtics win 131-92. The confetti is falling and they're playing We Are The Champions by Queen. Paul Pierce is the series MVP. Kevin Garnett cried on TV when they asked him what this meant and after pulling himself together shouted, "Anything's possible!" He then approached Celtics legend Bill Russell and told him, "I hope we made you proud." Wow. Unlike so much in the NBA it was a legitimately touching moment. Anything is possible. Including me drinking a dirty martini. Mine are always dry but author J.A. Konrath, who wrote a kickass novel "Dirty Martini" and once told me something I can't remember due to too many martinis, has inspired me to mix it up. So it's time to enjoy one last drink and burn the hell out of dinner. Ciao for now, kids!

__________________________

The end of a catfight!

During my college years I once broke up a catfight between two smoking hot girls at a kegger. There they were, in the middle of a crowd pulling hair and scratching each other to shreds, so I stepped between them, disentangled the claws and said, "C'mon girls, stop that. Let's act like ladies here." A few screeches later and it was over. You won't believe the dirty looks some guys in attendance dished me. That moment was one of recognition: in certain ways I am socially conservative. While many guys believe two college babes scratching and pummeling each other is the pinnacle of hotness, to me it was sad. I don't like seeing girls get hurt.

Literary catfights are different. In publisher boardrooms like HarperCollins, nobody gets beatdown except in theory. So I sure was disappointed when a socially, fiscally and every otherly conservative Rupert Murdoch stopped the slapping, scratching and hair-pulling between the flamboyant Judith Regan and Jane Friedman by chopping Judith's head off. Boo! Well, Judith's long gone but last week I missed this press release announcing that Jane "is stepping down" as president/CEO. Yeah right! Everyone knows that curt announcement is PRspeak for Murdoch beat a bitch down.

Judith is probably skipping on the clouds right now clinking martini glasses with her lawyer Bert Fields. In the bigger picture, there's other more bookish fallout on tap and IMO it's bad for authors seeking publication. Gawker says Friedman's replacement Brian Murray doesn't give a fuck about the literary aspects of publishing. So you can bet HarperCollins is going to churn out tons of cliche novels by "celebrity authors" while rejecting the fantastic novels of talented authors. That's called watching the bottom of the barrel... I mean... the bottom line.

PS: Who wins a catfight when both got KTFO? Whomever gets the bigger severance package!
__________________________

June is all about summer memories!

Burning Man. Meh. Why spend days washing layers of Black Rock Desert off yourself after some pervs posted video of you half naked in a drug haze acting like a fool for a week? Especially when you can drive one-third the distance and camp surrounded by Drum 'N' Bass and Trance beats for a few days at the Memories Campout? Three days is plenty. Like my man Nick said after one Burning Man trip, you'll end up spending half the week lobotomized and showering repeatedly in your RV after the third or tenth brutal dust storm. Nobody can handle a week of that shit.

This Memories Campout thing is tempting but I'll miss it. Cuz I am hitting Vegas for the World Series of Poker beginning June 22, where a stampede of donkeys will do their best to play their worst and then cross their fingers in hopes that they'll suck out on me. Not this year, bitches! I am practicing more discipline nowadays, which includes not only folding when I'm beat but sometimes even when I am not. I got second place at last Sunday's NLH tournament at Artichoke Joe's practicing this Zen style poker, which first cropped up while cashing in three out of four tournaments back in February/March. It was my seventh cash at a NLH tournament this year. Keep my aggression in check and things should go fine. Barring suckouts.

And barring the adorable blonde who begs us to chop because she has no money for her flight back to Wisconsin. And a meltdown from a third consecutive 12 hour poker session without eating a meal. And the hot slut with a tattooed back who keeps talking about how she wants to open a vegan restaurant. And those mad ape taxi drivers. And the Bellagio fountains that are a danger to all vaginas. And covert trannies scampering into tournaments screeching, "You go girl!" And the jerk who crashed his car into a light pole, causing a blackout at the Rio last year just when I was about to actually eat a meal and instead had to settle for a Powerbar. Again.
__________________________

Thank you ganga, DNB, Sonya Slowinski and Andrea Portes!

After sleeping till noon Saturday due to a late night Drum 'N' Bass hangover, I dropped by the 104.1 FM studio where the cool kids were dropping "conscious Hip Hop" during The God Hour. They do my favorite show over at the radio station. Then I spent the rest of the afternoon cruising around Berkeley's cafes and record stores. Scored another 20 records and CDs ranging from Portishead, who recently launched their first album in a decade, to Luke Slater and Adam F. Normally I'll only shop on sunny days but even though it's cold and overcast, I gotta reload the supply of Electro and Drum 'N' Bass on a monthly basis for you folks who are down with the Word 'N' Bass Show.

Later I checked out this site's traffic stats and was stoked to find folks are enjoying my latest 420 DNB set. It got downloaded 1,118 times in May alone, making it the month's most popular content at WORD'N'BASS.com. Either you kids appreciate my mixing or the DNB beats make you "think this is just a freak show here." Either way, thanks so much for listening to my Friday night shows, whether you bump it live or catch the archived sets. Lots of you chill out with Downtempo as well, judging by the 1,088 who downloaded this particular set over the past month.

Meanwhile, the search engines are a good indicator of what readers are interested in. It should come as little surprise that dazzling novelist Andrea Portes is the most popular author who search engines led folks here. You folks have good taste in literature. Andrea's my favorite debutant since launching WNB.com more than three years ago. Among literary agents, Fifi Oscard is the most searched, with Melissa Flashman and Ayesha Pande -- who is not only a great agent but a truly kind person -- close behind. Also, I can't forget Bill Contardi, who first put me in touch with his client the kick ass crime writer Shane Gericke. Bill pops up every single month high on the searches. So does novelist and screenwriter Seth Greenland, who BTW I'll post an update on very soon.

Other folks who regularly make the top 10 search engine referrals are my longtime favorite DNB DJ/producers, the ubertalented DJ Fresh and Photek. Last, Sonya Slowinski is a popular I-don't-know-what. A model/actress who once dated Trance and House DJ Pete Tong, Sonya is constantly among the top five searches leading folks here. I don't know if she's even a real person. Or an illusion. It's pretty ironic that she gets more searches than Pete Tong himself. What does that say about our priorities? Ask yourself what you'd rather have: bass or babes? I must investigate this one day. Cuz it's a close call.
__________________________

Taco Hell!

Today was hump day yet I had honest intentions. I would leave the media salt mines at 5 pm sharp, do three sets of push-ups (40 reps per set) and sit-ups (80 reps per), run at Lake Merritt, shower for the second time today, post an interview with a very cute and prolific author Jessica Brody, and write the novel. There was a time when girls called me words like "cute" and "prolific" but in reality I have not shaved or written the WIP "Bistro De Mars" in two weeks, and keep walking face first into doors. Anyhow, Taco Bell ruined my workout.

Late in the day I broke two major stories that the commodity industry is now mulling over, worked late, and got tired and frustrated when I became too hungry to immediately workout. Just before logging off the work computer an acquaintance e-mailed about a bunch of stuff and also: He must have a Taco Supreme. Yes, I replied. There are hundreds of taquerias here in the SF Bay that serve tasty and authentic Mexican food, but sometimes you just can't beat a Burrito Supreme.

Instead of calling Vancouver or Beijing or Tokyo for yet another scoop, I hit the road. Bay Bridge traffic clogged up, so I darted across three lanes and exited as soon as we hit land. Must find Taco Bell. Drove awhile and before you knew it I was in West Oakland. If you're not from here, you might not know this is "the hood." You can't find Taco Hell in the good parts of Oakland so this exit strategy worked in 5 minutes flat. Pulled up to the drive through line, The Dub Pistols bumping in my trunk's new 12 inch woofers with the windows down on a balmy Oakland evening. We didn't move. A drunken bum carrying a backpack and a cane started panhandling the cars, one by one. Luckily, a fish handed him 50 cents so I did not say: "Can't I order a fucking taco in peace?"

The line didn't advance. Ten minutes later I parked it, removed the car stereo, and went inside where a dozen people stood in line. They knew what they wanted because apparently a fast food run is what people do on the way home from work each day. I hadn't set foot in Taco Hell in years. "I'll have a Burrito Supreme, soft Taco Supreme, and a hard taco… No, I don't need anything to drink." Mountain Dew is gross.

While waiting for the order, I noticed another panhandler had positioned himself next to the drive through window. This way, when customers exchanged money at the little window, they indeed had "spare change." Indisputable! Yes, the panhandlers worked both the front and the back of the drive through line. Very efficient. Meanwhile, a bald dude with tribal tattoos on his shoulder, neck and head studied the menu. He had cut off his sweat jacket's sleeves and apparently got dragged in an oil slick an hour ago. He studied that menu a long time. With bleary eyes. Drug stupor?

Then a crackhead zombie made a charge at the food counter. He wore a thick winter coat like you see in NYC crack dens during the winter and a beat-to-shit top hat. Today it was 70 degrees and sunny. He secured a half dozen napkins and stormed away. After securing my tacos and burrito, so did I. It tasted good for five minutes and progressively declined into greasy lard and liquid refried beans that either were mashed or sourced from something called "acme bean powder." I can't be sure. Burrito Supremes aren't worth the effort. Next time I'll hit Azteca Taqueria.
__________________________

Lily Allen is hot, The Chemical Brothers still doing it!

I really don't know how The Chemical Brothers' Ed Simons could break up with that adorably cute pop singer Lily Allen. Girl seems fun. Dlisted caught her having a blast out in Cannes, where, "She's boozing, flipping people off and airing her chocha out in the French breezes." Look at her givng the one finger salute while holding a big glass of liquor in her elegant cocktail dress. Hot!

In related news, The Chemical Brothers, one of the first bands to throw me deep into electronic music, have taken on a heavy touring schedule throughout Europe this summer in support of their album "We Are The Night." No dates in North America at this time, unfortunately. They're booked like motherfuckers through summer in England, Ireland, Poland, Germany, France and the list goes on. Oh, the life of a touring DJ. I gotta figure out a way to hit England one of these days. And have a plan.

PS: Lily, it's time to step up to this!
__________________________

Throw this bum out of San Francisco!

Poor San Francisco hipsters. The SOMA District got hit with a James Nae appearance at San Francisco club Slim's this past Friday night, where he tossed a new literary turd "Bright Tiny Boring" at a gullible audience of pseudo fans. In its announcement, Slim's said, "One of the most hated and controversial authors in America delivers his first novel -- a lurching chronicle of contemporary Los Angeles that is old, stupefying, and utterly ridiculous."*

Controversial is code word for sham which is another word for drunken failed novelist posing as a redeemed crackhead, as Nae did in his so-called memoir "A Million Little Pieces of Shit." In the true spirit of the SF Bay, Berkeley's Jan Frel organized a counter demonstration, even issuing a press release and holding a conference call with media.

"James Frey is a disgrace, a sham, a fraud and a plagiarizer," Down With Frey founder Jan said. "He peddles the worst lies about society: that drugs are bad and the cause of addicts problems, and that people can change. While most authors make a straight bee-line for the exit doors after being revealed as frauds, Frey is shamelessly sticking around, peddling his latest trash novel."

You go girl! So, who out there actually attended this Nae appearance? Nobody I know. Looks like the local media ignored his appearance too. Good! Forget James Nae. Dude needs get the fuck out of San Francisco, go back to NYC and break a martini glass over his head! Then get an acronymic tattoo meant to evoke images of a tough guy. Like DEPENDS.

* Something like that.
__________________________

Big ups to the Purple House!

Back in the 90s, when I discovered that Saturday nights were best spent at house parties, punk shows and raves with a 40 or something stronger in hand, we ended up at a dilapidated, huge two-story house in Oakland one night. An off-the-hook party was underway with a keg or two and several punk bands playing consecutive sets. Taking in the spray painted walls, spacious layout and lack of furniture, my man Dave said, "This is a sweet party house but I can't imagine living here." Cosign that. Little did I know lots of history would end up centered at this place.

Years later, Lis had moved in, John was also there, and DJ Chongo and I would spin Electro and Drum 'N' Bass at some of their fantastic blow outs that lasted until dawn. Usually kick ass punk bands like XBXRX play their parties but lots of DJs have passed through as well. Remember my on-air shout-outs during a set earlier this year? That went the Purple House, which was hosting a dance party that I couldn't attend cuz I was busy spinning records in the studio.

Turns out it is featured in a book "Punk House: Interiors in Anarchy" (Abrams Image) by authors Abby Banks and Sonic Youth founding member Thurston Moore that's garnered some hype, especially for a book about architecture. Check out the SF Chronicle story on the Purple House, where I've got many fond memories. This is where a famous (notorious?) reunion with Sharon kicked off. It's also where another girlfriend and I broke up for the third or fourth or fifth time. I first met my man Nick, who everyone remembers as the guy who rode up on his dirt bike wearing a bear suit, at a Purple House party. It was pretty funny drinking beer with Nick on the sidewalk as the brothers rolled by in their chromed out rides bumping bass and doing a double take at the white boy in aviator shades next to the dude in a bear suit at 3 am.

Thing is, sites like this aren't so odd, because everyone in Oakland knows if you pass by the Purple House any day of the week you're apt to catch a surreal image. Like the 10-foot frog on the porch. No explanation about why, the frog just is. More than oddball parties, the Purple House is also where Food Not Bombs churns out healthy organic foods for the homeless population. Where they grow banana trees. And where lots of hippies and punks consider their home away from home. Props, kids!
__________________________

This is what killed "Fast" Eddie Schuyler!

The week's over and I'm now recovering from 15 hour days alternating from caffeineated to drunk doing the biz news thing at a global commodity event. Recovering by playing a NLH poker tournament. In addition to regular news I was asked to real-time blog, and here's one day out of the Monday-to-Friday madness, from a blog that I killed to preserve my 'reputation' as a staid financial journalist. Ended up publishing an alternative blog that began Tuesday early AM with a CEO interview, which was more civilized (tame). Had to change all names to protect the guilty.

Monday

4pm drank my fourth double cappuccino today during my third back to back meeting with market participants; Company X just sold spot market X in the US East at $695, lowest price this year...

6pm drinking gin and tonics at a cocktail party, they're strong. Bartender poured 2/3 Saphire, 1/3 tonic on ice with a lemon. That's how you do it properly. Company Y is closing its commodity plants, according to two drunk contacts in separate 'interviews'...

7pm at my second cocktail party tonight, another gin and tonic where a guy tells me Company Z is selling X in Korea and Company Q is offering 7% discounts on X, double the normal discount...

8pm riding cab to a dinner meeting with a sober contact who confirms same info as I learned earlier on Company Y closures... He offers to text message inside guy at Company Y. I say don't bother, we know the same guy who was told not to attend this Commodity Event... cabbie is lost, we're circling the same block for the third time. I tell him the meter's still running...

8:10pm call editor X telling him to post the following: "Big story's getting announced Tuesday, Company Y is shutting down several plants, big impact on the market going forward, we need to post the scoop ASAP before the idiots at Reuters get the press release..." yada yada long rambling voicemail...

9pm hot Asian woman giving us the eye as we down prime rib and Dynamite cabernet vintage 2004... however, she's not as hot as Media Company X editor XY, a smoking British girl...

11pm back at the Sir Francis Drake hotel, wrote Company Y closure story but wireless Internet doesn't work... for second week in a row I break the "no screaming FUCK!" rule....

12am hotel tech support is incompetent, after 40 minutes on the phone told him to "just make it work"... rant followed... couldn't sleep till 2am, must've been all those cappuccinos...

6:30am Tuesday

Room service calls 1 minute after alarm sounds, saying they're sending up coffee. How'd they know I am a zombie before coffee? Have a CEO interview in 1 hour. Since the Internet is still dead in my room, call a fellow editor in SF bureau and read my report over the phone. This is how former AP boxing columnist "Fast" Eddie Schuyler used to send in ringside reports... way back in the 1950s. This is also what killed Eddie, if by killed we mean retired to slow evenings spent drinking gin martinis. Eddie is a nostalgic figure in another era of boxing news coverage. (And now the real blog kicked in)… Multiply the above by 4 days and that's how my week shaped up.

PS: Sir Francis Drake is now on my banned hotel list along with the Radisson Lexington in NYC. Both got me beat on major stories not because of my information gathering and writing speed, but due strictly to their inadequate accommodations. Banned!
__________________________

Entering media salt mines, see ya in 5 days!

As always in May, I gotta cover a global commodities event for the day job as a financial journalist. Instead of getting trashed on Vicodin and hiding behind Prada shades for a long flight to Montreal it's happening right here in San Francisco. Yae! Monday to Thursday it's nonstop CEO interviews as early as 7:30 am, press conferences, cocktail parties and private meetings that run as late as midnight all over the SFC, meaning I'm rolling 15 hour days. Boo! Upside is this absurd schedule forced me to check into the Sir Francis Drake, one of SF's most elegant and storied hotels, and I'm flossing the Loro Piana and Pierre Cardin suits all week. Yes, time to play dress up.

Downside for my fellow bass- and lit-heads: I am taking a hiatus until the WORD'N'BASS Show this Friday (May 9) at 10 pm, streamed here and broadcast locally on 104.1 FM. So there's no editorial updates this week, even though I got some cool announcements including from DJs Lantz and Sasha & Digweed, and kick ass novelists Seth Greenland and Patricia Wood. Maybe you heard about Patricia's latest news. If so it's time to gloat: I told you she was the next big thing!

I was hoping to have a relatively clean first draft of "Bistro de Mars" completed before this conference because the World Series of Poker is coming up fast, they just held a press conference to inform us some damn thing, and once this poker grind resumes my novel writing pretty much halts. Didn't happen. But I'm thisclose to finishing the WIP! So, at the end of this week I'll exit the media salt mines disheveled and ready to drop some bass bombs, finish the novel and then hit some poker tournaments before flying to Vegas in June.

Since a 60 hour workweek is gonna leave me trashed, you could be amused listening to my Friday night Electro and Drum & Bass train wrecks - scratch that, studio sessions. Meanwhile, need some DNB to tide you over? Check out the many archived mixes on my audio page. Also, here's a set that local DJ Aye~n performed with MC Colonel at the 2008 Winter Music Conference and the World of Drum and Bass.
__________________________

Novelist Ray Loriga is brilliant, Kayne West is a tool!

"You know what, fuck you and the whole fucking staff!!!" - Kayne West, to Entertainment Weekly.

I tell anyone who will listen that Spanish author Ray Loriga's "Tokyo Doesn't Love Us Anymore" (Grove Press) is the best novel of the past decade. This story about a "chemical" dealer in the future who erases clients' bad memories yet is haunted by his own past is gritty, engaging and most importantly, entertaining. Not enough novelists get this last part. It shocked me that Tokyo actually got mixed reviews, with Publisher Weekly saying it "feels cobbled together from the work of past sci-fi masters." Bullshit!

If Ray took the Kayne West approach, he'd rebuke any reviews that don't pander to him with, "You're fucking trash! I make art. You can't rate this." That's what Kayne ranted on his blog yesterday after Entertainment Weekly only gave him a B+ in a concert review. Afterwards, he entered his walk-in closet and proceeded to bash his own face with 200 pairs of Florsheims while screaming at his personal assistant to get shining. Now! Shine 'em bright! Damn… Bitch better wear a Depends diaper at his next performance.

Just imagine if a brilliant author like Loriga - who makes real art, not bubble gum pop-rap targeting a mass audience of hip hop wannabes - started ripping the asses of book reviewers like that. PW would counter by sending one of their 300 lb. bat wielding literary goons. What, you didn't know they've got a staff full of 'em? Word on the street says they picked up an unemployed Barry Bonds and he's finally got a job. Uh oh, he's on a roids rage now. PW just plopped him into a yellow cab. Watch out authors, he's coming!
Update: Just saw an interview Ray did in Spanish. Since I studied Spanish in college (finished two years of credit in three years flat, woohoo!) let me translate. "You American reviewers can all die! You die right now!"
Update II: Ray has a Myspace that he never updates, it just plays quaint Spanish music. Apparently he's now living in NYC. Wonder what's cracking. If I had a Myspace I'd say whatup, but I don't have time for that. Too busy looking at hot women pretending to be kids in granny drawers and scouring gossip blogs for news on my precious Lindsay Lohan. Speaking of that, I've decided Natalie Portman is my new favorite actress. Because she was in this French film "Paris, Je T'Aime" that I saw at some indie theater in Palo Alto last year and now plays a poker hottie in an indie film called My Blueberry Nights. It just opened in Vegas and hopefully it will bomb so I can buy the DVD in a discount bin. Don't you just wanna spank her in this photo that was shot on set?
__________________________

Iced coffee buoys writing, heat wave survival!

"Hope is a fickle bitch who fades away." -- latest excerpt from WIP novel Bistro de Mars.

Another heat wave has hit the SF Bay Area and unlike my neighbor Monica I didn't spend Saturday afternoon strutting on the beach in a bikini. And I'm not spending tonight getting drunk at a dinner party in SF's Mission District with everyone else celebrating Elizabeth's birthday. Instead, I'm in my cave squeezing out the last few chapters of my novel "Bistro de Mars." This puts me in a bad mood so I'm blasting out lines like the one above.

Maybe it's sleep deprivation. I got little sleep due to another late night mixing drum 'n' bass in the studio and got rousted this morning by some loudmouth jerk who wouldn't STFU at 7 am. Since there's a solution for everything, I came up with a new coffee recipe that cures tiredness while supporting organically produced goods and sustainable agriculture.

BPM Smith's Soy Coffee Smothie

2 cups Peet's Gaia Organic Blend, cooled
1 cup organic soy milk, or if you must, whole milk
1 tablespoon local honey
10 ice cubes
Blend on puree 1 minute

Drink that and you'll take off like a rocket. But don't think I'm a lightweight who downs just two cups of Joe and thinks he's rolling. This recipe works best if you first brew a whole pot of coffee and turn off the burner so it cools gradually to room temperature. This way, you've already drank plenty of cups when it's an ideal blending temperature. Enjoy!
__________________________

It's 420 so here comes the Drum 'N' Bass!

Some folks like to spend the 420 holiday chilling out smoking a Blunt with guys like Kid Loco and Tarwater. I prefer mixing Drum 'N' Bass and dropping the lows extra high -- real high, know what I mean? And so this year's 420 DNB mix comes to you unfiltered and raw, kids. As you might remember, this continues a ritual where I posted a 420 mix last year and the year before so we may as well call it a tradition now.

Uh oh. Tradition. Understand that in my book, once something becomes a tradition it must continue forever. Which means one day I'll be 80 years old and still living on a diet of Peet's Coffee and Marlboros, still deluded enough to think I'll become a boxing legend, and still mixing DNB in the studio late Friday nights. Probably in an Elvis jumpsuit instead of an LRG tracksuit though. Or one of those fluffy white robes and a Depends Diaper, sitting on a rocking chair and scratch scratch scratching! Whatevs. PS: Happy birthday, Michelle.
__________________________

Publisher 'doesn't pay enough,' disgruntled writer nukes Lonely Planet!

Years ago I'd heard that Lonely Planet paid chump change to its authors so it shouldn't surprise anyone that this guy Thomas Kohnstamm is claiming he got less than minimum wage. What is surprising is he wrote a book "Do Travel Writers Go to Hell?" cataloguing his adventures blowing their meager advances on drugs and partying. And BTW he didn't travel to Colombia to write that Lonely Planet guidebook because "they didn't pay me enough." Instead, he got some chick he was dating to tell him stuff like where to go aside from cocaine dens.

Normally these type of literary pissing contests don't become headline news but this thing was on the CNN homepage today. To me it's an amusing story that raises so many ethical issues I'm not even gonna break all of them down. One thing that's a certainty, there's plenty of journalists who will confirm or refute the truthfulness of his claims not only about Lonely Planet but of Kohnstamm's book itself, which Crown imprint Three Rivers Press is publishing in a few weeks. This dude seems to portray himself as quite the jet setting Cassanova. Watch, soon the Smoking Gun's gonna report he's a pale nerd living in his mother's basement "working" for less than minimum wage as a tester for the latest version of Grand Theft Auto.
__________________________

Shout-outs to DJ Rap and all smoking hot British babes!

Maybe two people were surprised DJ Rap took down the Best Drum 'N' Bass track at the 23rd Annual International Dance Music Awards in Miami. Girl's been crushing it since way back, so I don't know why when I first got into DNB in '99 folks sniped about her as "that model" turned DNB diva. She won an IDMA for "Brave New World" that she cut with Kenny Ken, beating out my boys Noisia.

Full disclosure: I didn't vote for her. Because even though in politics I always vote for the attractive woman over any qualified opponent, when it comes to DNB, I take this shit seriously. Noisia fucking owns it in the studio and on stage, where their go-go dancers pound bottles of ale. Hot! That's why I'm gobbling up as many Noisia tracks as possible. They're one of the few production crews whose work you can randomly grab and they are all great.

But listen, DJ Rap deserves this thing. She's a very worthy winner, just like cutie pie Georgia Horsley deserves to become the current Miss England. She celebrated by strutting her stuff on some London street in a bikini. Two thumbs up, the voters did the right thing. In related news, they* have now identified who the next Kate Moss is and her name is Rosie Huntington-Whiteley. Not only is she smoking hot, but on April 18 she turns 21 which is perfect - she can get smashed on martinis while I spank her! Check out these pics, they are indeed SFW and gorgeous. Like all British women. Unfortunately, these photos don't include audio where she talks in a cute British accent. What, you think I'm not trying? Eh, mate? Oi, oi! Check back latuh, mate!

* My balls.
__________________________

Knicks fans finally have a reason to cheer!

Those of you who've been reading this little blog since we launched three years ago know I'm a long-suffering New York Knicks fan. There was even a time where I'd hit the Golden State Warriors vs Knicks games and cheer on the NYK instead of my hometown team. Those days were a long time ago.

The Knicks are a punchline to most NBA jokes because Isiah Thomas destroyed my favorite sports franchise with awful trades (Curry and Randolf tandem, WTF?), overspending on marginal players (Richardson, Jeffries salaries?), drafting journeymen talent in the first round every year, and ruining their cap space for the next decade as GM. As a coach he's worse. He gets outcoached every game, implements absurd substitutions, mishandles the time-outs, doesn't bother to coach defense at all, alienates his players who now hate him (remember the players' vote he overrode?) and sucks ass on all fronts of the game.

So, there's not been a damn thing to cheer all year. Now, the Donnie Walsh era is getting ushered in Wednesday at 1 pm. I don't know if it's good news, but I do know that many changes must happen starting with new leadership. However, if they keep Isiah the Moron on board, the shit at the MSG toilet bowl will continue to stink because of his ineptitude on all levels of coaching and managing. Example:

In his postgame news conference on Tuesday - before Walsh's arrival became public info - Thomas was, as usual, oddly optimistic. "I look back and I look at what we started with and where we're going, and I think we have a very bright future. Also, I smoke crack every night and scream at my puppy dog named Precious," he said* after the pathetic Knicks dropped to 20-54. Yes, that's 54 ass whuppings this year already and they're on pace to lose 60. Fire Isiah during the press conference and catapult him into a dump truck on Broadway!

* He really said that, I promise.
__________________________

For once this is not a suckout story!

So there I was, the chip leader with 22 players left in a preliminary NLH tournament at the World Poker Challenge in Reno. It was after midnight, I had played poker for 12 hours straight (except for a 20 minute enchilada scarfdown at my old Mexican taqueria Beto's) and had won two big pots in the last 20 minutes. After bouncing a young preppy who'd moved all-in pre-flop when my pocket aces held up against his K-J, I had difficulty stacking and counting my chips. Racked up the $500 chips in stacks of 10. What's 500 x 10 again? Then I stacked the $100 chips and built a rectangle topped with a pyramid of chips. I counted them out loud, got flustered, guessed it was something over $30,000 and told the old guy next to me: "I'm gassed out, man. Gotta take a break, get an espresso."

"Take your time," he said. He didn't want me at the table since I had position on him with a bigger stack.

I staggered across the tournament floor that the Grand Sierra had set up, passed a bunch of dudes playing cash games, drunken club hoppers who nearly collided into me, and made it to Starfucks. Closed. Needed espresso. Said in the cell phone that, "Those Starbucks assholes are closed," and ignored it when a reply came: "Hello! It's after midnight, of course they're closed."

The cafeteria had weak French Roast so I ordered a cup but they only let you smoke at the bar. So I took a stool and watched in disbelief as the TV showed Duke winning by just 1 point over some scruff 15 seed. They killed my little $50 parlay that would've yielded 13/1 odds. A tall, brown haired hippie who appears like a ghost at every single major tournament I've played in the past year sat at the table next to me. His friend smoked a cigar. I wanted to ask what kind it was, remembering that I still needed to mail some Cohibas to my homeboy Gartsu who's in Iraq because the Army called him up last month, but was too tired. They said nothing, just gazed at basketball and snapped looks at the pretty girls who strode by in cocktail dresses. I lit another Marlboro Light, drank more coffee and waved off the bartender.

Back at the table, it appeared that someone stole $10,00 of my chips. No way could they have blinded off that many chips in 10 minutes. Everyone seemed in a panic. There were only 19 players left, bubble time since only the top 18 paid. Fold, fold, fold. Then the bubble burst and they either folded or went all-in before the flop. I tried playing a couple hands by simply calling or raising three times the big blinds with suited K-10 but everyone would fold with the exception of one guy who, naturally, went all in. I folded. This style poker is crap because even if you've got pocket aces your success or failure comes down to luck.

Finally, I got A-Q and called, prepared to move all in if someone raised. A manic-looking twentysomething moved all in, and the old guy to my right moved all in as well. He's the only one who had more chips than me. He had solid game. I was suspicious. Yet the pot odds were now hefty. Take down the pot and I'd nearly triple up, once again building a huge lead and positioning myself to win the tournament outright. It was a coin flip, yet do you want to coast into the top 10 or try and win this thing? "Call." Sure enough, twentysomething had pocket 6s, we were virtually 50-50. Old guy turned over pocket aces. I was fucked.

This is the lesson of NLH that ignorant donkeys never learn: You will not ever suckout when someone outplays you. The young manic fool who had overplayed his 6s sucked out though. He caught another 6 on the turn, the aces had my stack covered, and I wished the old man good luck. He was the best player in the tournament, always got his chips in with the best hand. I had as well, until then. And busted out in 14th place.

Walking to the elevator a sixty-year-old man with wiry hair and a starched white shit rolled up and said, "I know you!" Turns out he was a dealer at the WSOP Circuit Event at Harvey's Tahoe last fall. Apparently he remembered me because I'm the player who reels through hotel lobbies at 1 am wearing a tracksuit and Prada sunglasses. Here I was again. A player the next day asked where I'd went after taking the chip lead. "You were gone a half hour." In a time warp. Hopefully next time I've got a chance at winning a tournament I won't have a total physical meltdown, exacerbated by six double espressos, a 5-Hour Energy shot and lack of food.

The next day, my man Mike told me at dinner that he's worked out every single day since February 2007. Yes, he's worked out 390 days in a row. He looks healthy as fuck. Also, his boss, Senate Majority Leader Harry Reid, can do 100 consecutive push-ups without a rest. He demonstrated this in front of school children recently. How old is he again? I also understand that Gus Hansen once played poker for 72 hours straight, just to show that he could. So, since my return from Reno I've decided to work out every damn day. By June maybe I'll be able to go 12 hours at this year's WSOP without crashing like a wimp. PS: RIP Art Aragon, the original LA Golden Boy.
__________________________

The world's shortest fairy tale!

"Once upon a time, a guy asked a girl, "Will you marry me?" The girl said, "NO!" And the guy lived happily ever after and wrote novels, mixed records, and played poker a lot and drank beer and burped loudly whenever he wanted. The End."

I am back in the House and will dish a full rundown about this latest Reno jaunt tomorrow. This past week has taught a few lessons, including the fact I must get back in shape, so I am donning the plastic suit and running at Lake Merrit. Later kids.
__________________________

Dish Downtempo, accept the World Poker Challenge!

Beginning this evening (March 19) I'm at the World Poker Tour's stop in Reno, where the Grand Sierra Resort is home for the next week. The World Poker Challenge is my favorite WPT event because they've got preliminary NLH tournaments twice daily, plenty of satellites that can qualify you for the main event, and many 'name' pros participating in all of the above. Last year TJ Cloutier, Maria Ho and main event winner JC Tran played at my tables.

Online mag Card Player covers the main event hand for hand in their live coverage section and they're also posting all of the tournament results here. Hopefully you'll see my name cashing in a few of these but I'll have to convince them to use BPM Smith instead of my real name. When making final tables the tournament officials always ask for my birth name. C'mon, with a last name like Smith do you think anyone gives a damn?

Since I'm outta here like Tupac in '96 there will be no editorial updates, so I've left a little gold nugget for my fellow bass-heads: a new Downtempo mix that's got some fluid transitions, heavy lows and even a bit of uptempo. Shoutouts to Star 69 Records for sending that phat album of Starkillers remixes, which is included in the Electro part of this mix. And oh yes, West Side Chemical straight outta Oakland is in there too. Listen to it here. Ciao for now, kids! PS: No DNB beats this Friday, see y'all next week!
__________________________

Weekend laziness, more of the same!

As usual, Friday was another late night mixing downtempo and drum n bass. I just started listening to the downtempo and it's pretty solid, so maybe I'll post it here. Later this week. Later, because I am tired since my girlfriend rousted me out of bed at 8 am by bolting out of bed so fast I couldn't hold her against her will like a cat. Her cat Sparkle? Yeah, she cuddled, with an anxious get-me-outta-here-now look on her face. So five or seven cups of coffee and I'm still too dull to deal with anything techie like mp3s.

Also, the Bay 101 Shooting Stars poker tournament is about to start and I still gotta qualify this weekend for my seat. Last year I was inches away from making the main event but some old crap guzzling jerk called a penalty on me a few slots before qualifying, forcing me to sit out 10 hands that were the difference between making it or not. This year, I am playing better poker, have my temper in check, and curse far less than a year ago. I am serene. Yes, tranquil. To further this serenity, I am off to catch a heavyweight title fight and my GS Warriors at Ricky's Sports, where we'll down a pitcher of Sierra Nevada ale, steak and fried calamari. Wait a minute -- DNB, poker and sports? This weekend's like every single weekend. What's that? You say I should try something different? I'm in a rut? Okay, how 'bout I mix it up by snuffing out a Marlboro Light on my cheek and running in some good old fashioned Oakland side shows.
__________________________

Hunter S. Thompson is still The Man!

This is what I get for ignoring the inbox. While rummaging through today's spam and a few dozen potentially useful emails from the past month, I decided to click the press release from HarperCollins dated mid February. Glad I did! Turns out they released a new book about one of my very favorite authors Hunter S. Thompson. It's almost like I don't have to say another damn word, since every book fan and budding author I've ever known is nodding their head right about now.

Like lots of kids, I discovered "Fear and Loathing in Las Vegas" right after graduating high school and it forever changed me. Don't watch the fucking movie. Read the book. Rarely has an entire novel made me laugh page after page and left me bummed that it had to end. So I quickly snapped up "Hells Angels," "The Great Shark Hunt," "Fear and Loathing on the Campaign Trail '72" and a bunch of other works.

Hunter S. also got me interested in journalism, a field I've worked in nearly all of my professional career. I remember a guy at the College of San Mateo's student newspaper who acted and dressed like Hunter's gonzo persona Raoul Duke. Normally I would ridicule such a person but no; I respected him in a way because his obsession with Hunter S. was even stronger than my own.

Then, when Hunter blew his brains out in 2005 and I was feeling nostalgic and sad, my old friend Govinda gave me a copy of The Rum Diary, a novel -- not NF, it's a thinly veiled biographical novel -- that Hunter wrote at just 22 years old. Much more sardonic and touching than the stuff he's known for today. Check that one out, before they release the film version starring Johnny Depp and your perspective is tainted by Hollywood horseshit. His young protagonist's odd concerns about growing old made me think, yep, we're all going in that direction so we'd better live it up before we're dead. Here's the suicide note Hunter S. left for his family:

"No More Games. No More Bombs. No More Walking. No More Fun. No More Swimming. 67. That is 17 years past 50. 17 more than I needed or wanted. Boring. I am always bitchy. No Fun - for anybody. 67. You are getting Greedy. Act your old age. Relax -- This won't hurt."
__________________________

A Warriors player walks into an Oakland store!

Tonight after escaping the media salt mines I'm at Whole Wallet picking up some organic, non-roids raging meat, organic veggies, organic chocolate chip cookies and organic French Roast when I spot Golden State Warriors' forward Mikael Pietrus in the produce section. You all know I am a Warriors fan. In fact, a Warriors game is the only thing that will drag me away from writing the novel, working out and playing poker on weeknights. Tuesday night was typical. I originally planned on writing the WIP as late as possible, but found out my GS Warriors were scheduled to beatdown the Seattle SuperSonics. So instead, I banged the keys until 7:25 pm, then hauled ass to my girlfriend's house since I hate TV, will never pay for cable, and therefore must watch games at friends' houses or sports bars. One minute after tip-off I totally forgot about the novel, which is a slow grind to finish. And is weeks or months or years past due. Oh well!

Anyhow, WTF was I talking about? Yes, Mikael buying groceries. I actually cut him off in a race for plastic produce bags. He gave me a startled look that said, "This is another rude American. I will hit him over the head with a baguette! Oh no, he recognized me…" Once I realized he was one of my Warriors rather than a random athlete in understated blue workout clothes (no Warriors logos), my impulse was to compliment him for not blowing that absurd 3 point shot he fired off Tuesday night with two minutes to go in regulation, 24 seconds on the shot clock, the Warriors up by a half dozen points, and Basketball Strategy 101 demanding he burn the clock instead of launching low percentage shots as soon as he touched the ball. He did sink the 3, after all.

But I didn't. Because I'm not acting like a fanboy to athletes and besides, can't a man buy groceries in peace without fans saying, "Hey Mikael, good game! Can I get an autograph? On my forehead? How about on my ass?" Yes, better to leave them in peace. Later, the butcher's grabbing me some ginger and thyme sausages and pork loins made from organically-fed pigs that weren't juiced to the gills on steroids and growth hormones or worse yet, cloned fucking pigs the corrupt FDA wants you to eat, plus some ground beef. There's Mikael again. He scuttles off. Finally, I'm in the bakery section getting some organic chocolate chip cookies (mediocre) and bagels and there he is again. Now they've got some tasty looking croissants at Whole Wallet and since Mikael is French, I can guarantee you he was getting some. Croissants. Also a baguette to hit me over the head with.
__________________________

Cold Sunday musings on DJ mash ups, the Oscars!

I met a local hip hop and dub producer Trinidad in Oakland a few hours before the WORD'N'BASS Show on Friday, scored his recent "Free Dumb Vol. 1" and then worked it into my downtempo set. I've yet to review the mix but if you missed the live stream then I doubt you'll hear it archived in the audio section. My mixing was okay but after leaving the studio I realized that was one helluva mash up. Typically my weekly sets are either down tempo and electro, or drum & bass and jungle. Well, that set included down tempo, hip hop, dub, house, electro and even some lighter DNB. A six genre mashup, which isn't really my style.

I'm not one of those purists like the British dude who sat in with me a few months ago and said, "You're mixing jungle and DNB together" as if I'd committed some kind of faux pas. But once you veer into a half dozen genres the beat variety usually disrupts the flow. Yes, I know mash ups are big with these "celebrity DJs" like Paris Hilton, who I hear is spinning at some cheesy Chicago club this week, but not me.

Since it's once again cold as frozen dog shit here in the SF Bay, I didn't feel like going anywhere on Saturday night. If you're on the East Coast you can call a California wimp. Instead, I found myself playing online poker with a Bass ale in hand at 2 am with the heater blasting as rain poured outside. Since Lucky Chances' daily NLH poker tournament begins early, I suddenly realized there were two choices. 1, hit the sack immediately, grind it out at the poker tables five hours without breakfast and return home in the late afternoon wrecked. Recover by downing several martinis while watching the Oscars and talking shit with this girl J. Harvey over at A Socialite's Life. 2, sleep in and hit Artichoke Joe's Sunday evening instead. Since I hate TV, the choice was obvious.

I'm prolly gonna regret this because since discovering Lucky Chances a month ago, I've made two final tables out of four tournaments, placing 3rd and 10th to buoy my bankroll ahead of the upcoming World Poker Tour frenzy in March, when the tour hits San Jose and Reno. The cards haven't been running especially hot, but I've navigated my way through the larger fields at Lucky Chances in part because their tournaments favor my tight-aggressive style.

First, there aren't as many donkeys as there are at AJ's, so the suck-outs aren't as frequent or brutal. Second, the blinds increase slower, enhancing real poker play instead of forcing the short stacks to go all-in pre-flop out of desperation. Again, this reduces the number of absurd suck-outs. Last, there aren't re-buys, so many of the donkeys are eliminated due to Darwinism. Sooner the fools bust out the more logical play flows late in tournaments. So, long story short, I fully expect to bust out near the cash bubble tonight against some moron who I force all in, having him dominated by 85% and then he'll catch an improbable river card. But hey, it's good practice for Bay 101 Shooting Stars.

PS: If you're watching the Oscars go check out J. Harvey, who is "live blogging" all evening. Talking shit with her will ease the pain of watching red carpet train wrecks, talentless famewhores and the general misery of TV!
__________________________

Drum 'N' Bass in the house, D.Kay knows jazz!

It's been a minute since I've posted a new Drum 'N' Bass mix here, but if you've caught any of the live Friday night streams you know I'm cooking fresh beats all the time. Did some record shopping and was stoked to find new full-length albums from some of my favorite DNB producers like Nu: Tone and D.Kay. Nu: Tone's latest is what you'd expect, he's still working that Jump Up style we all love. D.Kay has actually done what few people are able to: surprise me. His stuff in the past was always fast, melodic and bass heavy, which is why I've made him a staple of my DNB sets from Day 1.

But D.Kay, whose birth name is David Kulenkampff, has thrown us a curveball in this new album Individual Soul. He actually brought in a bunch of live musicians, adding guitars, sitars, sax, woodwinds, vibraphones, trumpets -- all kinds of shit! The result is off course more jazzy and softer than his usual productions. So I decided to open up last Friday's mix with him because frankly, the opening is the only part where I'm down with slower, jazzy DNB. But have no fear, the hammer drops hard and never lets up 10 minutes into this set. Cuz my boys BSE and Noisia slow down for nobody, bitches! Hope you have half as much fun listening as I had mixing this set, which was a perfect start to the three day weekend.

Which is over. And I'm now slaving away in the media salt mines as you read this, guzzling Peet's Coffee and calling various commodity traders for the latest scoops while this very mix bumps in the background. PS: Did you see my precious Lindsay Lohan's latest photo shoot? Smoking hot. Freckles. Loves it! They are NSFW but you must see this.
__________________________

Fight night with the fellas!

Tonight my very favorite boxer Kelly Pavlik fights a rematch with Jermaine Taylor, who he beat last year for the undisputed middleweight championship. The fellas are going to BBQ here in sunny California, bet the fights, and play poker afterward till late. Normally I'd play a Sunday NLH poker tournament, especially since it's gone great so far in 2008. Made three final tables in eight tournaments played including one win and third place last weekend. I will bet heavily on Pavlik and use tonight's earnings to buy-in to a tournament on Monday, not Sunday, because I plan on being too hung over to play after tonight's action. While I'm waiting for Saturday night, I'm watching a heavyweight eliminator between Nicolai Valuev and Sergey Liakhovich out in Germany. One of my homeboys in Russia just sent the live stream, which you can watch for free here. It includes several good undercard bouts you can watch as well. Thanks, Stalin.
__________________________

Another Cesar piping beats!

His name sounds like the ubertalented author but instead of writing beautiful prose, Cesar hit the 104.1 FM studio last night and churned out some interesting music in lieu of my homeboy Abdul's show The Annals Jazz, Blues and Other Things. My girlfriend listened to him and said this morning, "He doesn't sound like Abdul." No, cuz he's not Abdul. But when I entered the studio he and a sidekick sure had it, uh, smoky in there like Abdul's been known to do. Nice guy, Cesar is. A kick ass trumpet player from what I hear. So while I'm missing my main man from Friday nights, we're in good hands during his absence.

Meanwhile, some jerks stole our turntables. If I catch them their asses will get a thorough fisting! Until they're a hotter mess than a wedding in the projects! Luckily, I knew about this before the WORD'N'BASS Show and spent a couple of the Benjamins earned from last week's final table on a ton of drum & bass CDs. Good stuff from some of my favorite producers like Noisia and Electrosoul System but you know how the mixing goes when you're DJing new material without knowing the tracks' structure beforehand: transitions and flow are off a bit. Another way to compensate for my beloved turntables was the mp3 player and an extra CDR, so at least I'm still working off four stations. But I need to put the needle on the record soon, help! PS: Check us out Sunday for an announcement on the other Cezair.
__________________________

The bus will tear your donkey ass up!

I got a call from my studio sidekick Abdul, who does a classic jazz show Friday nights before the WORD'N'BASS Show kicks off on 104.1 FM. He tells me the other night he's riding the bus home after our shows with his stack of music. When he goes to exit, the driver -- who was probably drunk -- closes the fucking door on him, catching his foot and sending him crashing face down to the pavement in the rain. He fractured his hip and is now rehabbing on pain killers so who knows how long he's going to be away from the studio. Since Abdul is hardcore and the show must go on, he lined up a trumpet-playing friend to sub for him. This is why I don't ride the bus, train, BART or any other public transportation. If you're not getting tortured by a smelly bum in the next seat or the screaming infant down the aisle, the driver will whup your ass.

Since he's busted up like Brittany Murphy on coke and pills, I wanted to bring some Peet's coffee to Abdul but am too selfish and played a NLH tournament at Lucky Chances instead. Made my second final table of 2008 and should've won it outright, but three brutal suck-outs burned me into a short stack once the final table began. Twice my Ace-Paint got beat by bullshit hands A-7 and Q-10 unsuited. Naturally, these were all-in pre-flop for big pots and could've crippled me but I fought back each time to keep my stack middle of the pack. Just before the final table, an aggressive Filipino moved all in for $16,000 and was called by a short stacked dweeb in sunglasses who read his bluff (unsuited 9-10, ha ha) and took down the pot with suited connectors. Filipino grumbles to me, "That was a donkey call." Then I pocket suited A-10, raise $6,000 and he goes all in. I knew he didn't have shit and called. Sure enough, he turned over unsuited A-5. Victory? No, he sucked out like a leech and I asked him, "So do you still think that guy's a donkey?"
__________________________

James Nae go away!

The downpour has finally stopped here in the SF Bay. Yes, the sun is out once again but author James Nae, best known for raining lies on the book scene in his best-selling "memoir" A Million Little Pieces of Shit, is already spinning gullible media on his upcoming novel that launches in May from HarperCollins. Says the NY Post:

Frey has been busy since the literary establishment turned on him two years ago, when his best-selling memoir, "A Million Little Pieces," was found to be embellished.

Embellished? That's a soft word. More like it was found to be full of hot runny bullshit! Dude has been busy spending those millions he made from acting like a tough, macho junkie who served time in prison and rose from the ashes to pen his story. Lies! If you're a part time drinker you're no junkie and spending one night in the drunk tank isn't hard time. I am not reading this new novel. There's a Million Little Authors who are 10 times the writer Nae is whose work gets 1/10 the amount of publicity of his literary turds. You know media across America are gonna ride his nuts come May. But not here at little old WORD'N'BASS. FTBITTTD. It's time to throw down. Nae.
__________________________

Everybody big up debutante Patry Francis!

Novelist Patry Francis can forever mark January 29, 2008 as the day she leaped from being just another writer to yes, a full-blown author. Her first novel launches today, and the excitement of such days are something that long-suffering novelists like me cannot speak of from experience. But I've got enough imagination to guess: Relief. Elation. Redemption. Finally, she's got validation for all those hours spent grinding away on her computer while everyone else was getting loaded during martini hour. Payoff time, baby!

Penguin imprint Plume is being a bit coy about the premise of Patry's novel "The Liar's Diary" in their press release. Is this the story of a friendship between women, tale of a teenage killer, adventures of a fortysomething sexpot, or is it procured from someone's diary? The book trailer here doesn't really give the answer. I guess we'll have to read it to find out, but it's safe to say that when a novel includes copious pill popping, promiscuous sex and forbidden liasons, I am down with it. Throw in a corpse or two, please!

Those who have checked out WORD'NBASS with any kind of regularity over the past three years know that I love supporting debut novelists. Patry's entry into the publishing world is one that about 300 of my fellow bloggers, authors, and publishing industry professionals are helping spread the word about. It turns out that the best day of Patry's writing life is bittersweet. She's been diagnosed with a terrible illness that prevents her from doing the standard book tour and promotional stuff that should mark her big day, so we all decided to big up Patry all at once. Congratulations, Patry! PS: Thanks, Karen.
__________________________

Miguel Migs is back, better than ever!

There's a reason why San Francisco is synonymous with House music: we've got producers churning out beats that make you bounce but with a soft touch that keeps the edge off. Miguel Migs is one reason why The City is a vibrant club scene locally and respected by House aficionados globally. He's got a remix of his critically acclaimed 2007 album "Those Things" coming out soon that is straight up banging. I so can't wait to plug this CD into my car stereo, which has brand spankin' new woofers with even heavier bass than before. I must feel the bass vibrate up my spine, not just hear it!

Click here to enjoy some of Migs' totally addictive and funky house tracks. What do I think about that track 'Mesmerized?' Hells yes! It will mesmerize you till your head involuntarily bops nonstop and you end up hitting repeat, repeat, repeat. When "Those Things Remixed" drops in April it will be the perfect soundtrack for Spring road trips. You know I'm gonna bump it full blast while hauling ass to Reno for the 2008 World Poker Challenge.
__________________________

Watch out, the apes are chasing bananas again!

Today was Martin Luther King Day and naturally, I spent it acknowledging human rights and playing a no limit hold 'em tournament at Lucky Chances. It was my first time visiting this casino, appropriately located across the street from a cemetery. Dead money lives here because, like most tournaments in the SF Bay, it's populated by suicidal gamblers who continually move all-in before the flop. These people think the strategic game of poker is a game of chance, like a roulette ball hitting your number. Some dude with the SF Fire Dept. consistently moved all his chips in with the worst hand and proceeded to brutally suck out on his opponents over and over. Another dude caught a lucky river card and instead of sheepishly raking in his chips, said: "That's what I'm sayin'!"

That's not my game. During these tournaments of apes chasing bananas, I tone down my normal aggressive style and pick off the maniacs who make outlandish bets at the pot. For several hours I observed, played only hands I knew were winnable, and had the best of it every single time we went to a showdown. You're not usually among the chip leaders playing this style but you'll survive deep into the tournament with a big enough stack to make people worry. After getting moved to table 1, I took down a few pots with starting hands like A-Q and even J-9, where some guy tried to bluff me on the flop and I moved all in with just a pair of 9s, forcing him to fold.

After 137 cadavers hit the rail, there were just 18 players left and I decided to raise pre-flop two hands in a row. My chip count totaled a healthy $14,000 but I dislike coasting to the final table, where you'll likely cash but end up so short stacked you'll have no chance at winning the tournament outright. The first pot I took down, the second one my suited A-J got busted by a reckless player who (of course!) followed my $4,000 pre-flop raise by immediately going all-in, gambling his tournament life with just pocket 10s. I took a calculated risk and called. Catch one of two overcards and I'm the chip leader, but Ace-Paint never hits for me in a race. Ever!

In related news, a guy in San Mateo got his brains bashed in at TGI Friday's last night. It was the first slaying there since 2006, and all 10 of the city's police detectives are now working on the case. SMPD Lt. Mike BruniBacardi said, "Oh my Gawd, a killing! Now we can't waste tax payers' money by staking out someone's NLH home game for months and then raiding them!" Yes, the pigs actually went "undercover" to this home tournament after "several neighbors complained about weekly parking problems." What happens when cops and suburban busybodies have no real crime to deal with? Their panties get in a bunch over shit that's none of their business. Here's the poor guy who got busted for no reason. Give him a shout-out, he could use some cheering up.
__________________________

Here come the Breaks!
Back in '99 when I returned to San Francisco after a stint in Reno -- first to try my hand at boxing and when that failed, to get an education -- it seemed Lantz was DJing half the parties we hit. His energetic sets were always one of the highlights of the night, which wasn't surprising considering homeboy has been doing this since '94. Weeks ago I promised y'all we'd soon have another one of his Breakbeat sets and finally, yes it's here. It's got everything you want in a phat session of beats: smooth transitions, wicked remixing and heavy lows. Enjoy!
__________________________

Bjork a star, will beat your ass!

Despite the emergence of electronic music since the late 90s as a major force driving the music scene globally, there aren't too many of our artists given the full paparazzi treatment. You know, where their photos are snapped as they pass through airports to their latest gigs. Bjork is an exception. And photographers beware, if you snap her pic she'll beat your bitch ass down! According to the AP:

"Bjork, who is in the northern city of Auckland to perform at the Big Day Out concert on Friday, tore "New Zealand Herald" photographer Glenn Jeffrey's shirt after he photographed her arriving at the airport early Sunday."

This isn't the first time she went bonkers on a photographer. Maybe this is just cuz I had pre-teen fantasies about Bjork back when she fronted the Sugar Cubes, but I think it's kinda hot. Hey Bjork, anytime you want to rip off my shirt and fire a few left hooks and right crosses you know where to find me! We need more paparazzi ruckuses to get mainstream coverage of our scene. How about DJ Fresh, who is known to harass people after a night of excessive ale, running over a few bell hops next time he hits the USA? Then he can hitup the Fairmont Hotel bar, break two champagne glasses on the heads of the paparazzi and have them arrested for trespassing. It'll be huge!
__________________________

Enter the salt mines, undead!

Yeah, it's been a slow rebound out of the post-holiday blues here at WNB. First, because this site's server had some weird downtime due to a technical glitch and they had to move it temporarily to another server where I couldn't update with shit. Also, I am still trying to finish my novel Bistro de Mars and it's taking longer than expected. A month ago I thought the finish line was 10k words away and every thousand words later my gut tells me it's a helluva lot longer than you think. Another 10k so get to work, jerk!

Today was my first day back in the office since vacation, which I spent visiting family, drinking British ale and playing poker in Reno. Not necessarily in that order. In Reno I killed at the cash games and took down eight pots on ridiculous bluffs in just two hours at the Eldorado poker room. Won more pots bluffing than playing legit hands. One time I fired off chips before the flop, on the flop, the turn, and finally got one last stubborn guy to fold on the river. I didn't even have one pair. Also won a no limit hold 'em tournament by folding and attacking at the right times. At the final table I had suited A-K and raised to $2,000 pre-flop. An Asian dude to my left moved all in for $4,500, and a hipster who I knew was a bit reckless moved all in for $10,000. Having a stack of about $16,000, I told him: "You want to gamble, so I'll gamble with you." He showed unsuited A-Q and groaned when I flipped over Big Slick.

Later, when there was only four of us left they tried splitting the pot but I told them we had to play it through. Eventually, I was heads up with a middle aged woman who played very aggressively at the final table and had double my chipcount. But she fell apart after I won five out of six hands to take the lead with a mix of bluffs and raises off solid cards. You cannot crack under pressure in poker, but this woman seemed to go into panic mode right away and said, "I'm horrible at heads up." Soon, she committed virtual suicide by moving all in every single hand pre-flop. After folding to a couple of these absurd all ins, I took her out with just Q-10. Inventory time: three out of my last four poker road trips have been profitable with the only exception the World Series Circuit Event. I've posted net profits on two Reno trips and one in Vegas since September.

Oh yes, a quick side note for my fellow Bay Area travelers: Do not drive to Reno this winter unless you know the sun's gonna shine. Many of you were hating life in the rain here in SF, but a fucked up blizzard dumped 10 feet of snow on the Sierras in two days and burst a levy that flooded Fallon, Nev., last weekend. We drove through it. The journey home was pure misery. My girlfriend, being an LA Woman and unaccustomed to bad weather like snow, had no idea how to drive in it. She veered off I-80, ignored it when I said, "You're driving off the road," over steered, and before you know it we're backwards on the freeway looking at all these cars driving toward us. Instead of concentrating on fixing this mess, she burst into tears. My thought process consisted of: "Fuck!" Lesson: never let girlfriend drive car in snow. Be a gentleman and drive, even if you're jacked on Vicodin, five espressos and no sleep. Anyhow we made it through, exhausted but not dead. It's sure good to be home. Even if it's back in the media salt mines.
__________________________

Last call to shop till you drop!

"It's back to Oakland, baby, Merry Christmas." Warriors forward Stephen Jackson, after scoring 29 points to beat the Cavaliers in Cleveland Sunday night.

Christmas is practically here and as always, I waited till the last possible minute to do massive gift buying. While my precious Vanessa Hudgens was busy looking cute in her velour tracksuit and begging BPM Smith to spank her two times, I procrastinated shopping. Instead, I spent the weekend dropping drum & bass bombs, taking in Warriors basketball and pale ale with my homeboy Pete at George & Walt's, and busting my entire apartment to shrapnel while searching for Choriza. Why is it when you allow your iguana to free roam they always choose the worst possible time to disappear for three days straight? No way in hell was I leaving the SF Bay without her safely returned to her heated cage for a Christmas feast of mustard greens, mango, French beans and alfalfa sprouts.

The Fam's annual Christmas party is four hours away -- boring drive alert! -- but our feast will thankfully include meat, tons of side dishes, and Mom's homemade cookies as we attack piles of presents. This gluttony comes after last week's proscuitto wrapped prawns, cranberry blue cheese salad, steak in port wine sauce, Deb's chocolate torte, and Cuban Punch Coronas paired with a 1970 Warre's port. As usual, Nick is rolling up in his RV. He'll surely have it decked out in red and green lights, bumping phat beats and stocked with Celebration Ale. We've got big love for the parents, aunts, grandparents and all, but one key to a harmonious holiday is making sure you've got your own little party vehicle to take breaks from the socializing. Time to wish y'all a Merry Christmas and start making the gifts look like a pack of drunken, blindfolded elves wrapped them. PS: Remember to drive safe!
Update: After tonight's Warriors game I did another round of shopping and bought tons more stuff. First, I scored Grandpa a too-stylish shirt and accidentally set off a clothing store's alarm, causing "shoplifter panic" by ignoring the security guard's plea to come back. It's a good thing I did cuz the countergirl had forgotten to cut off the tag. Que this holiday conversation: "Merry Christmas, Grandpa... No, I don't know why this huge security tag's here. Usually I just steal items that aren't protected." At Borders I ran into Pete, and we decided a perfect present for your mother is strong coffee like Peet's Holiday Blend. I also told him about my new coffee experiments of mixing my own blends -- brewed three pots today (yesterday) with mixed results. Back to shopping: scored my nephew "The Christmas Kitten" by some children's author. The hard work completed, I then bought myself "Trainspotting" and "Reservoir Dogs," on DVD and a bunch of Jazz CDs. "Mulligan meets Monk," a live album by the highly underrated Cannonball Adderley and one of the greatest live jazz performances ever recorded: "John Coltrane Live At The Village Vanguard."

I've spent hours searching for this album at stores and finally lucked into it tonight when I'm supposed to be shopping for others. Mi casa is now flowing with these majestic jazz classics on random. Vanguard includes Coltrane doing the phattest rendition of his song "Spiritual" you will ever hear. In fact, this was my studio sidekick Abdul's sound theme that kicked off his weekly show until he lit a joint on it one night and ruined it. He'll sure be excited about this score. It's now 1 am on Christmas Eve, I'm drinking martinis and thinking about not wrapping these presents. Oh, there goes Frank Sinatra singing "The Little Drummer Boy!" Time for another round of Saphire/Cinzano martinis and a Marlboro Light. Later, kids…
__________________________

Christmas cigar dinner... hangover pending!

You know it's the holiday season when three consecutive posts involve liquor. Due to another late night mixing Drum & Bass, I am slow to start preparing for tonight, when I am hosting our 13th Annual Christmas Cigar Dinner. We started this event sophomore year in college back when I lived in Reno, my so-called boxing career had crash and burned, and we were trying to live a champagne lifestyle on a beer budget. It's always smoker-friendly throughout -- hell, oftentimes I burn a cigar before and after dinner -- and we shoot craps for presents instead of doing those boring gift exchanges. You want the loot you gotta shoot!

This event has evolved over the years to where it's typically six to eight guests, martinis quickly concede to many bottles of vintage wine from chardonnay to zinfandel to port paired with recipes from the legendary Escoffier Cookbook, I bust out the two humidors with Cuban smokes and the party doesn't end till 3 am or later. Since there's still shopping to do, I am sitting on lots of content that there's no time to post. In a couple days we'll have an exclusive new mix from Lantz and a holiday shopping list that y'all can use to jack up your credit cards and score some awesome gifts for the book and music fans in your life. Happy holidays!
__________________________

Back to the Bistro and decking the halls!

Last weekend we enjoyed four different British ales, Quintessential gin added to the carnage, and you know things are out of hand when someone says, "Oh, no! Did you break your nose?" No, I didn't. Since nobody will believe the truth, let's just say I was pissed Ricky Hatton got KTFO and got drunk enough that when someone threw a beer bottle I forgot to duck. That split my nose open like a geyser, so I couldn't even wear Prada shades on a sunny day like Monday, when it was back to the salt mines, bitch! Despite this, I feel good and am resuming the daily schedule of workouts followed by an organic soymilk and fruit smoothie, and two hours of writing "Bistro de Mars." Yes, it's taking too long but nobody said writing novels was easy, right?

It really feels like the holiday season now. Downtown San Francisco is decked out with wreaths for the shoppers, our regular watering hole Thirsty Bear has red ribbons everywhere and the white lights are illuminating one of my favorite restaurants the Flytrap. Meanwhile, I am preparing mi casa for our yearly Christmas Cigar Dinner. My old school pals know how we roll: five course French dinner, different wine with each course, my pal Deb will create one of her legendary desserts, then we'll smoke Cuban Partagas and Cohibas. And no, I'm not saying how we got ahold of these glorious cigars. But the humidor is stocked, baby.
__________________________

Bigups to the Brits, Hatton, DNB and Boddingtons ale!

"Quite impressive. But not as good as me on 15 pints of Guinness." - Boxing champion Ricky "Hitman" Hatton, on Floyd Mayweather's recent appearance on "Dancing with the Stars."

Ever since climbing onto the Drum N Bass train in 1999 I've had an affinity for British culture. After all, London is ground zero for DNB and my favorite genre is still king in Great Britain while here in the USA it's pretty much an "underground" thing. Tonight, one of my favorite boxers Ricky Hatton takes on pound for pound champ Floyd Mayweather, and up to 25,000 Brits are now in Vegas for the action. I so wish I was there! But Ticketmaster fucked me by not processing my tickets and selling out in 10 minutes, flat. Originally me and my homeboy Dave were gonna hit Vegas anyhow just to take in the vibe, play countless hours of poker and party hard with these Brits whose pre-fight ritual of all night drinking puts American football tail gaters to shame.

Oh well. We'll have a great time downing our Boddingtons, London Pride and Bass ales with some damn tasty British cuisine while watching on PPV instead. Here's my prediciton: Hatton breaks down Floyd with a vicious body attack and wins by TKO. For an interesting take on all the pre- and post-fight action check out the UK coverage and skip our American boxing writers since aside from Michael Katz they don't know shit. PS: Thanks for your awesome British food recipes, Savitri!
__________________________
A thing called a Dead Man!

Last month's writing rampage closed with a wimper. The flu hit big time, I wrote nothing during the last two days of November, and the month's word count for Bistro de Mars ended at 13,509. That said, Bistro was never really done in the spirit of NaNoWriMo, where you're supposed to begin and complete a 50,000 word novel in 30 days flat. I just use this thing to buoy the progress of my WIP* and so without actually 'winning,' I feel somewhat victorious. I also feel feverish, have a terrible head ache and sore throat, and have to DJ a party tonight that I'd committed to weeks ago. Never cancel a show. So, I will guzzle another Theraflu, take a disco nap and show up despite my wretchedness. Since I was supposed to post a Person, Place and Thing from this novel, here's the Thing. A corpse, which is another word for me today:

"He peered left and right, left and right, then stood up from a crouch and gazed in the direction of Fillmore. "Dead man," he said when catching our puzzled looks. Sure enough, at the bottom of the Hayes Street hill lay the body of a thickset black man as if floating in a pool, arms stretched and legs spread eagle. We couldn't see any blood. But he was as still as death. An eerie and cold sight that evoked images of gangland slayings in mafia movies. Only this was the Fillmore, where young black men lived their last moments on the streets, not in restaurants or social clubs. Always on the streets, where there was no honor, nobility, or respect for those who have passed."

* Authorspeak for Whacked and Insane Project.
__________________________

Back in the saddle a bit richer, tore up!

"I've got so many $100 bills I get sick of counting them." -- Poker player at Circus Circus, before I wipe out his chip stack in three hands and he requests a table change.

You know the holiday weekend is over when a ballistic pace in these media salt mines has you on tilt before the closing bell. I cover global commodities, not just US markets, so when most guys outside the USA decided to hike prices intead of being thankful and gorging on turkey that left me running like a madman all of Monday trying to catch up. After writing too much at the day job I am now writing "Bistro de Mars," so I won't likely update the homepage as much as normal until December 1. Cuz the thousands of absurdly prolific writers who are masochistic enough to have entered National Novel Writing Month have left me in the dust. My stomach is tore up from too much Peet's Coffee and chocolate covered espresso beans. I've got DJ Krush with Toshinori bumping. And the novel writing is underway.

As for Thanksgiving weekend in Reno, it was more of the same. Played five poker tournaments, made just one final table. And beat a bitch down at the cash games like three transvestites on a McDonald's! Saturday night was the best single session, at the Circus Circus poker room. A bunch of calling stations and loose players threw their chips away like they were going out of style, I applied many of these techniques at detecting liars, and took down pot after pot because they didn't suck out like they did in every fucking no limit hold 'em tournament this year. Man, it took two racks to drag all those chips out of the room after just two hours of play.

This helped offset the rage from busting out of one tournament when I hit a full house on the turn and a fool put all his chips in – only to suck out with a bigger full house on the river. Don't even mention the cash game in which I had Kings full of 10s and got crushed by quad Kings. Shit was sick! Miraculously, I avoided going all in with that big a full house simply because I was suspicious of the guy's re-raise on the river and only called. Despite that madness, it was nice returning to my beloved San Francisco with a wallet full of $100 bills.
__________________________

A place called Thanksgiving!

Ready, set, go! It's mid-afternoon here on Thanksgiving and the mass exodus from the SF Bay has begun. My neighbor Monica actually headed out on a long drive to LA last night, saying she'd arrive in La La Land at like 2 am. All across America, we're hitting the open road that will lead us to the benchmark of civilization: family. Before joining a million apes on the freeway, I just realized I've yet to post a Place from my semi-biographical novel Bistro de Mars. Last time it was a Person called Hayden, this time it's a Place called Pacific Heights:

"We cruised down Fillmore, passing upscale restaurants, cafes, and bars through the heart of Pacific Heights until reaching Pine Street. Pretty girls dressed up in this neighborhood just to get a drink or four on weeknights. They had dyed blonde hair and black overcoats that hid their sexy bodies underneath cocktail dresses. The men all looked like well groomed bastards five years removed from frat houses. It sure felt like we were sharks cruising amid these fish."

Not exactly my part of town, but every novel's gotta bring the protagonist out of his comfort zone. Speaking of that, after hitting my grandmother's for an evening of gluttony with The Fam, on Friday I will continue East to Reno, where four poker tournaments await. So I will skip Friday night's studio session and miss the WORD'N'BASS Show. Yep, I'm outta here, bitches! Catch you all next week. Meantime, if you need your dose of Drum 'N' Bass listen to last week's session here. Have a fun Thanksgiving weekend!
__________________________

Poker degenerate returns from Harvey's!

I made it back from our latest WSOP adventure in time for Friday's WORD'N'BASS Show, which is another way of saying I failed to make the Main Event and am now reduced to watching live updates here. My poker playing, and chip stack, went up and down like a roller coaster all week. Fared sort of shitty in tournaments and failed to cash in three events. My play alternated from good (read bluffs and re-raised appropriately, slow-played the nuts to maximize pots) to bad (flopped two pair and called an all-in bet from the overall chip leader who had flopped three of a kind). Naturally, since I suck out on nobody, he sent me to the rail dropping an f-bomb. Yes, I committed that faux pas. Mainly due to anger at myself because before calling, I said, "You slow played trip sixes, didn't you?" And still called like a donkey!

In the end, I burned money on tournament buy-ins but did okay at the cash games. So many players hit Harvey's Tahoe this week they had to add a couple extra tournaments, and the cash games were filled to capacity pretty much 24/7. I pummeled one of the pros, a regular on televised tournaments whose name I can't recall, so badly that after the second beatdown I had wiped out his entire stack of chips and he stormed off without comment. That's what happens when you push all-in before the flop and I'm holding pocket Queens, baby! It's quite pleasing sitting there at a table of sharks with a pile of chips so big you can create a double pyramid out of them.

Suckout of the week. Busted out of this event despite having a perfect read on a bluffing moron who had just joined our table. I raised pre-flop, he moved all-in, and I asked him: "Are you a gambler? Because you've not been here long enough, or played enough hands for me to know." He stared, I stared back for 20 seconds, was positive I had him dominated, and called. Sure enough, my Ace-Queen made his suited 8-7 look like dog shit but he caught a lucky 8 on the river. Had I won that hand, I would've taken over the leader's position and been poised for my first final table at a WSOP tournament.

Lesson of the week. You must eat organic fruit, trail mix, soy milk and Peet's Coffee. Not fast food, or you will turn into a zombie during these brutally long poker sessions. Reeling from too many free WSOP hot dogs and pizza, on our second day I stocked our hotel room with various organic goods. As a result, I played 13 hours without crashing.

Mantra of the week. My homeboy Dave has what he calls a mantra: "Play position and take your time." Those are words of wisdom. In light of this latest WSOP meltdown, my new mantra is: "Do not call the chip leader's all-in bet unless you know you've got the best hand." On future trips I am printing these mantras out and hanging them on the hotel room's wall.
__________________________

Tahoe is beautiful -- when it hosts the WSOP!

Well, it's 1 am on Monday morning and I'm here drinking a Saphire and Cinzano martini (olive no juice) and packing for tomorrow's trip to Harvey's Lake Tahoe, where Dave and I are playing two WSOP Circuit Events this week. Gotta wake up at 6 am, an uncivilized time for any human, but the tournament begins at 12 noon. Our latest poker road trip means the writing of my novel "Bistro de Mars" is on hold till end of this week, which is not a concern since I've added more than 6,000 words of solid prose in the past 11 days. This WSOP no limit hold 'em event likely represents our last chance at winning a major tournament in 2007, so it's time to bring the fucking heat.

I think we're ready, despite impending sleep deprivation and a high speed drive into the mountains, fueled by Peet's Coffee and a few of my recent Drum 'N' Bass mixes. This is three late nights in a row between tonight's packing, Saturday's boxing/BBQ/poker get-together with our crew (Miguel Cotto won, as predicted to anyone who would listen), and Friday's WORD'N'BASS Show, with me not sleeping before 2 am any night. After many beers, it was pointed out late Saturday/Sunday that that I play shitty poker when tired -- passive and uncreative instead of my normal aggressive style -- so I'd better hit the sack soon. See you Friday when I'm back in the studio dropping bass bombs, kids!
__________________________

Writing a novel Saturday? It must be November! Launch parties in SF, NYC!

So originally I planned on rounding up the fellas tonight for some Bass ale and T-bone steak while taking in the Joe Calzaghe vs. Mikkel Kessler super middleweight championship fight at Ricky's Sportsbar. But after sleeping in late as hell due to another late night of drum & bass, the writing front is way behind schedule. Because NaNoWriMo began days ago and I've only got 1,301 new words written since Nov. 1, punishment includes no fight night with the fellas. Instead, it's a night of bumping Kid Loco, John Digweed and laying down as many pages of "Bistro de Mars" as possible.

You all will benefit from my shut-in ways cuz not only do you get the scoop on former SFPD Chief of Police Prentice Earl Sanders courtesy of agent Jessica Kaye, I will also post a brand spankin' new DNB set soon. The archiving of DNB and Downtempo sets have been slow lately but I do hope y'all have enjoyed the live streams via my audio page. Nothing's better than real-time because you never know if a certain sidekick DJ will have stoney echo effects going while smoking something that results in me laughing uncontrollably during the intro while transitioning from Boards of Canada to Tarwater and trying... trying... to state the track list. Cuz that kind of train wreck's never getting posted for the permanent record, kids!
While I'm being a homebody tonight you've got lots beats to catch. In San Francisco, Full Melt is holding a record release party for two new albums on tap, Mr. Rogers' album "The Ooze System" that will be available for the first time as well as Ripple's "B.A.D. Vololume 1," a compilation of San Francisco Bay Area Dubstep and Grime artists. It all happens at Jelly's Nightclub - Pier 50, located at 295 Terry Francois Blvd - San Francisco $10 door before 11pm / $15 after 9 PM - 4 AM... Are you in NYC? Felix da Housecat spins tonight (Saturday, November 3) in the official record release party for his new CD "Virgo Blaktro & The Movie Disco." Operating the decks alongside Felix da Housecat is a who's who of New York City's most taste making DJs including DJs Are Not Rockstars, Alexander Technique, DJ Cat, Alex English and Dances With White Girls. The party happens at Rebel NYC, 251 W30th St (Between 7th and 8th Ave) in New York, NY. Doors: 9PM, $15 before midnight / $20 after midnight with RSVP / $25 without.

Update: Calzaghe won impressively. This moves him up to the world's No. 2 best boxer, pound-for-pound, and he called out Bernard Hopkins afterwards. Joe is now approaching PFP No. 1 Floyd Mayweather, who will crumble on December 8 when another great British boxer Ricky Hatton spanks that ass in Vegas!
__________________________

Homepage gets hit like an earthquake!

Apparently our homepage is so loaded with content it's beyond capacity and won't let me post any of the sweet announcements that recently came in until my tech support homeboy Joe archives it. So, a bunch of news from literary agent Jessica Kaye, Felix Da Housecat, DJ Krush and AK1200, plus my latest drum & bass mix and a fresh new set from Lantz will all have to wait till this weekend. Bullocks! Tonight, instead of posting new content for y'all I am gearing up for this NaNoWriMo stampede that kicks off Nov. 1 by rummaging around the net in search of my precious Hayden Panettiere.

Turns out the adorable little actress is out in Japan, where she was one of 22 surfers who paddled into the water and formed a prayer circle to protest the 25,000 dolphins killed each year in a grisly ritual slaying where Japanese fisherman drive dolphins into shallow coves, then slash their throats or stab them to death. Just as I'm sitting here thinking, "While others in the young Hollywood set are out buying purses, Hayden helped spread the word about something I didn't even know existed. Girl's got a social conscience and... looks smoking hot in a bikini. Yes, a bikini that's wet, making you wanna spank her butt over and over, harder and harder!" Wham! A big fucking earthquake hits the SF Bay Area. The quake lasts so long I actually hold down the desk lamp cuz it's about to fly onto my head. The news just said it was a tiny quake, just a magnitude of 5.6, but they are liars. And Hayden is smoking. Yes.
__________________________

A Person named Hayden!

Sandra Kring, a fellow writer who frequents Backspace -- a message board that's to literature as 2+2 is to poker (minus the insults) or Groundscore is to Drum & Bass (minus the streaming midget videos) -- recently started a thread where novelists must post one Person, Place and Thing from their current projects. Loves it! Not only have I been enjoying soon-to-be published excerpts by a bunch of kick ass novelists, this little exercise makes you wonder how efficiently you're actually writing these elements. Since National Novel Writing Month is just around the corner and this WIP will get done by Nov. 30, I'm gonna post one Person, Place and Thing from my semi-biographical novel Bistro De Mars. Starting with Person:

"Hayden* ate nothing but super burritos and Big Macs, and it seemed she had always loaded up on junk food before I ever saw her. You'd see Hayden only at night, like an elongated shadow that appears at particular times, and she was never plagued by things like a sweet tooth or nutritional needs. She would observe me wolfing down a brownie or crème brule with the derision of a construction worker eyeing a homosexual. One time, she watched me nipping at a crème brule and said, "Jesse, you're as happy as a fag with a bag full of dicks!" A natural smart ass, I had an immediate affinity for Hayden. She had arrived from Brooklyn just a few months earlier but we'd welcomed her as though introduced by long standing friends. In reality, Hayden's arrival seemed to trigger a theme, a harder element, that gradually changed all of us. She had brought her machismo with her from New York."

Since this is semi-biographical, Hayden's a real live person. Who created dozens of shit disturbances. Not too long ago I had a reunion with some of my old school friends who together make up the setting of Bistro, and after saying, "I always kinda liked Hayden, she had a hard edge that I related to at the time," all of them looked at me like I was crazy. Still crazy, that is. And they never called again.

* Replace a smoking hot cutie pie who must get spanked with a Puerto Rican thug who must be dead by now.
__________________________

Absolute Poker is a bunch of weasels!

Here's another reason why the fascist US government should legalize online poker. Some weasels running Absolutepoker.com rigged it so one of their owners entered a no limit hold 'em tournament in which he could see the hole cards of all of his opponents. ABC News reports:

A network of professional gamblers turned amateur sleuths followed the money in what appears to have been a series of rigged online poker games, gathering what they say is enough evidence to accuse a part-owner and former executive of the Web site Absolutepoker.com of cheating by looking at other players' digital cards.

If the online poker websites operated legally in the USA, the feds could tax and regulate online poker and the stupid government would get phat tax revenues while we poker players would have an honest game to play. It would be a win-win situation for the players, government and even the casino industry, which could have their own dot-com poker rooms that would promote their bricks and mortar casino resorts. Doubt that business model would work? Did Barnsandnoble.com kill off Barnes & Noble bookstores? Hells no! Aside from the obvious scams like at Absolutepoker.com, another long-suspected racket is the prevalence of bad beats and carnage hands happening online compared to casinos.

I've played at two different online poker sites and dozens of live casinos and the carnage hands - where say in one hand you've got AA vs KK vs. AK, or two guys with two different full houses and a third guy with a flush end up in spectacular shoot outs - happen much more frequently online. It's a fact! Also, I've had just one four of a kind in casino tournaments (The Legends of Poker) over the past three years, yet have gotten them several times online despite playing far less online than at casinos. Probability says I should've bagged more four of a kinds since I've played far more hours at casinos than online. If they had regulated poker sites operated and owned in the USA these sketchy situations would miraculously evaporate.
__________________________

Beter go "all in" now because NaNoWriMo's two weeks away!

So Colleen at the hold 'em desk just said, "Come on down hon,' we're doing it," and so I'll hitup Artichoke Joe's Sunday night no limit hold 'em tournament. Hopefully one of these mental midgets won't pull something stupid like call after I raise five times the big blind pre-flop with suited Ace-7 when he's got just 10-8. Cuz last weekend after flopping my pair an idiot flopped two pair at The Oaks, sending me to the rail. I am sick of this lame Bay Area poker scene and will probably make another trip to Reno before November, when the National Novel Writing Month kicks off its annual dose of madness.

There's no way I can "win" NaNoWriMo since I'm only using it to bolster the page count of my novel "Bistro de Mars," which has been nearly three years in the making. But it's cool to have solidarity with a bunch of authors who are writing like crazed speedfreaks and feeling the pain of having no social life or recreational activities for a month straight. So, since there will be an embargo on poker next month it's time to load up the bankroll now. Better not suck out on me, bitches!

Update: This time an idiot called with suited J-7 when I raised 5x the big blind with A-K. After flopping top pair and the nut flush draw I moved all in but the fool had flopped a flush, which has a 200/1 chance of happening. I am sick of playing against these Bay Area idiots and am bailing to the World Series of Poker Circuit Event at Harveys next month!
__________________________

Author Philip Roth will not blow his brains out today!

Did I mention losing a huge pot while playing a no limit hold 'em cash game at the Bicycle Casino a couple weeks ago? I rivered a full house, 6s over Jacks, only to go against four-of-a kind that this frat boy punk lucked into. It was sick as fuck! Did I make my prediction of the 2007 Nobel Prize in literature winner? They're gonna announce the winner today and it will be Philip Roth. If not -- and those Swedes make another politically motivated choice as they've done over and over instead of granting their prize to the best damn writer like they're supposed to -- Roth will probably feel like Daniel Negreanu did when he lost $300K of cold hard cash in one hand of poker to Gus Hanson when his full house went against Hanson's four-of-a kind.
__________________________

Book awards season is here, bring the ruckus!

It's that time of year when the world's "high brow" authors begin fretting over who's gonna bag the big literary prizes. Over the course of October we'll find out who wins America's Quill Award, the UK is in a tizzy over the Man Booker Prize for Fiction, and from a global perspective, everyone's looking at the Nobel Prize for Literature. It should surprise nobody that the Brits have drummed up a controversy over who's the Man. In a country whose citizens read far more per capita than us Americans and even bet on the eventual winners like we do the World Series, ruckus is the name of the game, baby!

The AP reports that "British author Ian McEwan defended himself against criticism that his book, "On Chesil Beach," which has been shortlisted for the Man Booker Prize, is too short to count as a novel" at about 200 pages. Of course he's defending himself cuz the haters are there to hate. This isn't the first time McEwan got in a brawl during the lead up to the Man. A couple years ago his novel "Saturday" initially competed with "The Sea" by John Banville after garnering strong reviews, but eventual winner Banville cattily shredded the work as "dismayingly bad" when reviewing it for The New York Review of Books. Boy, they sure gave Banville a platform to pummel his competitor, didn't they?

Here's where I've observed a trend that will yield a prediction to garner riches! Because McEwan got dissed before and because they just love a bit of scandal, he will win this year. The Man Booker Prize judges never give it to you early, they wanna make you squirm first. So, as soon as the Man organizers send me the odds I'm gonna post them here at WORD'N'BASS and then bet money on him, say at 3/1 odds, parlay those earnings on another trip to Vegas where I'll get drunk with 10,000 Brits and bet Ricky "Hitman" Hatton at 2/1, then enter a major poker tournament like that one the folks at Caesars were talking about the last time I hanged in their poker room. Win that, bang out two novels, and bail to London where from then on it's nothing but Drum 'N' Bass, novels and poker! Easy money!
__________________________

Writing prose with a La la land hangover and four C-notes!

Whenever I ever saw Fergie* she was committing some kind of crime. Either picking up a drug shipment, dropping one off, or hiding guns in her Lexus. She did all of this with an aloof charm, as if none of it risked her a year or two or ten in the jug. But her eyes always moved... -- recent excerpt from my WIP, "Bistro de Mars."

So I am back from Los Angeles but before I dish those highlights give it up for my man Kelly Pavlik, who knocked out Jermaine Taylor to win the middleweight title Saturday. He also won me $400 since I've been telling everyone Pavlik's gonna be the champ for years and happily put my money where my mouth is. Kelly's kinda like the protagonist of my first novel (unpublished, don't ask), a white boy boxer who brings the heat. The only difference is instead of getting his face fractured, quitting the game, killing someone and then bailing to Mexico with his smoking hot girlfriend, Kelly is one of those rare knockout artists who does nothing but win. And so will I. Vicariously, by betting all of that $400 profit on his next bout and all those earnings on his next fight, rinse, repeat, paydays multiplying until I am eventually drinking margaritas for breakfast in a Baja beach house.

We watched the fight at Dave's, who just returned from Cabo San Lucas and said you can get a beach house there for $400K or elsewhere in Baja for half that. We downed many bottles of Pacifico beer so that when the cell phone rang and someone said to meet him at a bar I couldn't drive and Michelle was passed out on a chair. Probably too much beer but it just as easily could've been due to that 30 lb. box of burritos and tamales from Tito's Tacos that I drove all the way up from Culver City. This taqueria always has a huge line of folks spilled out to the sidewalk because they know what's up. Tito's Tacos is the bomb!

Other LA highlights included shopping, poker, gluttony on Alvarado Street and don't forget Maurice grilling up BBQ chicken amid palm trees. Another thing I love about LA is the Bicycle Casino, where they roll no limit hold 'em nonstop and host two well-attended NLH tournaments per day. I will not bore you with details on how I grinded it out, took the chip lead after five hours of play and then promptly blew most of it when this other big stack flopped a full house and I had pocket queens. Instead, since I am back here in the SFC it's all about today, not yesterday. And today I am writing the novel. This thing will be finished months late but it's getting done and it'll be better than the first one. And it's semi-biographical, meaning everyone's real only you'll have to guess their real names and gender because admittedly Fergie is not out jacking stores.

* This was actually Christina before she got preggers and her bulging breasts filled up with milk.
__________________________

Time to bail on Suckout City!

Once again I am on the road, this time to Los Angeles for a week of sun, soaking in hot springs, dining at great spots like the Cabana Club, shopping on Hollywood Blvd where I'll pick up a new LRG track suit, check in on the Muse Drum & Bass folks, and play a couple rounds of poker. It'll be nice playing outside the SF Bay's regular venues like Artichoke Joe's, where I am sad to say most of them just aren't very good players. Everyone goes all-in pre-flop, reducing the strategic elements and turning no limit hold 'em into a game of chance. The end result? More suck-outs. The past two tournaments in a row I busted out with A-K and pocket Aces, respectively, against inferior hands that saw my opponents luck into improbable straights. It's not like they saw a flop, calculated the odds of a straight hitting, and decided to move all-in. No. I pushed my chips at 'em as a bigtime favorite and they stupidly called with crap. I hear these so-called poker strategy books say that lesser players should go all-in pre-flop because it will drag more skillful players down to their level. Hopefully the players at Bicycle Casino, home of the yearly Legends of Poker WPT event, have got a little more game.
__________________________

Zombie staggers to Peet's Coffee while mixing DNB, news scoops!

So it was another late night spinning records on Friday. I had a joyful time during both the Downtempo and Drum & Bass sets because my timing was pretty decent and there's some new records in my shiny silver case. Figuring out how new stuff flows into your sets is always a fun challenge, and let me say my latest discovery, producer Psidream is on point. Working in his track "Crossed Off," ominous DNB without going dark, was so wicked you think murder yet the beats totally induce head nodding. It ended up a more theatrical DNB set than usual with some F-15 sound effects, a girl in a shower "Psycho" style and other elements that always seem to prompt some stoner to call the studio. It's all good to chat but I just don't answer the phone while I'm in the zone.

Meanwhile, the Purple House down the street from the 104.1 FM studio was having a dance party but I was too exhausted after finishing at 1 am to do back-to-back sets. Sorry, kids. This daytime gig as a financial journalist turns reporters into workaholics because we grind out 12 hour work days trying to beat each other on scoops, which ruins your late-night energy reserves. I did score a hot news scoop in Canada before it was announced by a major publicly traded company and reported by media worldwide. Of course, since these companies can't officially tell a reporter something before it's public knowledge, I burned like three days straight talking to guys across North America in order to beat the asses of mental midgets. Was it worth it? I'll let you know when it's time for a raise.

Also, I've been writing the novel Bistro de Mars in earnest to try and finish the motherfucker and all this stuff leads to a trade-off: little time spent with friends and sleep deprivation. Because spending long hours writing at the computer will ruin anyone's health, last week I compensated by doing half-workouts everyday except last night. A healthy lifestyle offset by pounding triple lattes, double cappuccinos and multiple pots of coffee. Long story short, I don't think the nights of spinning club and house parties till 6 am are coming back unless I win a WPT tournament or HarperCollins decides to dish a seven figure advance, like they probably did that buffoon James Nae.
__________________________

James Nae buoys street credibility, shares 'roids needle with Bonds!

So the discredited memoir author James Nae is back, repackaged as a novelist and since novels are fiction then the haters aren't gonna ostracize him, right? Wrong! You might remember he got roundly beat down for making up all the dirty stuff in his so-called memoir "A Million Little Pieces of Shit" and the follow up "My Friend Elmer Fudd." Now word comes out he's working on a novel. Not interested. What is intriguing is how a weasel like Nae can get bounced out of Doubleday and land at HarperCollins unscathed. Nine lives, baby. It didn't hurt that his new literary agent is Eric Simonoff, who looks like he did a pre-emptive deal with HarperCollins. They say Eric is among a small handful of agents who publishers scream "BUY!" at before he can even get on the phone with multiple publishers.

Here in San Franciso, everyone is laughing that Marc Ecko, owner of the clothing company Ecko Unlimited, is the guy who won the Barry Bonds record-cheating* homerun ball at auction. Marc launched a website that lets us vote on what he should do with the ball: Bestow it to the Hall of Fame, Brand it so that it's permanently disfigured like Bonds' roids raging head that's outgrown his rookie year noggin by five sizes, or Ban it to outer space. Have your say here. PS: I will be wearing my various Ecko pants and baseball caps the rest of this week in solidarity.

* Hank Aaron owns the homerun record, bitch!
__________________________

Don't forget!

Click here on Friday night or tune into 104.1 FM if you're in the Oakland/Berkeley/SF area to hear me spin Downtempo Electronica and Drum 'N' Bass live during the WORD'N'BASS Show, which rolls from 10 pm to 1 am PST. Beginning tomorrow I'm gonna run a permanent link to the stream on my audio page so you guys can hear whatever's going on in the 104.1 FM studio 24/7. My fellow DJs do anything from House to Electro, Hip Hop, Punk and Jazz, plus political rants. Shout-outs to studio sidekick Abdul, who always makes me start the show late due to deep talks about… weird stuff. Weekend's here, baby!
__________________________

Dear Senator Jon Kyl: Take your Ex-Lax to relax!

"The purpose of the Unlawful Internet Gambling Enforcement Act is to prevent Americans from engaging in their fundamental rights to conduct their lives in the manner they wish to live it." -- Eric M. Bernstein, Esq., attorney for iMEGA.

The US government keeps fucking with our rights to entertain and express ourselves as we see fit and everyone's too preoccupied with the war, making a living, or trying to get off academic probation to do anything about it. First the weasels at the Copyright Royalty Board tried to shut down Internet broadcasters, but a new deal from SoundExchange looks like it will end the coup, for now. The CRB essentially tried to carve up a huge void in Electronic music and (they hoped) push everyone back to the regular radio airwaves, where commercial schlep is dished in 12 tired formulas that the big record companies and corporate radio stations want you to hear. Nobody I know listens to commercial radio because it's all crap!

Then last year, shit-guzzling Senator Jon Kyl of Arizona, who helped draft the infamous Unlawful Internet Gambling Enforcement Act, finally got the online poker and gambling "legislation" passed while nobody was looking. Is this crazy old geyser constipated? Evidently yes, for a decade straight! That's why he spent 10 years trying to pass this bill in one form or another. Well, it turns out lobbying group iMEGA filed a case against the US government that has a good chance of beating Kyl's ass like the dildo he probably uses each night, and getting the fascists to back off.

If iMEGA's announcement is good news, I'll be able to qualify for next year's World Series of Poker in, oh, one day! This is important. Because wouldn't you like to know you've a seat waiting in the Main Event before burning thousands of dollars flying to Vegas, getting a suite at the Rio and acting mentally retarded whenever one of the hookers asks for a date? Plus, it's so easy to school these clueless Internet poker players, I'll qualify while sipping cappuccinos, stalking Bijou Phillips -- I mean, scouring the Internet to find out what my precious is doing -- and bumping the chill out channel at Digitally Imported. Woohoo! PS: Bijou ditch that ugly ass hat Danny Masterson and step up to this!
__________________________

The annual tech implosion is here, no new DNB today!

It seems once a year some kind of technical collapse happens at the WORD'N'BASS headquarters, usually because I am inept. That promised Drum & Bass mix I was supposed to post this weekend? No go! My computer won't read CDs today and so if you missed Friday's DNB set streamed live here on the Internet or on 104.1 FM then it ain't happening. For now. What's up with computers always dishing bullshit? They're supposed to just work! The set will be heard, however. By me, played loudly in the trusty Ford Thunderbird as I haul ass to Sunday night's poker tournament at Artichoke Joe's. I am late, must shower, and will hopefully get some tech support this week to roll out the beats once again. Meanwhile, check out my audio page for lots of earlier DNB goodies.
__________________________

Megan McCafferty is tight, Vanessa Hudgens is naked!

I've been sitting here reading Megan McCafferty's "Fourth Comings," and while this isn't my typical novel-reading fare, I gotta say she is a tight writer. When it comes to capturing the challenges and insecurities of a twentysomething woman she's the real deal. Last year, when Kaavya Viswanathan went down in flames after stealing Megan's material for her debut novel "How Opal Mehta Got Drunk, Got Insane and Got a Her Ass Spanked," I'd never even heard of Megan. I figured this Ivy League weasel had simply decided to dig up some obscure yet talented author who the public wouldn't ID in two seconds flat. Yeah right! Kaavya's even dumber than we thought, since Megan has once again hit the New York Times Best Seller's list. So much for thieves laying low.

In related news, while I spent Friday working on Bass ale, linguini with clams, Zab "Super" Judah's comeback fight and a long night in the 104.1 FM studio churning out Drum 'N' Bass bombs, the rest of the world was busy log jamming the Internet in a mad search for naked Vanessa Hudgens photos. Who is she? The star of some Disney TV show who took some scintilating photos that got leaked to the celebrity gossip blogs. Problem is, after her publicist confirmed that yeah, they are the real deal and not as fake as a Kaavya Viswanathan novel, her lawyers attacked my favorite bloggers like Perez Hilton and Tyler Durden with cease and desist letters.

Fuck lawyers! Vanessa sure looks cute in a dress at a Hollywood premier but she's hotter in a bikini and sets the world on fire in her underwear. And if you wanna see the "banned" naked pic that is Not Safe For Work check this out and this one if you like your photos big. Yummi! These were located strictly as a service to our readers here at WORD'N'BASS, of course. And these pics were certainly worth the effort of searching. Smoking hot… I am melting! PS: Wanna hear last night's DNB set? Come back later this weekend when the mp3 goes live!
__________________________

It is an Orwellian world!

So it turns out Big Brother was watching after all. The British government kept tabs on literary icon George Orwell for like twenty years. This prompted tons of UK media to pen pieces about how England was sorta like George's 1984 but not really. If nothing else, their stories gave one of my favorite underrated novels (some reports reversed the cities' order in an ethnocentric smashing of the title) Down and Out in Paris and London a nice phat plug. Depending on who you believe, the British intelligence group M15 took a vague interest in Orwell or put him under close scrutiny. This story sure does make for an ironic headline, doesn't it?

Which brings to mind that the US government has closely monitored me, just like they did the true master Orwell. Most notably, at the Las Vegas airport where they demanded I remove the Prada sunglasses and then confiscated my Tom's of Maine toothpaste because it weighed over 3.2 oz. Oh, you just wait till I write all about these jerks in my next novel, a fascist American story set in the not-too-distant future. It's got robot sex, a truth serum, gladiator games in prisons, government spies, and snipers. When the public reads this, anarchy will prevail. Burn baby, burn!
__________________________

I'm back, tanned, hung over, with Benjamins in the wallet!

"I can't pick you up. Eric just won $2,000 on the horses." -- Dave, via cell phone from Caesars Palace sports book as I stagger through the Las Vegas airport.

These Las Vegas trips could happen once a month and I'll be a happy little shark or guppy or let's break it even and you can call me a wild Pacific salmon, smoked. Turns out my man Dave rented a five-bedroom house in Vegas because George is launching some software venture and has a bunch of guys running around town like the Keystone Cops. Headquarters had a pool that I didn't use due to 12 hour days at the casinos trying to grind out some poker victories.

Money results: 3rd place at a tournament at the Monte Carlo, plus twice in cash games at the Paris. This cash game thing is intriguing because I've only done it four times this year -- Paris, and Circus Circus and Atlantis in Reno -- and it was profitable every time. At the Paris, after busting out of a tournament I doubled my money in two hours. The next day I tripled my money in three hours of murder, pounded a ham crepe and then flew the hell out of there. I don't play poker in general, I play no limit hold 'em tournaments only. Yet these cash games made up for the other seven buy-ins at tournaments across Vegas and drove a net profit overall for the week.

Two out of eight tournaments I should've won outright. One was at Harrah's. After realizing that a speed freak wearing head phones had bluffed me one time I set a trap: raised only double the blinds, he came over the top with a $3k raise and I moved all-in before the flop with suited Ace-Queen. He called with unsuited Ace-Jack and was completely dominated. His only outs were the three remaining Jacks, yet he caught two of them and ended up winning the tournament with my chips. That fool knew he sucked out like a Saturday night hooker. The other suck-out came from Steve, an amusing British guy who went all-in all the time and not surprisingly, told me during one of our breaks that he'd lost $25,000 in three weeks of Vegas madness.

So, I slow played a set of Kings on the flop, he raised the turn, I re-raised, he went all-in and got his ass tore up. But we battled it out again at the final table and after recognizing one of his bluffs I pushed all-in with just suited King-9. That was better than his unsuited Queen-6, yet he caught a Queen and I bailed to the steakhouse for some amazing fucking fois gras, filet mignon and Dynamite Cabernet. Thanks for the heads-up Mike! I sure can't wait to return when British boxer Ricky Hatton brings some 10,000 of his best friends on December 8. Since returning to this lovely SF Bay, I've been recuperating by drinking Gatorade and smoking Marlboro Lights at the pool. Because a healthy life is key, ya know.
__________________________

Round 2 of the poker battles -- Ding Ding!

Here I've barely recovered from that European press tour and it's already time to bail out of my beloved Bay Area. I am flying to Vegas for the second time in just over a month to play in several no limit hold 'em poker tournaments. We'll see if they can handle this California heat! My homeboy Dave, who also represents the Bay, is already there scoring us a condo so we can get off The Strip between 10-hour sessions. I'll return in time for next Friday's 10 pm PST start of the WORD'N'BASS Show that is streamed live here on the Internet, in addition to the usual radio broadcast on 104.1 FM locally. We've gotten lots of sweet announcements lately but didn't have time to post them all and I'll try and catch up on all the literary and DJ news upon returning. Meanwhile, Viva Las Vegas bitches!
__________________________

These ghosts have names like Marcel Proust!

Well, well, OJ's tale of murder rendered by a ghost writer is finally coming to a bookstore near you this fall. Also, Paris Hilton, who the gossip blogs say is currently in some Eastern European country stuffing orphans into her purse, is in the planning stages of "writing" another literary masterpiece. Paris' literary agent Dan Strone of Trident Media Group, who handled her 2004 book "Confessions Of An HeirAss," told 24sizzler that it's not gonna "be a so-called prison diary." Two things. How could a non-author dirtbag like OJ lead to the downfall of one of book publishing's most iconic woman executives, and how can a formerly hot but currently STD-ridden chick who never graduated high school become a best selling "author?"

Check out this poll that shows Americans don't read in general and those who do are old. Readers are falling like flies! The survey reveals a nation whose book readers, on the whole, can hardly be called ravenous. Not for books anyhow. But Americans stare like zombies at whatever garbage they're chumming the television airwaves with nowadays, along with Big Macs. So maybe I shouldn't trip on these publishers doing books written by ghosts and not authors, since everyone's gotta make a buck… (snags garbage can from floor and projectile vomits). NO! Bitches aren't writers so STFU! Instead of rewarding their poser asses they should get banged over the head with a copy of Marcel Proust's "Remembrance of Things Past!" And then forced to read it -- cover to cover! There, now I feel better.
__________________________

DNB, sun, BBQ, it's gotta be California!

First thing I noticed upon entering the 104.1 FM studio on Friday night was we got new turntables and I immediately figured, okay, time to go balls to the walls, baby. This led to one of those Drum & Bass sessions that my fellow DNB-heads know well: three hours of non-stop cueing up beats, letting those four channels (two turntables, two CD mixers plus an iPod I never use) absorb me into the mix until I was conscious of nothing outside sound and rhythm, began dripping sweat and had to strip down. Every one of those transitions got aced. Sadly, my technical incompetence means unless you caught the show live, you all will never hear that mix. Because the CD burn was an error read and my studio sidekick Abdul had gone and Donovan the techie was nowhere in sight. Oh well. Sometimes you've gotta accept fate because after all, music evaporates into the air, never to happen in quite the same way again.

After sleeping in late, I awoke to a pot of organic Mexican coffee and beautiful sunshine. We hit Saul's for some phat corned beef hash, then drove through Oakland, passing a house that appeared to be on fire until I recognized two big ass BBQ pits and the smell of steak and ribs. Three brothers were readying a mad Saturday night BBQ party. Now I am off to the fair, and to my hometown of San Mateo where they've got a great British pub called Prince of Wales. My parents used to drink there back when they were twentysomethings and I was just a screaming infant. Old school joint. Last year when we did this fair/pub routine a girl drank too much, got sick from one of those jacked up fair rides that shake you like a martini and ended up saying "Pull over!" so she could hurl in somebody's driveway. Now that I've settled into the regular routine it's sure good to be back here in sunny California.
__________________________

Finland is the bomb, so are the Brits!

So I just got back from a press tour across Scandinavia, where it was sunny, beautiful and green, and luckily everyone speaks English. After a 14 or 16 hour flight to Helsinki, Finland, our host Leo brought us to a swanky Russian restaurant called Shaslik, and the next day we dragged our asses onto another plane to Norway where the trip began in earnest. Picture a bunch of business journalists in various states of jetlag staggering onto a bus that tore down highways overlooking trees, trees and more trees until finally there's a bunch of guys at a commodity-producing mill or Norwegians in suits at some office overlooking the city and going through long Power Point presentations. That's the boring part.

The dinners were the good stuff. I'm talking vodka shots and four-course meals, a different wine with each course, and the best damn salmon you'll ever eat. Then we flew to Stockholm, Sweden, and did it all again until eventually we caught an overnight cruise to Turku, a city in Sweden or Finland, which country I cannot recall. The best part of this trip was bonding with my fellow journalists because as long as they're not competitors in my beat whose asses are getting beatdown, I've got love for all reporters across the globe. We all go through the same grind, face similar pressures of chasing news and double-confirming facts and making sure we get the stories first with a .45 pointed at our heads saying deadline, bitch!

There was an Italian reporter Chiara who told me to forget about that Lavazza espresso I've been brewing, Illy makes the best cappuccinos. Another guy Kyosuke dished me a scoop out of Japan that's not been reported yet, and he doesn't even know English. We drank vodka and smoked cigarettes together on that cruise to Turku, communicating via this translator Yoshi who could drink with the best of them. Yoshi and I closed out the trip back in Helsinki's club district drinking gin and vodka till late as hell. Instead of breakfast he kept eating some magic hangover pill that I've gotta find somewhere but never will.

The journalist I got to know best was a British commodity reporter named Savitri, a 23-year-old just a year removed from Cambridge University. Think she's young for this biznis? Age is just a fucking number! She was smart as hell, a bit snarky -- I called her a brat and a gimp on separate occasions -- but a real charmer who put me in check with statements like, "I should've known you'd say that, after all, Americans are rude." I couldn't help thinking, damn, how's she got her act together like this? At 23 I was busy refilling 40 oz. bottles of King Cobra at keg parties in San Francisco's Haight District. We became good friends at Company M's guest house overlooking the sea at Helsinki, where they hired two chefs to serve champagne, wine and vodka during an epic five-hour dinner. The government used to own this estate, and so it was eerie seeing photographs of old Russian presidents and KGB directors who'd passed through those digs before us.
__________________________

Beware the Viking in Rayban shades!

Since returning from the WSOP last month, I've spent much of my spare time lifting weights, running wind sprints and eating organic foods. That stuff sure makes you feel healthy. But it's all going down the toilet because I am flying to Helsinki, Finland, where they drink gallons of vodka and a too-busy-for-anything-healthy schedule will run me into the ground. Not DJing at phat European venues amid gorgeous Scandinavian club hotties, mind you. No. This is a biznis trip and since the day job is writing about global commodities I'm meeting folks where the strong euro means they're sucking up US exports for cheap.

Even though it's work I've been warned that "You'll be hung over every day." Thumbs up. But six flights and four countries means I'm popping a dozen Vicodin, so I will be either loaded to the gills or recovering with alcohol during long nights spent chatting with commodity producers and my fellow journalists. Do they even have espresso in Scandinavia? They'd better have strong motherfucking coffee like we've got here in San Francisco. If not, this is what I'll look like, only replace the suit with a burlap sack and trade in the Rayban aviators for cheap purple-framed drug store shades and since I'm also hitting Oslo, Norway, some Viking will probably mug me with brass knuckles since nobody there has guns. Anyhow, time to bail. Fuck America I'm outta here, bitches!
__________________________

Forrest Gump does not bang hotties worldwide!

If I had to write a novel about Forrest Gump winning Lotto, you know it would be populated by beautiful and loose women, a pocketful of snow and a worldwide freak show that ends with him getting a bottle smashed on his head in Shanghai. Since every novel's gotta pull the heart strings, he would bring along a neglected gimp named Randy who learns big lessons about "trust, loyalty, and what distinguishes us as capable." After they burn $12 million, Randy rebounds by ganking cars for cheddar and launches a new career as a thief. The end.

But since author Patricia Wood is way more high-brow than me, her premise is much more wholesome and inspiring. Did I recently say this summer's book releases suck? Scratch that and check out her debut novel Lottery!
__________________________

Two thumbs down, bring out the midgets!

Back in the day, I had dreams of writing novels for Grove Press because they published classic novels by the great Henry Miller, whose once-banned "Tropic of Cancer" still reads fresh to this day. John Rechy, well if you're into hustlers and drag queens go knock yourself out. He was also a Grove Press author. Either way, Grove published gritty literary fiction until somewhere along the line they decided to pay some billz. They are now reduced to churning out punch lines to the question, "What do you get when you cross a brain-dead rip-off of a John Grisham novel with a bad imitation of "Bridget Jones's Diary"?" I can totally see their editors huddled up after Saira Rao's manuscript "Chambermaid" arrived. "Hmm, Chic Lit is still semi-hot and you know legal thrillers are guaranteed sellers… who cares if her writing sucks, buy buy buy!"

Meanwhile, the adorable Lindsay Lohan's latest film "I Know Who Killed Me" got released this weekend. "Director" Chris Sivertson decided to flop this into theaters without a pre-screening for the media, a transparent effort to stave off some of the most hilarious film reviews you'll ever read. They sure kept this pile of shit under wraps, because all I'd heard until last week was "it's the stripper film." And who wants to see Lindsay play a stripper when she never takes off her clothes? I'd rather watch Steve Forte snort five rails of coke, don a gorilla suit and play bumper cars in an IMAX parking lot. Anyhow, her flick sounds like a horrible train wreck so I'll watch... on DVD for $3.99 next month. If you're uninspired by this summer's film and book relases, forgetaboutit, check out these midget brawlers and the hot chicks who love them!
__________________________

Floyd Mayweather is a punching bag, A-Rod is an "author!"

Zab "Super" Judah recently faced nemesis "Pretty Boy" Floyd Mayweather in a street fight version of their scintillating 2006 boxing match that resulted in a riot at Madison Square Garden. Word on the street is the supposed pound-for-pound king smashed up Zab's knuckles with his face. According to this guy:

In Vegas this weekend at Chris Webber's BadaBling welcome party at OPM Zab Judah had a fight with Floyd Mayweather. He decided to do an impromptu rematch -- except it wasn't planned. The buzz around the club (after folks spotted Zab's bloody knuckles) is that Floyd was talking shit per usual and Zab went and styled on him. Security had to break everything up but y'all know it took a minute. The fight happened early on in the night so I missed that mess...but Zab did confirm the fight went down later on. Zab is a crazy dude...

Well, at least we don't have to worry about Zab "writing" a children's book. After all, his habit of answering questions with "You know what I'm sayin'?" means even the most gullible book readers will never fall for the bullshit. The lame trend in which publishers sign celebs to six-figure contracts for books they probably never wrote continued this week as Yankee's slugger Alex Rodriguez did a reading and signing of his children's book, "Out of the Ballpark," at FAO Schwarz in NYC. How did A-Rod end up an "author?" Sign the contract's dotted line, let some underpaid hack bang out a story, make a few public appearances: slam bam thank you ma'am, we've got an author kids! HarperCollins should've hired a couple blonde strippers to spicen up A-Rod's appearance!
__________________________
A Ho was the last woman standing!

Now that the 2007 World Series of Poker has ended a guy you've never heard of is the reigning world champion. But the interesting thing is not the aggressive play, occasional luck and outright bluffs that helped Jerry Yang score a coveted WSOP bracelet, $8.25 million and bragging rights for the rest of his life. No, I am interested in the last woman to bust out of the Main Event, Maria Ho.

Back in April, when I was one suck-out from my first televised main event at the World Poker Challenge in Reno, a gorgeous Asian girl played at my table for maybe 20 minutes before she crash and burned going all in with a moderate hand like King-Jack or something like that. Not the best move but I had noticed she played with confidence and aggression and all the pros seemed to know her. Who's that? I figured maybe she was dating one of the pros who had taught her some tricks like Phil "the Unabomber" Laak did with actress Jennifer Tilly.

Well, it turns out that woman is Maria Ho and she's got serious game. At the WSOP Main Event she advanced further than any woman this year, bagging $237,865. Check out this interview with Maria to hear about her plans to burn the payday on "girly things like diamonds." And check your desire to turn her over your knee and spank her at the door! Then again, when you look at her myspace she seems like a bit of a party girl. Like she needs a bit of a swat, know what I mean? Anyhow, I'll shut up now. PS: A Californian has won the WSOP Main Event two consecutive years which means you can't handle this California heat, bitches!
__________________________

Harry Potter spoiled like a coked up runway model!

I'm not into this Harry Potter thing but I do give shout-outs to the publishers cuz they're going green baby. Since there's no way a gazillion kids are whipping out their platinum Visas to buy these books that means tons of adult readers are snapping up copies as some sort of escape from boring day to day realities. Fantasies don't always involve leather masks, a coke addled runway model, gallon sized bottle of extra virgin olive oil and a wooden paddle.

What I mean to say, is if you can't wait 'til Saturday for the release of 'Harry Potter and the Deathly Hallows,' there's a ton of leaks and spoilers all over this great Internet where you can get all that wizard-zombie-midget shit for free. Scholastic is no doubt freaking but since they don't publish gritty and engaging literary fiction and J.K. Rowling is already richer than Diddy who cares? Check out this link and don't forget this one for all your pre-release Harry Balls. Click them quick before a lawyer orders them shut down like this guy!
__________________________

Notes from a beach house in Thailand!

I am back from the World Series of Poker. Back to drinking six cups of Peet's coffee daily, calling traders around the world for scoops and navigating through Bay Bridge traffic at high speeds. Yep, they tossed me back into the salt mines from which I came. How the hell did I get back here? My game was decent but the cards did not fall properly. Boo hoo. It is weird reading about the amazing suck outs of dunce caps who are somehow still playing at the Rio. Guys misplay hands spectacularly, calling an all-in bet when their opponent flops a straight and all they've got is bottom pair, only to suck out with consecutive cards that give them a full house against all laws of probability. You know something like that happened to this poor sap below.

From the live reporting coverage at PokerNews: A laugh just went up around the Amazon Room as a player dropped the "F" bomb. The laughter was because of the volume -- it was loud enough to be heard in all corners of the room, and trust me folks, the Amazon is a very big room.

That fool must've been screaming "FUUUUCK!" because big is right. One thing that's surprising when you play the WSOP is just how huge the venue is. I got lost while trying to find my place at Table 48, Seat 6 and a floor manager said to go back 100 yards because it was another Table 48, Seat 6. After bluffing at the right times and pressing with moderate cards for a couple hours my chip stack had tripled. I sent several guys to the rails, made friends with a hipster who bumped gangsta rap on his Bose headphones, made enemies with some old geyser who was a bitch, and eventually they had to fold down our table and move us all. First few hands at a new table, I am always somewhat weary. After 20 minutes you figure out how to play against certain opponents but at a new table you've got no idea what styles are out there.

Still, I got suited King-9 in good position and called to see a cheap $400 flop: 5, 8, Jack in three different suits. Everyone checked, so I fired off $800 and got two calls. Turn was a King. I figured with no raise pre-flop there's a good chance these two had a smaller pair, but with no re-raise from my flop bet that's all they've got. I fired $2,000 and got one caller, a buffed out frat boy. River was 5. There's mixed suits, no chance at a flush or straight and I've got top and bottom pairs. Frat boy checked and I bet another $2,000 wanting action. He check-raised $4,000. A bit surprising, but I called. He showed suited 3-5. That's right, the fucking retard had called those bets with nothing but bottom pair. It is inexplicable that you'd continue calling when you've got nothing but a pair of 5s, the worst pair on the board. Yet I still had some chips and knew his ass would get bounced soon playing like a stoned monkey. Dead money.

Sure enough, I spent the next hour fighting my way back -- two all in bets got my stack pretty healthy once again -- and frat boy got smoked like a Blunt in 20 minutes flat. My one strategic mistake was moving all-in before the flop with pocket Jacks. Cuz I ran into pocket Queens. Long story short, content here at WORD'N'BASS will not be getting updated from a beach house in Thailand. Because my ass got bounced. Hey, that's bad luck. I'll take an honest beatdown over a moron sucking out on me any day. The rest of Vegas was great. Tanning at the Rio pool, pints of Bass at the Tilted Kilt, gin and tonic at Paris. And oh yeah, reloading the bank roll at the Mirage by playing those mini tournaments and pounding away raises at the third place finisher, who almost always refuses to play any hand at all because they don't want to finish on the bubble, out of the money.

Back at the Amazon Room, tons of celebs played this year and some of them actually have game. Actor Toby Maguire is still in it and here it is Thursday night. Others got no game at all: Rapper Nelly crash and burned right out of the starting blocks and light heavyweight boxing champ Antonio Tarver totally misplayed pocket aces. He couldn't pull the trigger and raise, so he lost to something ridiculous like unsuited 7-5 on the river when this guy caught three 7s. Also, before The End, Charles Barkley and Phil Helmuth MCed some charity tournament at the table next to me where Ben Afleck was playing. Ben seemed nervous for some reason and hardly said anything. When asked who he wanted to win Barkley said he's rooting on some girl player because "It's one hot woman against a bunch of ugly men." And that, kids, was quote of the week.
__________________________

Las Vegas here I come!

The suitcase is packed with track suits, Prada shades, a bunch of Balance and Apex energy bars, and I am off to Las Vegas. After checking into our suite at the Rio, the 2007 World Series of Poker is on tap where madness happens for who knows how long. A week? Two weeks? That all depends on how far I advance, whether my A Game is in effect, and a bit of luck. If the clueless players suck out on me, forgetaboudit, I'll hit Planet Hollywood aka Aladdin for Bodog's open casting calls from 12 pm to 5 pm July 5-8, where they're gonna decide who's on the Calvin Ayre Wild Card Poker TV show, cuz the winner gets paid a cool $2 million.

WORD'N'BASS will not get updated until I return from Vegas, so meanwhile you can read Poker News to see WSOP tournament updates in real time. Also, I posted my latest Electro set to tide over your need for beats. As always during road trips, I am late and about to jump in a taxi to hit the airport. Ciao kids! PS: Shout-outs are in order - to my sister Lis who "charmed" a good luck candle to help offset the luck of mental midgets, to Smigg Dirtee and Boog for providing this week's theme song In my L.R.G., and happy birthday to Chris and the adorable Lindsay Lohan!
__________________________